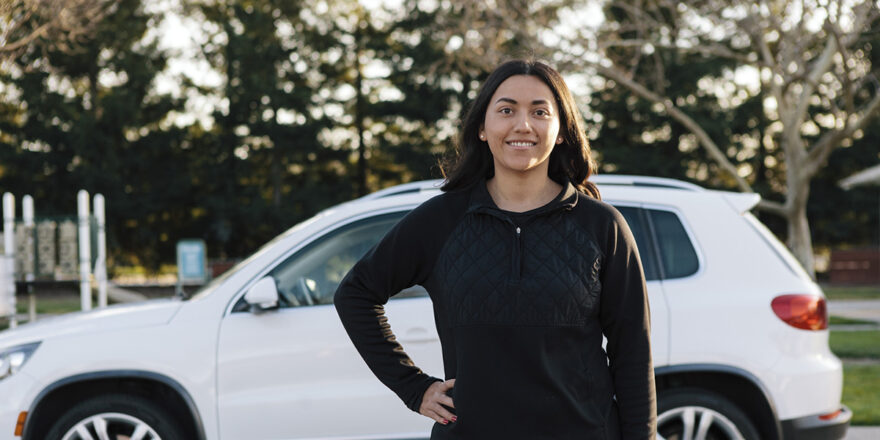 When Carolina purchased her car, she did not qualify for a better interest rate and took the initial car loan because her credit score needed improvement.

 With an urgency of wanting to refinance her vehicle and save on her monthly payments, she applied through Upstart to refinance her car loan.

Carolina lowered her interest rate by 20 percent when she refinanced her car loan through Upstart, and with the extra savings, she is using it to pay down credit card debt.
When Carolina purchased her car and received her initial car loan, she wished she qualified for a better interest rate. She initially accepted that her interest rate was high because her credit score needed improvement. 
Still in school, with a new baby, and job loss due to the pandemic, Carolina felt the stresses of her expenses piling up, so she turned to her credit cards to help cover the bills. She explained, "Being a college student, credit cards were sometimes a necessity. I had overused my credit cards, and that impacted my credit score drastically."
Paying high interest on her car meant it would hinder her ability to pay other bills, such as her credit card debt. However, Carolina knew auto loan refinancing would help save her money on her monthly car bill, so she continued to pay on time, never missing a single payment. This was important to Carolina; she was determined to refinance her auto loan to a better rate.
Carolina felt Upstart's genuine message of wanting to help
Carolina came across an Upstart ad on YouTube that really resonated with her—she recalls how she felt Upstart wanted to help her situation and people in expensive debt, especially those negatively impacted by the pandemic. 
She had previously known about Upstart through a YouTuber in college who shared his success story and experience through Upstart, saying, "He had college loans¹ to pay down and said he wished he knew about Upstart sooner." 
You're more than just a number
Carolina felt her trust in Upstart was growing and liked that her income, employment, and education² would be factored into the approval process. 
"Upstart had my best interest in mind—they knew I was a college student and had to use my credit cards out of necessity. They understood that people don't always pay attention to their credit scores, so when I went to get a car loan, I didn't have the best credit. However, they understood my economic situation."
So, with the urgency of wanting to refinance her vehicle, the decision to apply was easy. 
Reducing interest rate by 20 percent
After going to Upstart's website, Carolina was ecstatic to discover she could lower her interest by 20 percent. 
Carolina appreciated the quick process and simplicity of applying for her refinance through Upstart. Because she was in school, Carolina was asked to submit her college transcript as proof she was enrolled in college. 
Upstart answered her questions quickly, such as how long it would take to pay off the loan. 
Every time I called the phone within two or three minutes, I was talking with an actual person. If they did have to place me on hold, they would have to call me back in 10 minutes. If it was something that had to be looked into further, they would get back to me by the next business day.
She continued, "If I had to choose one word for the Upstart approval process, I would say it is easy.
A brighter future for Carolina
The impact of Carolina's auto refinancing was huge. Because the new auto loan amount was higher than her original car loan, Carolina received the difference in a lump sum, which she put into her savings. With the auto loan refinance, Carolina saved a few extra hundred dollars each month that she could put into good use. 
I was able to save an extra couple hundred. Now, I throw it onto my other debt, which was my credit cards that were affecting my credit.
She is thankful to have the wiggle room in her monthly budget to live with a little more freedom and flexibility. "I can take my daughter on a little road trip, go with my family somewhere, or even just splurge on a nicer meal when we don't feel like cooking. It feels good. We're all a little happier because saving a couple hundred is a lot if you're smart about it."
Car loan refinancing through Upstart helped Carolina have more control over her monthly payments and with more ease. As for the near future, Carolina plans to apply for a second loan through Upstart to consolidate her high-interest credit cards. 
¹ The use of loan proceeds for education purposes are not applicable in California, Connecticut, Illinois, Washington, or Washington, D.C.
² Neither Upstart nor its bank partners have a minimum educational attainment requirement in order to be eligible for a loan.