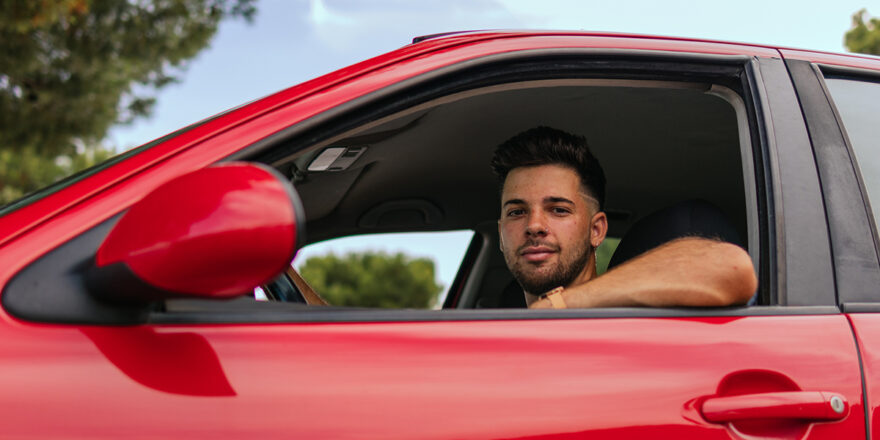 *Images are not actual customers, but their stories are real.
Darrell and his family found themselves struggling to juggle household expenses, bills, and an expensive monthly car payment each month. 

Darrell wanted to find a better way to make ends meet, and found Upstart after shopping around for personal loans online. 

Darrell decided to refinance his car, and was able to save almost $100 a month, allowing him to prioritize other financial necessities for his family. 
Picture this—your high monthly car payment just dropped by nearly $100. How would you feel? 
Darrell, a South Carolina teacher's assistant and father of four, felt like he was in control. It was a welcomed feeling  in the chaos of juggling work schedules with his wife, shuffling their four kids around, and dealing with the financial aftermath of the pandemic.
Prior to refinancing his car loan, Darrell was under the crushing weight of paying $600 monthly for his car loan on top of other necessary household expenses. He recalled, "It was killing us and took up a big portion of our income—two of my paychecks and one of my wife's." 
Making tough, daily decisions: 'Do we eat, or pay bills?'
Like many families, a car was essential for day-to-day responsibilities, from commuting to his job and his wife's, who worked across town, to dropping the kids off at school and running errands. Even though a $600 car payment took away from other financial priorities like paying bills on time, it was a necessity for Darrell and his family. 
"Our finances were in rough shape. Do we want to eat, or do we want to pay this bill? It's not a pretty decision because you don't want to constantly use credit cards, but at the same time, it's food versus this or that."
The help that came from Upstart in an email
Darrell initially discovered Upstart from a Google search for personal loans. Feeling compelled to do something about his tight situation, he thought a personal loan could provide some breathing room. 
Darrell started the loan application, but explained he didn't need the loan after all. "A friend loaned me money, so we were able to keep going. I then received an email from Upstart saying that I could refinance my car. It was a blessing."
Reading reviews and receiving a lower interest rate
Wary of online scams, Darrell first combed through Upstart's reviews and read about people's experiences. He found positive testimonials about Upstart's quick application process and how it was able to reduce monthly car payments for those individuals, and decided he was all in. 
On Upstart's website, he punched in his information, including his current interest rate, monthly payment, and balance owed on his vehicle, and saw how much he could save. 
Darrell recalled, "My new refinance interest rate is like 2.4% lower—a big difference." 
Darrell thought he'd never qualify because his finances and credit weren't perfect. But reading reviews of people who faced similar situations but were approved motivated him to keep going.
Darrell was approved the same day
Darrell was incredibly impressed with Upstart's efficiency in getting the loan completed. "With Upstart, it was easy…I didn't have to do the legwork for the total payoff of the car—Upstart was able to…it was amazing."
He added, "Just because you had issues with your credit doesn't mean you're a bad person. I felt like Upstart believes in giving people second chances." 
Goals and a newfound financial freedom
Based on Darrell's adjusted monthly budget, he chose a loan term of 72 months. This gives him an end date for completing payments to work towards new goals. In the short term, he wants to pay off the loan early and purchase a second, more fuel-efficient car to maximize his household savings further. 
He smiled, "My kids need to have clothes and food, plus we have four dogs and a cat. So, you know, there's a lot of mouths to feed." 
For work, Darrell is also excited to transition from a teacher's assistant to a teacher, which will put his family in a better financial position. "My salary will more than double, so it's really going to help having $100 extra dollars to catch up and put something in the bank for a rainy day."
Inspired by Darrell's story? Learn how Upstart can help you reduce your monthly car payments.
Your loan terms will be determined based on your credit, income, and certain other information provided in your loan application. Not all applicants will be approved.
Customers who participate in testimonials are compensated for their time.