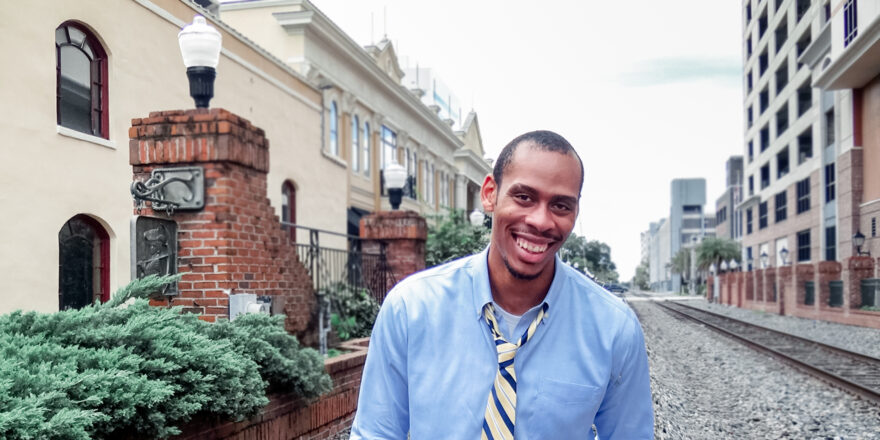 Ahmed Brooks worked hard on his career as a design engineer after college and landed a great-paying job for himself, which prompted him to move from Florida to California. 

Without previous dedicated time to learning how to manage his finances, Ahmed quickly found himself racking up

credit card debt

and sought to find a solution.

Ahmed found Upstart and was approved for a $14,000 loan almost instantly, which he was able to pay off in full a year and a half early.
After graduating from college, Ahmed Brooks struggled to find his financial footing and was quickly accustomed to living from paycheck to paycheck. As he worked on his career, Ahmed managed to land a great job in California and decided to make the big move from his home state of Florida in 2015. Ahmed found out quickly that the more money he made, the more expensive his lifestyle and habits became. 
"I started accumulating credit card debt and didn't even realize it at first," explained Ahmed. "I was making more money than ever before, yet my credit card payments just kept going up, and interest rates became nearly impossible to get ahead of. No matter how on top of my payments I was, the total amount of debt just wouldn't go down."
After realizing that he was getting swallowed up by credit card interest, Ahmed sought help. 
The path forward
"I went to school for engineering, and because of that, I like to do a lot of research before I make any sort of big decision. I looked into several different options for a loan and weighed the pros and cons. Upstart gave me the best rate by far and I really liked that they did not have a penalty for paying your loan off early," continued Ahmed. 
Ahmed applied for a personal loan with Upstart and was approved for $14,000, which he agreed to pay back in five years§. He liked that the interest was baked into the loan, which helped ease the financial and mental burden that this debt had on him prior. 
"Having debt feels like having an anchor attached to your leg that is constantly dragging you down. I was eager to loosen the grip that this anchor had on me, and Upstart helped me do that. For the first time, I finally felt like I was financially stable and free." 
Ahmed was able to pay off his loan early in three and a half years. He gained confidence and a huge sense of morale after having paid off his debt. 
Do you want to pay off debt, like Ahmed did? Find out what Upstart can do for you.
§The full range of available rates varies by state. The average 3-year loan offered across all lenders using the Upstart Platform will have an APR of 25.06% and 36 monthly payments of $37 per $1,000 borrowed. There is no down payment and no prepayment penalty. Average APR is calculated based on 3-year rates offered in the last 1 month. Your loan amount will be determined based on your credit, income, and certain other information provided in your loan application. Not all applicants will be approved.