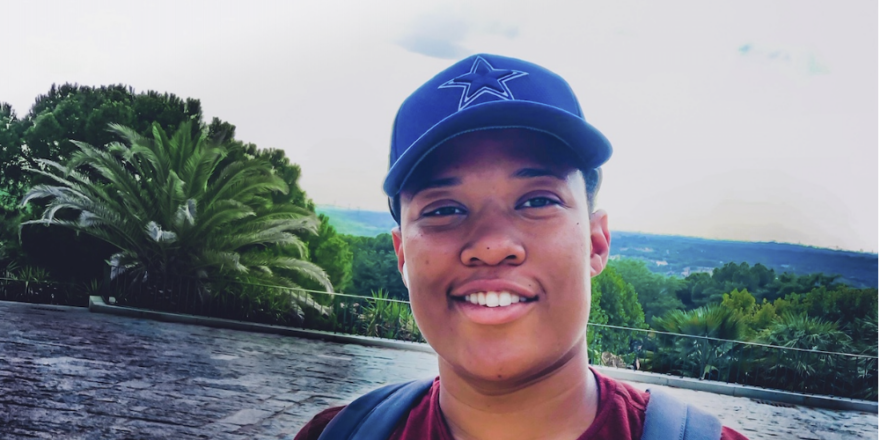 Jazman paid off approximately $8,000¹ in high interest credit card debt with Upstart

Repayment was "straightforward and I never missed a payment"

She appreciated Upstart's human touch — she wasn't just a credit score
The struggle to pay off a high interest credit card is real. Jazman, a Texas-based teacher, just couldn't seem to pay down her Walmart credit card debt of roughly $8,000. This card also carried a high interest rate of 29 percent.
Jazman opened the card to pay for furniture while she was still in teaching school. "I thought, 'Cool, I can just pay [for] it later.'" Later ended up being two soul-crushing years of paying roughly $230 every single month, yet the debt did not seem to go down.
Because she was still in teaching school, money was tight. "It became obvious that my salary wasn't going to cover all the debt." She called the credit card company to ask if they would lower the interest, but was denied. It was at that moment that she decided to seek help.
Jazman took out a $10,000 loan from Upstart to cover the debt. Three years later, she's paid off her Upstart loan and is financially wiser.
"It was pretty much a fresh start."
This is her story.
You are more than your credit score
Despite always paying her bills on time, Jazman had a fair credit score of 640. Her income was also low because she was still in teaching school which increased her debt-to-income or DTI. "When I was younger, my mom took out credit cards in my name. Then, when I was in college, my dad lost his job. So they started relying more on these cards, and as a result, my DTI was really high. I didn't have a lot of options for a loan."
Her goals? Pay off debt and save on interest
Jazman searched around for loan options and found Upstart. "The 9 percent¹ interest rate I got from Upstart was significantly lower than the 29 percent I was paying."
Because her credit score still needed improvement, Jazman liked the fact that Upstart looked at other factors besides her finances, such as her education. She had just graduated and knew she would land a teaching job with steady income in the near future.
After applying on Upstart's website, Jazman recalls, "I had a nice conversation with a team member at Upstart. They don't just treat you like a form."

Simplicity with an end date
One of the reasons Jazman chose Upstart was because Upstart was less complicated than other lenders.
"When I searched other sites, I had to choose from 14 different loans, APRs, terms, and it was overwhelming. Upstart was clear. After applying and getting approved, all I had to do was send over my bank's routing and account number. The payments were automatically made each month and I never had a single issue."
Because Jazman chose to use Upstart's automatic repayment process, Jazman never missed a payment. After three short years, she was done. She believes Upstart gave her a fresh start with her finances and recommends it to anyone who may be struggling with credit card debt.
Financial stability and a higher credit score
Getting rid of her debt came with more perks. "Because that huge Walmart bill was gone, it actually boosted my credit, instantly. [Because of this] I got approved for a really great credit card with a low interest rate. Having a higher credit score opened me up for better options."

Of course Jazman only keeps this credit card on hand for emergencies, as she learned her lesson about the perils of racking up debt.
Making smarter choices for the future
Jazman now teaches English to 10th graders in Plano, Texas and couldn't be happier about getting rid of the Walmart credit card debt burden. She's making strides to save money, and has even invested in savings bonds. She knows she is in a better position with her finances.
"I realized I couldn't do it alone. It would've probably taken me a decade to pay off that Walmart debt, but with Upstart the process is a one-and-done. You make your payments, have an end date, and you're done. You're free."

Do you want to pay off debt, like Jazman did? Find out what Upstart can do for you.
¹Your loan amount will be determined based on your credit, income, and certain other information provided in your loan application. The full range of available rates varies by state. The average 5-year loan offered across all lenders using the Upstart platform will have an APR of 24.91% and 60 monthly payments of $26.36 per $1,000 borrowed. For example, the total cost of a $10,000 loan would be $15,816 including a $591 origination fee. APR is calculated based on 5-year rates offered in May 2022. There is no down payment and no prepayment penalty. Your APR will be determined based on your credit, income, and certain other information provided in your loan application. Not all applicants will be approved.