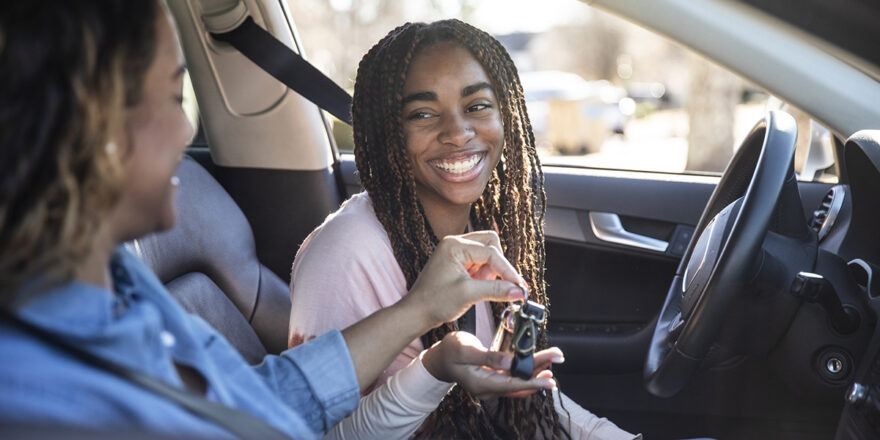 Key takeaways: 
New and used vehicle prices are at an all-time high, but the amount of new cars available has declined since 2019. 

The reason why

cars are so expensive

right now is largely due to the pandemic. It resulted in a global chip shortage, the rise of inflation, a shortage of workers, and less inventory. 

Due to rising costs and rates, now might not be the best time to be in the market for a vehicle. But you may be able to save on a car by expanding your search, selling your current car, or finding better loan terms by

auto refinancing

.
The automobile industry has changed drastically due to the pandemic. Whether you're looking at new cars, used cars, or trade-ins, vehicle prices have surged. 
Why are cars so expensive now? Supply chain issues, the need for more employees, and inflation are limiting the availability of vehicles. And buyers have adjusted for the worse, overpaying for cars—making the competition more fierce. 
Learn more about why car prices have increased and what you can do to afford a vehicle in this market. 
Why are car prices so high right now?
Currently, cars are so expensive due to shortages in parts, workers, and vehicles. Rising inflation is affecting prices as well. Since the pandemic in 2019, data shows that the demand for vehicles grows as supply dwindles. Yet, the prices of available cars continue to rise.
Car sellers can take advantage of the current market and charge more for each unit, earning top dollar. And buyers are still willing to pay more than the suggested retail price. 
Let's discover how different economic factors at play are affecting the vehicle industry: 
Shortage of computer chips
The global computer chip shortage is one of the reasons why cars are so expensive right now. Modern vehicles can require thousands of them. But rising demand for smart devices and electronics took much of the supply throughout the COVID-19 pandemic, setting the chip industry off track. As people continue buying vehicles, the already limited inventory continues to be reduced.
Some industry watchers project the chip crisis won't be resolved until at least 2023. Because car companies haven't had the microchips necessary for normal production, manufacturers worldwide have been forced to build fewer vehicles.
Reduced vehicle inventory
Vehicle production is still slow, despite rising demand. Fewer vehicles are available to purchase on lots, and many people aren't selling their old vehicles. 
Because of limited production and availability, not only are consumers avidly searching for cars, but private sellers and dealerships are looking for more vehicles to supplement their inventories. More shoppers going after fewer cars has resulted in skyrocketing prices.
Worker shortage
The pandemic led to many imbalances in the economy, including a shortage of workers. Available positions couldn't be filled completely, which caused slower production rates. Once part shortages are replenished and employee numbers grow, car manufacturers will need to resume full production capacity, which will take time. 
Rising rates
In recent years, the average costs of most goods increased contributing to high inflation rates. To combat inflation, the Federal Reserve has increased interest rates. Those jumps impact auto loan rates, making buyers' monthly payments higher. 
How to afford a car in today's economy
Used car prices may currently be at a record high, but it's still possible to get a vehicle for a reasonable price. Whether you're a first-time car buyer or have gone through the process before, it's important to buy a vehicle that fits your budget. With proper preparation and patience, you can set yourself up for success. 
Here are some tips as you shop for a car during today's economic crisis:
Expand your search
These days, getting everything you want in a car at a convenient location isn't easily achievable. Look at dealerships or private sellers further away from your home. Traveling a few hours may be worth it if you can get a better deal. 
Pro Tip: Remember, even in the best car-buying times, it's good to shop at multiple dealerships. 
While you expand your search by location, don't forget to consider similar options for the car model you're looking to buy. Because of limited availability, it might be months before you find a decent price on the exact car you're looking for.
Leverage your used car's value
The price of new cars has increased, but so has the value of used cars. If you have a used car and no longer need it, now's a great time to sell. 
Market conditions like these lie in the seller's favor, so consider taking advantage of gaining a bigger profit. In times of high demand, you could earn considerably more by selling your vehicle or negotiating the trade-in value for a new one.
Shop around for the best rates
With sticker prices going up, it may be tempting to buy the car you want for more than it's worth. According to Experian, consumers are borrowing more to buy a car and taking longer to pay it back.
Longer-term loans may help keep monthly payments lower. However, additional months of interest payments increase the net cost of the purchase. This leaves buyers in a vulnerable position, as it takes longer before building significant equity.
Taking out a larger, longer loan than necessary may not be a wise financial move. Take time to find the right loan to buy a car. Compare offers from multiple lenders to find the best deal possible before getting locked into a high-interest rate. By prequalifying for an auto loan, you can also see what rates are available to you and avoid delaying the process with possible financial issues.
Refinance your auto loan
If you already have a financed vehicle and want to save money, refinancing your car loan could help you secure a lower rate, especially with interest rates on the rise. If you decide to accept a new loan offer, you'll undergo a hard inquiry and replace your old auto loan with new terms. Your lender will then update your title and begin the new monthly payments. 
Online lending marketplaces, such as Upstart, could help you refinance your auto loan. Upstart's model looks at factors beyond your credit score, including work experience and education¹ to find you affordable financing. Check your rate in minutes through Upstart.
Will car prices go back down?
Now that you know the reasons why cars are so expensive and how to navigate the market, you can better plan your car purchase. Whether you decide to wait, refinance your current loan, or lease a car to save money in the meantime, is up to you. 
Many experts agree vehicle affordability will continue to be an issue for the foreseeable future as global inflation rates continue to rise. Keep our tips in mind for any future vehicle purchases while prices remain high.
Eventually, the prices of used cars should decrease as new vehicles are produced and brought onto the market. But for now, the best thing you can do is be patient and plan for the right time to purchase a car.
¹ Neither Upstart nor its bank partners have a minimum educational attainment requirement in order to be eligible for a loan.
Car refinance loans not available in MD and NV.