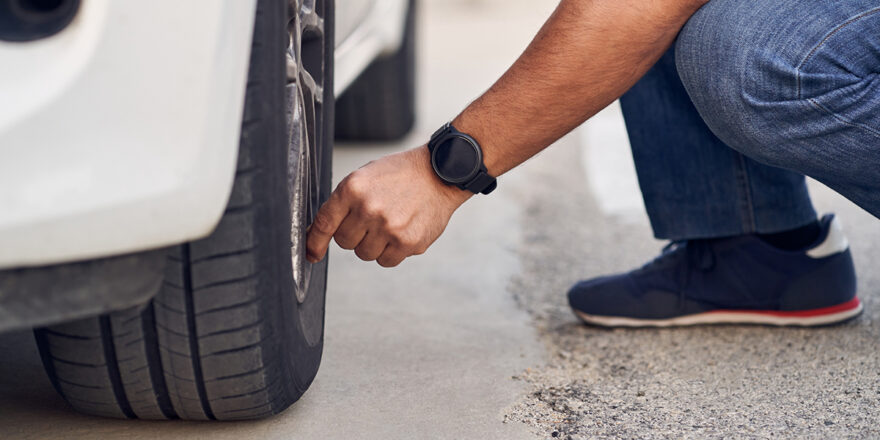 Key takeaways: 
The median

cost of a new tire

is about $167.

Tire costs can vary dramatically based on the size, type, and brand you choose.

Shopping around for the best rate, checking local newspaper ads, and opting for all-season products can help you save money when buying new tires.
Tires are an essential part of your vehicle, but it's easy to overlook the cost of new tires when budgeting. Sure, you don't have to buy new tires often. But it's still important to prepare yourself—and your bank account—for the expense. Otherwise, you could get hit with an unexpectedly hefty bill.
In this guide, we'll look at ways to save, plus 3 things to consider when tire shopping.
How much do new tires cost?
The cost of a new tire can range. The general pricing for inexpensive tires will be $50 to $150 each, $100 to $300 each for moderately priced tires, and $300 to $1000 each for high-end. 
Based on the median price of tires in the United States, you can expect to spend a little over $600 for a set of 4 new tires, not including the price of installation. But remember, if you drive a larger vehicle or need tires suited to harsh conditions or off-roading, you could spend substantially more.
How much does tire installation cost?
Tire installation costs range from $15 to nearly $45 based on your location and the type of tire shop you use. Sam's Club tire shops charged about $14 on average, while car dealerships charged $36 for installation fees.
Factors to consider when buying new tires
Buying new tires can be more complicated than you'd expect. Before replacing or upgrading your tires, consider the three following questions to find the right product for your needs.
What type of tires do I need?

Brand aside, it's important to determine what type of tires your vehicle needs. If you drive a small car and live in an area with mild weather all year, you may be able to save by opting for a low-cost, all-season tire.

If you drive an SUV or truck and know you'll need to navigate tougher terrain, your costs could increase to $400 or more per tire for a high-performance tire with a higher wet grip rating.
How long will I keep this car?

If you plan to keep your car for several years, investing in high-quality tires may be well worth the expense. But if you only plan to drive your vehicle for a year or so, you may opt for cheaper tires with a shorter tread life and lower mileage warranty.
Should I buy new or used tires?

Generally speaking, new tires provide the most tread and lowest risk of early repairs. But buying used can have some advantages. For instance, a used tire in good condition could provide almost as much tread as a new tire and come at a discount of up to 50%.
How to save on the cost of new tires: 6 tips for cutting costs
No matter what type of vehicle you drive, buying a new set of tires can get expensive quickly. With that in mind, consider the 6 following ways to reduce your bill:
1. Shop around for the best prices
Like most expenses, you can often find a better deal by shopping around instead of buying the first tires you see. Check with your auto dealership, local tire shops, online retailers, and big-box stores like Sam's Club or Costco to find the best price on a new set.
2. Buy tires over the holidays
Some tire manufacturers will slash prices over the holidays. Keep an eye out for sales over Black Friday, Memorial Day, Independence Day, or New Year's to score the deepest discounts.
3. Ask about takeoff tires
Takeoff tires are those purchased by another driver and returned within a specific window, typically under 30 days. After removing them from the other driver's car, tire shops will put them back on the shelf and sell them at a significantly lower price—as long as they're in good working condition.
4. Focus on features instead of brand names
It's tempting to buy a recognizable brand name when making any kind of purchase. But if you're willing to buy tires from a lesser-known brand, you may get the same or similar features at a deep discount.
5. Opt for all-season tires whenever possible
If you experience cold, snowy winters, you may have gotten into the habit of buying summer tires and winter tires. Winter tires often provide better grip compared to summer tires. However, buying two sets of car tires can increase your costs.
If possible, consider replacing your summer and winter tires with all-season tires instead. Opting for a single set of all-season tires may not be possible in certain climates. But if it's safe to do so, it could help you save money.
6. Consider refinancing your auto loan
Refinancing your auto loan may not reduce the cost of tires. But it could help you save money each month on your car loan.
When you refinance your auto loan, you replace your original loan with a new one. Ideally, your new loan will have more optimal terms, such as a better interest rate or lower monthly payments.
During the auto refinancing process, your new loan provider will consider factors such as your credit score and repayment history before setting your loan terms. Typically, borrowers with a higher credit score qualify for lower rates on a loan. On the other hand, borrowers with a lower credit score may have more difficulty qualifying for an affordable loan.
But that's not always the case. At Upstart, our model looks beyond your credit score and considers factors like your education¹ and work experience when helping you find an auto loan. As a result, you may be able to access funding more easily.
Pro tip: Not sure if you qualify for auto loan refinancing? Check your rate online through Upstart in minutes. 
Hit the road with new tires and more savings
A new set of tires can keep you and your loved ones moving forward safely. But there's no denying that paying for new tires and other common auto repair costs can get pricey. 
With that in mind, take some time to shop around for the best rates and focus on the features that matter most to you, like wet grip or mileage warranties. And if you really need to cut costs, takeoff tires can help you save money without sacrificing quality. That way, you can splurge on your next great adventure without worrying if your tires are up for the trip.
¹Neither Upstart nor its bank partners have a minimum educational attainment requirement in order to be eligible for a loan.

Car refinance loans not available in MD and NV.