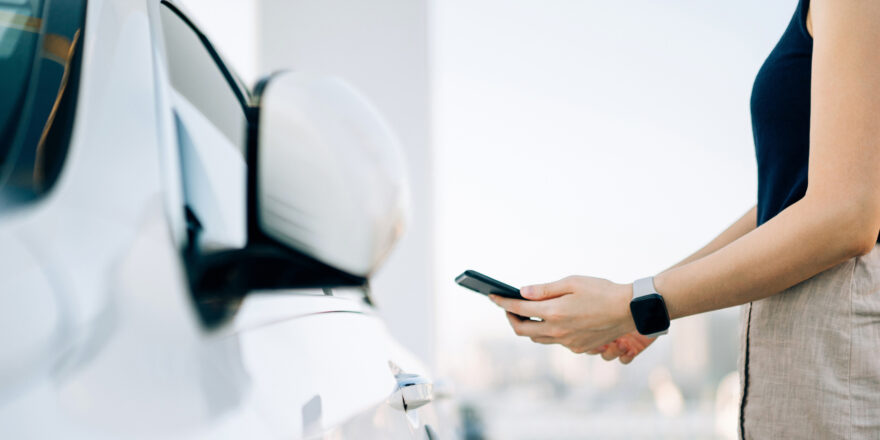 Key takeaways:
Refinancing your auto loan

may help you get a better rate, reduce your monthly payments, or improve your loan terms, even if you have poor credit.

Some lenders, banks, and credit unions specialize in auto loan refinancing for borrowers with bad credit.

Refinancing an auto loan through Upstart

may help you get a better rate because our model looks at factors beyond your credit score.
Refinancing your car loan can potentially lower your monthly payments or help you get better terms on an auto loan. However, refinancing rates are based on certain factors, such as your credit history and credit score. So, if your credit score falls below the "good to excellent range," you may be wondering if refinancing is a viable option for you. 
In this guide, we'll take a look at how you can refinance a car loan and save on interest over the life of the loan, even if you have a lower credit score. Read on for 4 questions to consider before applying for an auto refi loan and a step-by-step guide to refinancing a car loan with bad credit.
Can you refinance a car loan with bad credit?
Yes, people with bad credit may be eligible to refinance a car loan. Before asking if you can refinance a car loan, consider if you should refinance your car loan. Refinancing may be a good idea for some drivers, but it's not right for everyone. 
With that in mind, consider the 4 following questions to determine if refinancing your car loan is a good idea: 
Has your credit score improved?

Generally speaking, refinancing is a good idea if your credit score has improved since you applied for your original loan. Like your original lender, a car loan refinancing provider will consider your credit score when setting your

interest rates

.

If you're not sure how your current credit score stacks up, don't worry. You can check your rate through Upstart to see what refinancing loan terms are available for you, given your current financial status. Then, you can determine if refinancing is the smart move to make now or if you should spend some time building your credit before you refinance your auto loan.

Have you refinanced your car loan before?

You can technically refinance your auto loan as often as you want. However, multiple refinances can extend your loan repayment period and increase your chance of getting

upside-down in an auto loan

. 

Can you afford your monthly payments?

If you're struggling to cover your monthly auto loan payments, you may consider talking to your lender before pursuing refinancing. In some cases, your lender may work with you to create a manageable repayment plan. You may even qualify for financial hardship programs that reduce or delay payments for a period of time. 

Have interest rates dropped?

Finally, take a look at

historical average auto loan rates

.

Interest rates change

over time. For example, interest rates may drop due to changes in external indexes or decreased demand for financing. If average rates are substantially lower than your original loan, it may be a good idea to consider refinancing. It's always a good idea to shop around for interest rates when you're looking to refinancing your car loan.
What is the lowest credit score you can have to refinance a car?
Despite what many car owners believe, there's no real minimum credit score required to refinance a car loan. 
It's true that applicants with a good or excellent credit rating often get better rates on an auto loan than those with poor credit. However, some lending companies, banks, and credit unions specialize in loans for borrowers with subprime credit. 
Others, like the Upstart platform, consider factors beyond your credit score when finding you an auto refinancing loan. 
How to refinance a car loan with bad credit
Ready to move forward and refinance your auto loan? Follow this step-by-step guide to get started.
1. Evaluate your current financial circumstances
Before submitting any refinancing applications, take a moment to review your credit score, budget, and financial circumstances. Consider some of the factors your lender might review, such as your debt-to-income ratio. Doing so will help you get a better idea of the rates you could qualify for. You'll also be able to determine how much you can afford to pay toward an auto refi loan each month.
2. Explore your options
Next, consider your refinancing options. Reach out to your current lender first to determine if they will refinance your loan. Whether they agree to a refinance loan or not, research different lenders and loan terms, too. Keep an eye out for the annual percentage rate (APR), average loan terms, and potential fees, including origination charges or prepayment penalties.
You may also ask if a potential lender allows a co-signer. A co-signer is a financially stable family member or friend who agrees to sign onto your loan and take responsibility for your payments if you can no longer make them. If your co-signer has good credit, their credit score could help you qualify for a better interest rate.
Alternatively, you may consider applying for auto loan refinancing through Upstart. Our model looks at factors beyond your credit score, like your education¹ and work experience, to help you find a better rate or lower monthly payment on an auto loan refinance. 
3. Compare rates
Once you narrow down your list of potential lenders, take some time to prequalify and compare offers. Prequalifying allows you to get a better idea of your loan options and determine which lender has the most competitive rates on an auto refi loan. You can also check your rate through Upstart at any time and compare offers in minutes—at no cost to your credit score*.
Benefits of prequalifying
When you prequalify for a loan, the loan provider will run a soft pull on your credit. A soft inquiry won't appear on your credit report or lower your credit score, but it will allow you to get a more accurate look at potential loan terms. If you decide to move forward with the loan after reviewing your offer, your lender will run a hard credit check. A hard credit check will appear on your credit report and can cause a slight dip in your credit score. But don't worry; you can generally restore your credit in a few months by making timely car payments.
You can also minimize the impact of hard credit inquiries by shopping around for offers within a short window. For instance, the FICO Score® model counts any hard pulls made during a 45-day window as a single inquiry. The VantageScore® model considers hard inquiries made during a 14-day window as a single pull.  
4. Apply for an auto refinancing loan
Once you've compared rates and narrowed your options, it's time to submit your application. But first, make sure you've gathered any documents your lender might need, including:
Proof of income

Proof of residency

Current auto loan terms

Vehicle information, including make, model, and mileage
Organizing these documents can help expedite the process and prevent any roadblocks on the path to refinancing. 
5. Finalize your refinance loan
After submitting your application and getting your approval notice, take some time to review your loan terms carefully. Read the fine print and ask questions about potential hidden charges that could increase your costs. When you're satisfied, sign on the dotted line. 
Your new lender will then transfer the funds to your original loan provider to repay your existing auto loan or deposit them in your account so you can pay off the balance. Then, you'll start making payments on your new loan.
Learn more about your auto refinancing options today
Determining if refinancing your auto loan is worth it comes down to a few factors, including the state of your credit score, current auto loan interest rates, and your budget. Take some time to consider your financial circumstances, loan options, and budget. Doing so will empower you to make an informed decision about your debt and move you one step closer to a healthy financial future.
And if you're ready to move forward with the refinancing process, consider applying for a new auto refinancing loan through Upstart. Learn more about your options and check your rate online in minutes.
¹Neither Upstart nor its bank partners have a minimum educational attainment requirement in order to be eligible for a loan.
*When you check your rate, we check your credit report. This initial (soft) inquiry will not affect your credit score. If you accept your rate and proceed with your application, we do another (hard) credit inquiry that will impact your credit score. If you take out a loan, repayment information may be reported to the credit bureaus.