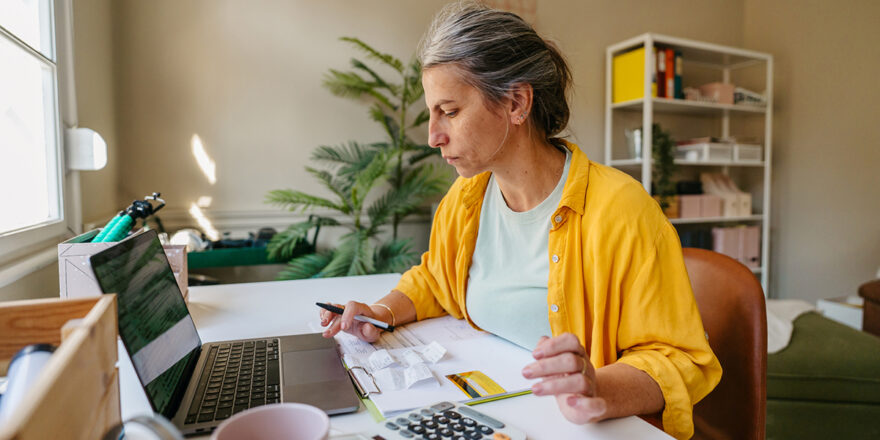 Key takeaways:
Credit card debt is a common problem in the US, with the average household having over $8,900 in debt.

Several effective strategies to manage and eventually eliminate credit card debt include consolidating with a personal loan, using a balance transfer credit card, reducing expenses, and creating a budget.

The best way to handle credit card debt is to take action and implement a debt management plan that best suits your situation.
If you're one of the millions of Americans with credit card debt, it can seem almost impossible to get out of it. The average U.S. household has more than $8,900 in credit card debt.
With that in mind, there are some effective strategies you can use to help manage and eventually eliminate your credit card debt. Here are seven of our top suggestions to help you finally get your credit card debt under control.
1. Use a personal loan to consolidate your debt
A personal loan can be a great tool to help manage and eliminate your high interest credit card debt. In many cases, it's possible to obtain a personal loan with a significantly lower interest rate than your credit card debt so you'll save money in the long run. Plus, personal loans have fixed monthly payments and term lengths—most commonly from three to seven years—so you'll know exactly when your debt will be paid off.
Most personal lenders and lending marketplaces, including Upstart, allow you to check your loan offers without a hard credit check, so you can easily find out if taking out a loan is a smart option. There are even debt consolidation loan options that will distribute the proceeds directly to creditors.
2. Use a balance transfer credit card
When it comes to lowering your high interest rate debt, a balance transfer credit card is another option. Balance transfers have their advantages and drawbacks compared with personal loans.
For one, balance transfer offers typically have no interest (0% APR) but for a relatively short period of time, such as 12 months. They also generally have a balance transfer fee equal to 3% to 5% of the amount transferred. Balance transfers are most effective for people who can pay off their debt relatively quickly, before the introductory period expires.
3. Reduce your other expenses or create a budget
Getting your credit card debt under control is much easier if you're actively monitoring the money flowing in and out of your bank account. You can use a budgeting app to help you, and there are several excellent options.
One key to successful budgeting is to be realistic. Don't plan to cut out all entertainment expenses or dining out—just set some reasonable limits for yourself.
4.Maximize Your Finances
This strategy can be most effective when paired with one of the interest reduction strategies mentioned earlier. After all, lowering your interest rate means that more of the money you pay will be applied towards your loan principal. But finding more money to apply to your credit card debt can let you take full advantage of it.
One useful exercise is to go through the last couple months of your credit card and bank statements, and analyze your spending habits. Are you spending too much dining out? Do you have subscriptions you aren't using? Cutting back on or canceling expenses like these can allow you to put more money towards your credit card debt.
5. Use the debt avalanche method
The debt avalanche method involves paying the minimum payment each month on all your credit accounts and focusing all of your extra payments on your accounts with the highest interest rates. For example, if you owe $1,000 on a card with a 17% APR, $500 on a card with a 21% APR, and $2,000 on a card with a 19% APR, you will direct all extra repayment towards the 21% APR balance until it's gone, and then move on to the next highest.
This is similar to the popular debt snowball method, which involves paying off your debt in order from smallest balance to largest. But by focusing on the highest-interest debts, it puts mathematics on your side.
6. Work with your credit card companies
Here's a very important point for all consumers to know. Credit card companies don't want their customers to fall behind on their payments, and they really don't want to have to send accounts to a collection agency. When those things happen, everybody loses—except the collection agency.
So, if you're having a tough time paying back your credit card debt, call the credit card issuer and explain your situation. You might be surprised at how willing credit card companies can be to work with you to pay off your debt. They might allow you to skip a payment to help you get caught up, lower your interest rate, or agree to temporarily reduce your minimum payments.
7. Ask for help
As a final strategy, if you are completely overwhelmed, it could be a good idea to talk to a credit counselor. There are several great nonprofit credit counseling agencies that provide these services. They can help you come up with a repayment plan, can negotiate with creditors on your behalf, and offer you other tools and services that can help in your journey to freedom from debt.
The bottom line
The absolute worst thing you can do with your credit card debt is to ignore it. As we've seen here, there are several effective ways you can create a debt management plan, so figure out which solution(s) best applies to your situation and put it into action.