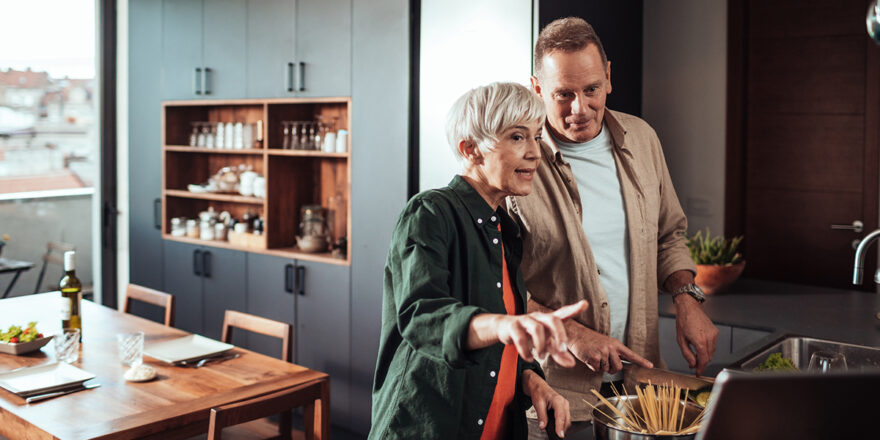 Key takeaways: 
The

average cost of a kitchen remodel

is around

$25,000

, which equals roughly

$150

per square foot.

There are ways you can save on costs for your kitchen remodel—from the features you choose to doing the renovations yourself.

A personal loan, home equity loan, or home equity line of credit (HELOC) may help you finance the

cost of a kitchen remodel

.
A kitchen remodel is one of the most costly home improvements, but it's also one of the most appealing for homeowners and buyers alike. This communal space in a home serves a great purpose in both functionality and entertainment. Like any home renovation, the total cost of remodeling a kitchen will be unique to your goals, and you may need to adjust the project to your budget.
What's most important is that you can achieve your dream kitchen and do so with the best affordable financing available. Read on to learn all about what goes into the cost of a kitchen remodel and how you can comfortably pay for it.
What is the cost of a kitchen remodel?
The average cost of a kitchen remodel is roughly $25,000 with most homeowners spending from $13,000 to $38,000 according to HomeAdvisor.
An average, mid range kitchen remodel costs often center on the aesthetics and general functionality of the space without altering the layout. Updates can include new cabinets, door handles, countertops, light fixtures, tile backsplash, flooring, and paint.
Understandably though, the scale of renovations can impact the cost:
Minor

kitchen remodeling costs

tend to focus on cosmetics including refacing, painting, handles, countertops, flooring, and light fixtures.

Major

kitchen remodels often mean a complete remodel. The entire space is gutted to the floor and walls, the floor plan possibly redesigned, and plumbing, electrical work, appliances, countertops, lighting, and backsplashes likely replaced.
The costs will depend on your geographic location, the quality of materials, along with the size and scope of your kitchen. A kitchen remodel is mainly made up of costly components and an array of expensive appliances to potentially replace.
Pro tip: If you're not changing the design of the kitchen layout, such as moving a sink, this can save you a significant amount of money. Because of the need for permits, dust removal, drywall installation, and new plumbing and electrical work, this type of overhaul can tack on an extra few thousand dollars.
High-end costs may be necessary for some, while purely preference for others. Regardless, a kitchen remodel can prove to be a serious financial commitment that often could take years to pay off.
What costs the most in a kitchen remodel?
Appliances, countertops, labor, and installation are the primary elements that make up the cost of a kitchen remodel. However, it's the cabinetry that often costs the most. This depends on whether you choose pre-made stock models or custom cabinets. Installation costs can vary on top of that. 
When remodeling a kitchen, most homeowners begin with their cabinets as they are a focal point of first impressions. High-quality cabinets also tend to be a selling point of a home. Outdated or damaged cabinetry can leave future buyers underwhelmed.
Alternatively, you can refinish existing cabinets to achieve a whole new look for a fraction of the cost of buying new.
Cost-saving tips for a kitchen remodel
It's easy for kitchen renovation costs to add up quickly, but there are ways to make it more affordable. You can ensure you stay within your budget or save some extra money with these few ways to save.
Complete tasks simultaneously.

If you can, it helps to have all your projects planned and completed in a short time frame. The less often contractors come to your house, the more money it can save you.

Keep existing appliances and plumbing.

One of the best things you can do to save money on your kitchen remodel is to keep the layout and fixtures as they are. This way, you can avoid the pricey costs of redoing plumbing or electrical work. For old appliances, consider hiring a professional to make repairs.

Choose stock models.

Rather than customizing your cabinets and countertops, purchase ready-made items. This tactic could save you from spending more than a quarter of your budget.

Refresh instead of renovate.

The various components of a kitchen renovation can rack up costs quickly. But you might be able to get away with painting, refacing, and adding new hardware to something like your cabinets to save time and money.

Do it yourself.

DIY-ing as many renovations as possible can save you thousands of dollars. Learn how to complete a project correctly so you avoid bringing down the value of your home with mistakes. Always seek a professional for any potentially hazardous jobs, such as plumbing and electrical work for safety reasons.
Kitchen remodeling costs to budget for
Maybe you're seeking a simple refresh of hardware, paint, and flooring to remodel your kitchen. Or maybe you're gutting the entire area.
The more you want to add, the bigger budget you're going to need. The best thing to do is choose a realistic budget that works for you and fit as much as you can into the amount.
When renovating your kitchen, an industry standard is to spend between 5% and 15% of your home's value as stated by HomeAdvisor.
Here are some common features you can expect to factor into your budget:
Appliances

Cabinetry

Countertops and backsplashes

Designer

Drywall and painting

Flooring

Labor and installation

Lighting fixtures

Plumbing and electrical

Windows and doors
When viewing these costs, it's important to also plan for the unexpected. Unplanned expenses are likely to come up if you've forgotten a feature or something breaks. Always leave wiggle room in your budget to play it safe.
What is a realistic budget for a kitchen remodel?
When it all comes down to it, your kitchen remodel costs are going to have to work for your financial situation. Be realistic with what you want to spend. You can't expect to do everything all at once if you have a tight budget. Prioritize specific items and features that need completing first, and remember you can continue renovating as your budget allows.
How to finance a kitchen remodel
Even a minor kitchen remodel can be costly. If you don't have enough saved in the bank or have other plans for your current funds, consider financing that works best for home improvement projects.
Home improvement loan
A home improvement loan is a type of personal loan dedicated to home-related expenses. You can use it for any individual project that comes up during your kitchen remodel including labor costs and add value to your home. 
If you don't have sufficient value for borrowing against your home, a home improvement loan is likely your best option. It's easy to budget for as it includes a fixed interest rate and monthly payments. This is an unsecured type of loan, meaning you don't have to use your home as collateral and risk foreclosure if you fall behind on payments. 
Pro tip: With a lending marketplace like Upstart, you could get funds to finance your kitchen remodel. Upstart's marketplace offers loans that can be used for home improvement and can give you access to funds as fast as 1 business day. Generally, you can get lower interest rates compared to credit cards. The better your credit score, the better terms you could get, including lower interest rates.
Home equity loan
If you want to borrow a larger amount of money to fund your kitchen remodel, a home equity loan is a great choice. You'll receive a lump sum to spend with a fixed interest rate, repayment timeline, and monthly payment. However, it's a secured loan that uses your home as collateral. This means if you default on your payments, you risk losing your property.
To qualify for a home equity loan, you'll need a strong credit score, a low debt-to-income ratio, and 15% equity in your home. Since the loan is being used to improve the value of your home, you also might qualify for a tax deduction on the interest.
Home equity line of credit (HELOC)
A home equity line of credit (HELOC) is a revolving line of credit with a set limit, similar to a credit card. You can borrow as much from the total as you need, repay it, and borrow again. This type of financing also uses your home as collateral.
It's important to note that HELOC comes with closing fees and variable interest rates. Make sure you know your monthly payments beforehand and if they are subject to change.
How to know if a kitchen remodel is a good investment
Without a plan, remodeling a kitchen might seem more like a burden than it's worth. You'll have to find other ways to function throughout the process. But remodeling a kitchen might still be worth the investment in the long run.
Consider the following before investing in a kitchen remodel:
Enough funds:

If you can fund your kitchen remodeling project without taking from your savings or

emergency funds

, it could be a great investment now. Financing can help significantly but strive to keep your savings accounts untouched in case of an unplanned expense.

Living plans:

A kitchen remodel is a smart investment if you plan to live in your home for around 7 years. If possible, get it done before you move in.

Selling:

If the job is done correctly, you'll keep the value spent and gain a boost in ROI. Derek Gilbert, a top agent with Keller Williams DTC in Colorado, notes that you may earn

about 60% of what you spend on the kitchen remodel

. It's also more likely you'll sell your home faster with a remodeled kitchen. According to a

survey from Angi

, a kitchen remodel remains one of the most important updated rooms.
Starting the kitchen remodel of your dreams
If you decide to remodel your kitchen, make sure you have a plan, set a budget, and stick to it. As you begin renovations, get several estimates from local contractors and research the cost of materials.
Once you become familiar with the costs, set yourself up for the best financing and look into getting prequalified through Upstart. Our model looks beyond your credit score and considers education¹ and work experience to find your loan option and terms. 
Start by checking your rate within minutes and discover the best terms available for your kitchen remodel.
¹ Neither Upstart nor its bank partners have a minimum educational attainment requirement in order to be eligible for a loan.