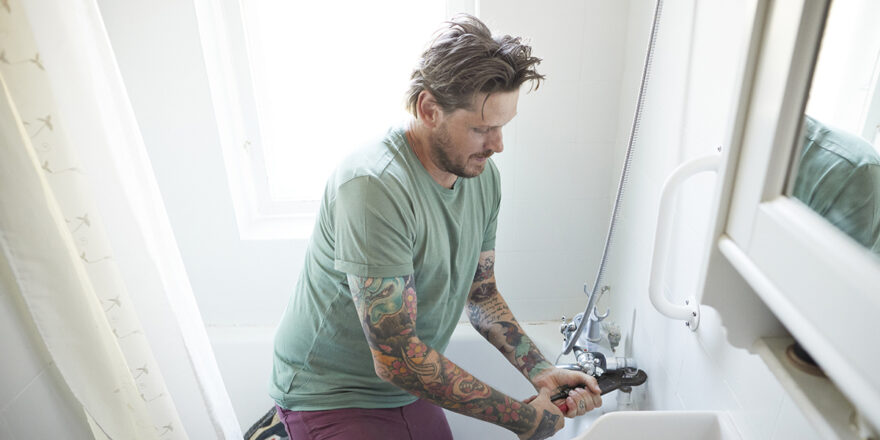 Key takeaways: 
The

cost to remodel a bathroom

varies around $9,000 and depends on a variety of factors including the size of the room, the types of materials, and the type of labor needed.

Remodeling a bathroom can be expensive, but it can also help increase the value of your home.

If you don't want to pay for your bathroom remodel all at once, there are several financing options available. These include

home improvement loans

, home equity loans, home equity lines of credit (HELOCs), and credit cards.
Whether it's due to wear and tear or simply a desire to upgrade outdated style choices, you may be thinking about remodeling your bathroom. 
Bathrooms are high-traffic areas that can significantly add or detract from your home's value. According to some estimates, a new bathroom can increase the resale value of a home by about 60% of the remodel cost. 
If you're wondering how much a bathroom remodeling project will cost, you'll need to do some research based on your unique goals and home. The cost of this type of renovation is hard to estimate because there are many variables to consider. 
Check out the guide below to help you get a better idea of the average costs, variables that impact the cost of a bathroom remodel, and how to finance it. 
What is the difference between a bathroom renovation and a bathroom remodel?
Renovation and remodel are two terms that are commonly used interchangeably. But while they may have some similarities, they have some key differences that are important to know. 
Renovation:

A renovation entails working in a set space and floorplan to refresh or update the space. Common examples of renovation projects include painting, putting up wallpaper, tiling, adding new flooring, or lighting. 

Remodel:

A remodel is a renovation in addition to construction. A remodel will involve structural changes to a space and may include some renovation aspects, such as painting or adding new flooring. For a bathroom remodel, these types of projects may include adding in an additional sink, moving the shower, or adding in a bathtub.
Pro tip: By understanding the difference between these two terms, you'll be able to communicate your vision when you're getting a quote or asking for advice from a contractor.
What is the average cost to remodel a bathroom?
The average bathroom remodel cost differs depending on a variety of factors including the type of residence the bathroom is in, the material costs, and the size of the room. According to HomeGuide, the national average cost to remodel a bathroom is between $120—$275 per square foot. Most people spend roughly $8,851 to remodel their bathroom. 
You may be able to save money by opting for a do-it-yourself (DIY) bathroom remodel. This can cost anywhere between $1,500 to $10,000 on average. Although, you may need to enlist the help of a plumber or electrician at some point.
Average cost to remodel a bathroom by size
Whether it's a powder room, half bath, or a primary bathroom, the size of your space is one of the biggest factors to consider when you start creating a budget for your bathroom remodel. 
A 2022 study from Houzz shows that the median spend on a major remodel of a small bathroom under 100 square feet is $10,000 while a major remodel of a larger bathroom over 100 square feet is $20,000. The amount of square footage your space is impacts how much material is needed and the time spent on labor.
Bathroom remodel costs to consider
In addition to the size of your bathroom, consider the cost of the features you're adding to your remodel. 
Common features you may want to review include:
Cabinetry

Countertops

Doors and windows

Faucets

Flooring

Installation and labor

Lighting fixtures and ventilation

New fixtures

Walls and ceilings
In addition to these features, you also need to consider other elements that may increase the overall cost of your bathroom remodel, such as: 
Permits

Quality of materials

Accessibility design

Electrical elements

Plumbing
DIY vs. hiring a professional for a bathroom remodel
Many home improvement projects can be daunting, but there are some aspects of a bathroom remodel homeowners can tackle themselves. Painting, light demo, tile work, and installing items such as a new double vanity, grab bars, or shower head are all relatively simple DIY projects. 
The key is to understand what your goals and limitations are. Although you may be able to handle some of the basic tasks, you may want to consider hiring a general contractor, electrician, or plumber for more complicated work. Some work may be dangerous or require someone with a license to carry out. There could also be code violations or legal implications if the work is not done properly.
If you choose to tackle a project that's not in your skillset, you may make costly mistakes.
Questions to ask about the cost of a bathroom remodel
If you opt to hire a contractor for your bathroom remodel, there are some key questions you should consider asking before you decide to partner with them. Some questions you'll want to talk to your contractor about include:
What kind of experience do you have with bathroom remodels?

Are you fully licensed and insured for (insert state)?

How many projects do you typically work on at the same time?

Do you provide options for different brands and materials?

How long do you think this project will take?

How do you select your subcontractors? 

What are the necessary permits?

Can you provide an estimate and warranty for this project?
By asking these questions in advance, you can better determine the cost of your remodel and rest assured knowing you made the right choice. 
How to finance a bathroom remodel
Whether your bathroom remodel budget is on the low-end or high-end of the cost spectrum, you may want to consider different financing options to help you pay.
Home improvement loan
A home improvement loan is essentially an unsecured personal loan dedicated to home projects but doesn't require putting your home at risk as collateral. It's often the fastest funding option with competitive interest rates. 
With a home improvement loan or general personal loan, you may be able to qualify for the funds you need with a low fixed interest rate, loan term, and monthly payment. Because the terms are fixed, you can easily determine what you need to budget so you can plan ahead. 
Pro tip: Check your rate with Upstart to see what total amount and loan terms you can qualify for. Unlike other lenders, our model factors in more than your credit score, including your work experience and education history. Find a loan that works best for your financial situation today in minutes without hurting your credit score.
Home equity line of credit (HELOC) or home equity loan
You can also use a HELOC or home equity loan to help you pay for your bathroom remodel. 
Home equity loan:

Similar to a personal loan,

home equity loans

come with fixed terms. However, with a home equity loan, you back your loan with the equity you have in your home.

Home equity line of credit (HELOC):

A HELOC also requires borrowers to use their home equity as collateral, but instead of a single lump sum of money, you get a line of credit with a variable rate. 
Home equity loans and HELOCs typically come with low rates and favorable terms because they are backed by your home's equity. 
It's important to note that if you default on your payments with a home equity loan or HELOC, the lender may foreclose on your home.
Credit card
For an inexpensive bathroom remodel, you may be able to get a 0% APR (annual percentage rate) credit card to pay for the costs. These types of cards typically come with an introductory period where you pay 0% interest on the debt you accrue.
Essentially, you can pay down your debt free of charge during that period. However, because the 0% APR only lasts for a few months, you should aim to pay off the entire bath remodel before your balance starts accumulating interest.
The bottom line about bathroom remodel costs
A newly remodeled bathroom can deliver joy, comfort, and a large return on investment. However, with so many choices, decisions to make, and sometimes a tight budget, knowing where to start with a bathroom remodel can be hard. 
Start by getting an idea of how you'd like to remodel the space, and research contractors in your area. Once you have a better understanding of what you want, and how much it'll cost, think about your financing options. Consider each option carefully to ensure you make the best decision for your financial situation.