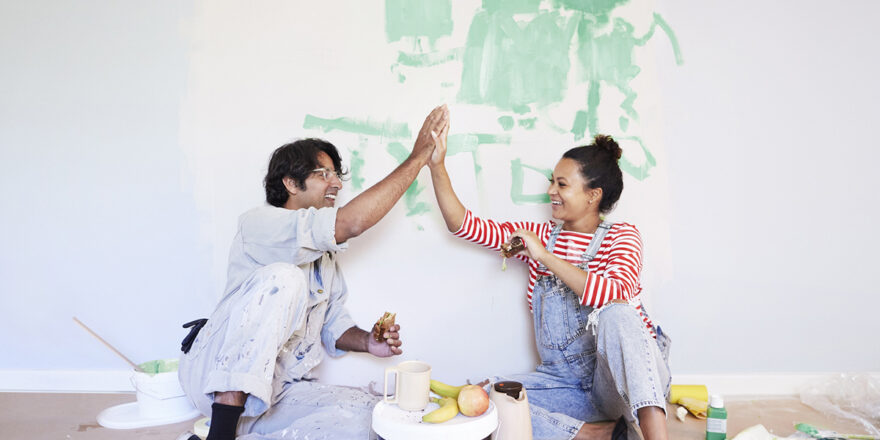 Key takeaways: 
The

average cost to paint a house

can range from about $950 for a small interior project to $12,000 for a major exterior paint job.

Numerous factors impact the cost of painting a house, ranging from location to materials used.

Home improvement loans, HELOCs, and savings accounts can help make it easier to pay for a paint job.
Nothing brightens a home like a fresh coat of paint. But depending on the size of your project, you may be surprised to discover how costly a paint job can be.
We created this guide to make planning for the cost of painting a house easier. Whether you want to take on a quick interior update or boost your home's curb appeal with an exterior painting project, you'll find average costs, factors to consider, and ways to make the cost to paint a house more manageable.
What is the
average cost to paint a house
?
The average cost to paint a house varies based on your location, the size of your home, local labor costs, the materials you use, and the type of project you plan to take on. With this in mind, let's take a look at the average cost of common house painting projects.
How much does it cost to paint a house interior
?
According to HomeAdvisor, the average cost of an interior painting project ranges from about $950 to $2,900. As mentioned above, these costs are national averages. You may be able to reduce your projected expenses significantly if any of the following circumstances apply to your project:
You have a smaller home or will be painting a select number of rooms. 

You plan to use low-cost materials.

You plan to do some or all of the painting yourself.
How much does it cost to paint a house exterior?
An exterior paint job on an average-sized home varies dramatically based on the size. For example, the average cost to paint the exterior of a 2,000-square-foot home is around $5,200. However, the price can rise to as high as $12,000 for a 3,000-square-foot-home. As a general rule, plan and budget to spend anywhere from $1 to $4 per square foot on an exterior paint job.
How much does it
cost to paint a house
yourself?
The cost to paint a house yourself depends on several factors, including the size of the area you want to paint and the type of paint you use. That said, taking on a DIY paint job could potentially save you hundreds or thousands of dollars on labor. Instead of paying for contractors or a team of professionals, you'll only need to pay for paint and supplies. 
Typically, paint is the most expensive part of a do-it-yourself project. You may be able to buy a gallon of paint for $20 or less. But some specialty products can cost up to $100 per gallon.
How much does it cost to have a house painted
by professionals?
Rates for professional painters range from about $20 to $50 per hour, per painter. However, larger or more complex projects—like an exterior paint job—may result in a higher hourly rate, with some teams charging close to $80 per hour, per painter. This means you could pay up to $160 per hour for a team of two painters.
Factors that affect the
cost to paint a house
House painting costs can change based on numerous factors. Let's take a look at some of the most common variables that impact the total cost of painting your home.
Labor
Labor is usually the most expensive part of a professional painting project. You may be able to cut costs by taking on some or all of the work yourself. However, hiring a pro for a major project may be well worth the added expense.
A professional painter should have the skills and experience required to achieve a clean, smooth, seamless result without splatters or drips. Additionally, a professional team will usually handle prep work and clean-up, allowing you to enjoy a freshly painted space without worrying about the mess. Finally, professionals know how to apply paint so that it adheres to the surface of your home, potentially reducing the amount of touch-ups and maintenance required.
Paint and materials
Paint prices can vary widely based on the type of paint you choose. An inexpensive matte paint could cost less than $20 per gallon, while specialty products made with natural color agents or high-gloss blends will likely cost more.
Paint costs also depend on how many coats you need to apply. For instance, if you're painting over a dark color with light paint, you may need to do three or four coats. Otherwise, you may wind up with uneven coverage.
Home size
Finally, the size of the space you want to paint plays a key role in estimating costs. 
On average, you'll need to budget about $3.50 per square foot for paint, materials, and labor, though costs can range from $2 to $6. If you want to paint a 400-square-foot living room, expect to spend about $1,400. But if you want to update every room in a 2,300-square-foot home, you'll need to expand your budget to about $8,000.
Ways to save on the costs of painting a house
Looking for ways to cut costs on your next painting project? Consider the following tips to save money on the professional paint job you've been dreaming about.
Do some of the work yourself.

If labor is your largest expense, you may be able to cut costs by taking on some of the work yourself. You don't need professional painting skills, either. Instead, ask your contractor if there are any preliminary tasks you can take on, such as: 

Moving furniture

Taping off trim, door frames, windows, or fireplaces

Covering floors

Removing door knobs, lightswitch plates, or outlet covers

Prepping the space by patching holes, washing and sanding walls, or scraping wallpaper
Shop around for the best deal.

Before you hire a professional painting crew, get a few estimates from experienced, insured teams. Make sure you ask each team how long they think the project will take, what type of paint you should use, and how many coats they'll need to apply. Compare offers before making your final decision.
Get an offer in writing.

Once you've chosen your team, get a contract outlining the scope of the project and estimated hours involved. Your contract doesn't have to be complicated. However, it should explicitly state what the contractors will do and how long they expect the project to take.
Carefully consider paint colors.

Take some time to think about colors before you buy paint. As a general rule, it's easier to repaint a wall with the same color than it is to change the hue. In addition, deep colors—like dark red, mustard, or green—may require up to five coats to cover. Your painters may need to apply multiple coats if you want to cover dark walls with a lighter color.
Stay on top of maintenance.

Finally, make it a priority to maintain interior and exterior paint. It's easier to touch up a well-maintained paint job than it is to prepare a surface covered in chipped, peeling paint, which could minimize your team's prep time.
How to pay for the
cost to paint a house
Whether you decide to take on a DIY painting project or hire a team of pros, home updates can get expensive. Between purchasing materials, paying for labor, and setting money aside for unexpected expenses, it's easy for homeowners to go over their renovation budgets.
Even so, taking on a painting project doesn't have to be a financial drain. As you work through the budgeting process, consider the three following ways to make paying for a new paint job more manageable:
1. Put money into a savings account
Typically, saving is the most straightforward way to pay for a home renovation project. For better results, create a secondary savings account with a periodic automatic deposit. For example, you may decide to deposit money into the account on the first of each month or after receiving a paycheck.
Saving up for a big painting project may take several months. However, it comes with several benefits. Let's take a look at some of the pros and cons below.
Pros of Using Savings
Cons of Using Savings

There's no lengthy application or approval process.

You usually won't have to pay any additional fees, like origination fees.

You won't have to worry about interest charges.

You'll reduce the risk of overspending because you have a finite amount of money set aside for the project.

It may take months to save enough to start the project.

Paying for painting costs with a savings account may reduce the cash you have on hand for emergencies.

It may be difficult to access more money if your project goes over budget.
2. Look into a home improvement loan
Given the high cost of some home improvement projects, you may be considering using a credit card. But before you swipe, take some time to explore other financing options, like a home improvement loan.
A home improvement loan is a type of unsecured personal loan you can use to pay for major renovations, DIY projects, landscaping, or the labor and materials for a painting project. Consider some of the pros and cons of a home improvement loan below.
Pros of a Home Improvement Loan
Cons of a Home Improvement Loan

A home improvement loan may come with

lower interest rates

than a credit card, especially if you have a

solid credit score

. 

If your credit score could use some work, you could still qualify for an affordable loan through a lending marketplace like Upstart.

Home improvement loans usually have set monthly payments, fixed interest rates, and clear payoff dates.

Having

regular installments

spread out over a predetermined period can make it easier to budget for and repay your loan.

A home improvement loan can reduce the risk of overspending by providing you with a fixed, lump sum of money.

If you have a lower-than-average credit score, you may have a harder time qualifying for an affordable loan from a traditional lender. 

Applying for a home improvement loan may cause your

credit score to drop

by a few points due to a hard credit inquiry.

Home improvement loans may not offer the flexibility of a line of credit, because you aren't able to access more money without taking out another loan.
Pro tip: Not sure how your credit score stacks up? Consider checking your rate through an online lending marketplace like Upstart. Our model considers factors beyond your credit score and uses your work experience and education¹ to find you a loan, enabling more access to affordable financing.
3. Consider a HELOC
A home equity line of credit (HELOC) is a type of variable-rate, revolving credit secured by the equity in your home. 
When you take out a HELOC, your lender gives you a revolving credit line with a predetermined spending limit. You can withdraw funds from your line of credit as needed, up to your limit. When you reach the end of your withdrawal period, you'll make monthly payments on the money you withdrew, plus interest.
Wondering if a HELOC is right for you? Consider the pros and cons below.
Pros of a HELOC
Cons of a HELOC

Most HELOCs have

variable interest rates

, which means your rate could decrease if market rates drop.

You can withdraw as much money as you need, as long as you don't go over your spending limits.

You can access funds from your HELOC for home improvement. projects, emergencies, or other expenses.

Your variable rate could increase if the market changes.

You may feel tempted to overspend, resulting in a large principal balance and expensive monthly payments.

Varying monthly payments can make it more difficult to budget.

You may lose your home if you default on your payments.
Ready to start your next painting project? Upstart can help
Whether you're planning to paint an accent wall in your bedroom or give your entire home a new look and feel with a fresh coat of paint, there's a lot of planning—and budgeting—involved.
But rather than letting the cost of a project cause financial stress, consider the types of home improvement loans available. Most importantly, do some initial research to determine which route is best for you.
If you decide a home improvement loan is best for your upcoming project, you can learn more about your options and check your rate online in 5 minutes or less. That way, you can get back to work sooner and enjoy the satisfaction of a job well done.
¹ Neither Upstart nor its bank partners have a minimum educational attainment requirement in order to be eligible for a loan.