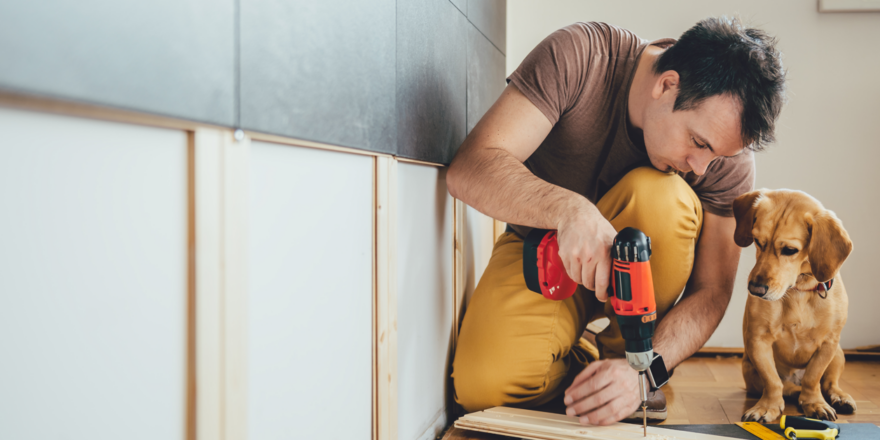 Your home is likely your largest investment. So properly maintaining your home is essential for ensuring its value and providing a safe place for you and your family. What happens when you need to do a home maintenance, repair, or remodeling project, but don't have the cash on hand? A home improvement loan from Upstart may be a good option for taking care of the residence that's taken care of you.
What Is a Home Improvement Loan
A home improvement loan is an unsecured personal loan that can be made without providing any collateral. Unlike some home-related financing, you won't need to provide your home title. It's not a mortgage or a reverse mortgage and won't put your home at risk.
Home improvement loans are paid back in installments, or regular monthly payments, depending on the size of the loan. Most loans are paid back in three to five years. The payment amount remains the same through the life of the loan, provided you pay as promised and don't accrue any additional fees or penalties. The total loan amount you qualify for will depend on your credit history and ability to repay – usually tied to your annual income. Home improvement loans can be as small as $1,000 or as large as $50,000. While U.S. homeowners will spend over $325 billion a year in home improvement costs, the average home improvement loan size from Upstart.com is just $11,742. These loans are a manageable way to help with the rising cost of owning a home!
Why Choose a Home Improvement Loan
With so many ways to borrow and finance your next home project, it can be hard to know which financial product is best. Credit cards – a popular choice – don't require you to take out a new loan but lack the stability of a personal home improvement loan. A home improvement loan has fixed rates, a steady monthly payment amount, and often a lower APR than a credit card. Home improvement loans have the added benefit of interest rates that stay the same for the life of the loan (unlike credit cards, which feature variable rates.)
If you can pay for your improvements with cash, you most certainly should. It's not recommended to live above your means or buy things you can't afford. However, some people might generally have cash, just not all at once. In that case, a home improvement loan can be like a payment plan.
Have you heard of HELOC? Also known as a "home equity line of credit," this type of loan is heavily advertised as an option for those who own their home and want to make improvements. While the benefits of a HELOC is usually a large line of credit that's flexible enough to use for any reason, it's tied to the equity in your home. This means your house becomes collateral for the loan, and defaulting on payments could put your home at risk. Also, interest rates on HELOC's aren't usually fixed so what you pay every month can change based on global interest rates. While some banks have safety guards in place that won't allow the rate to rise more than 2% a year, even that could make your payments unmanageable over time. A personal loan has fixed rates that never change for the life of your loan.
Home improvement personal loans are easy to get through an online application and approval process. Unlike some of the other options mentioned, it's possible to get your cash the next business day, too.
Comparison of Funding Sources
Pros
Cons
Cash
Simplest.
Many people may not have cash available for a home improvement project.

May cut into important emergency savings.

Credit Cards
Easy to get.
Higher interest rates.

Revolving debt may never get paid off.

Applying usually affects your credit score negatively and you may not even get approved.

Home Equity Loan
Relatively low interest rates.
Puts your home at risk.

Requires taking on debt.

Personal Loans
Competitive interest rates.

Fixed payments.

Fast and easy loan approval.

More expensive than paying cash.

Requires taking on debt.
How to Use a Home Improvement Loan
While most people who apply for home improvement loans use them for home-related expenses, these loans are a general personal loan. The funds can be used as you wish! Use the money for home repairs or paint or carpet. Keep the leftover to pay off credit cards or put toward your mortgage. The money is yours to spend as you see fit.
Most borrowers use a home improvement loan to increase their home value or make their house more enjoyable to live in. Some of the top projects include a second bathroom, changing from carpet to hardwood floors, or building a garage. All of these ideas can make the home worth more than before, making the loan a solid investment in their future. For those who just need repairs done, the home improvement loan is perfect for replacing a leaky roof, drafty windows, insulation, or even broken appliances. There is no limit to what you can do with your home improvement loan.
How to Apply for a Loan
Times have changed for homeowners over the past few years. It is now easier than ever before to get a loan to create that new kitchen look or to update a tired bathroom. While you can still get a loan at your bank, this option is limited. You have to apply during banking hours (when many of us are at work), and it can be hard to get an appointment with a busy banker. For those wanting to apply during the evening or weekend hours, you'll be out of luck!
A better way to shop for a loan – and even apply – is over the phone or online. By searching the internet for the best loans available, you can choose from a home improvement product that serves you and your values. Get the rate you want, with the loan amount that meets your needs.
A good alternative to both the brick-and-mortar bank and the aggregator is Upstart, which takes just a few key pieces of information to give you a great rate on a home improvement loan that meets your needs. Fees and terms are shared right away, so there are no surprises. Once pre-approved, you can submit a full, formal application and get access to your funds within 24 hours. Your credit score won't be impacted unless you go through with the full application, either.
Do you Qualify for a Home Improvement Loan?
Are you concerned that you won't be approved for a home improvement personal loan? There are a few considerations lenders will make in determining if you qualify. They will include your ability to repay (usually determined by a combination of your income and existing outstanding debts) as well as your credit history (which determines how well you've handled loans in the past.) The details of what they will ask for – as well as how they will qualify you – may differ by lender. Upstart asks that you have a solid employment history, adequate income, and a reputable history of repayment. To find out if you qualify, Upstart asks:
Basic personal information, including address and phone number
Annual income
Education history
Whether you've taken out loans on the past three months
How much money you have in savings and investment accounts
How much you want to borrow
Based on your answers, you'll get an answer right away!
What to Expect When Applying
If approved for a home improvement loan online, you should be able to see a preliminary loan offer right away, including the amount of loan and interest rate. Upstart will tell you what you qualify for within minutes. This will not even count as a hard pull on your credit history, unless you go ahead and continue with the full application to accept your loan offer. Other lending institutions may not offer this "soft pull" on your credit, however, so be careful! Even one hard inquiry can cause your score to go down a few points, which may be the difference between getting the rate you want – or even getting a loan, at all!