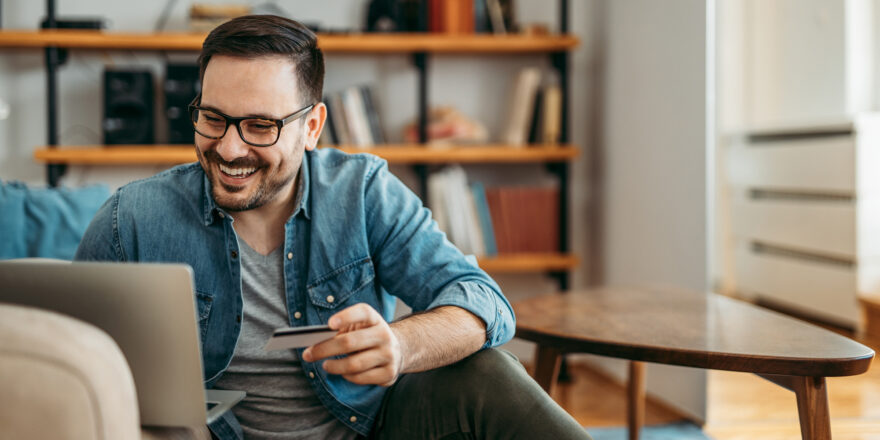 Whether your debt is in the form of a mortgage, auto loan, student loan, or credit cards, chances are, you probably don't want to take on more debt. However, it's normal to take on a new loan in order to pay off an existing, higher-interest loan or debt. Preferably, the new loan would have a lower interest rate which could save the borrower's money in the long-term. 
Eliminate high-interest credit card debt with a personal loan
People who struggle with high-interest debt on multiple credit cards may choose to take out a personal loan to pay it off. This is known as debt consolidation. Having one loan to pay each month rather than keeping track of multiple payments is also less of a hassle. It can help reduce the chance of making a late payment.
In addition to credit cards, personal loans can be used for just about anything. ere are reasons why people take out personal loans: 
Discontinue the debt cycle
Taking out a personal loan without increasing your debt takes planning—you don't want to continue the cycle of debt longer than you need to. 
Paying off a mortgage over decades is one thing, but having high-interest credit card debt is another. It won't set you up for financial success, especially if you want to save for a big purchase, such as a house or car. It may also make essential saving such as a rainy day fund or contributing enough to your retirement more difficult.
However, there are ways to use a personal loan to pay off debt without increasing your debt. 
Here are strategies to keep your debt in check. 
1. Make more than the minimum payments on your personal loan
Make the debt less expensive by paying off the loan early–try to make sure the lender doesn't charge a fee for paying the loan before the term is done.
Make extra payments in the month or double up on the amount you pay each month, for example. 
If your budget is tight and you can't afford to double up, consider small increases, such as $10 or $20. Even if you think that amount won't make a difference, the point is to get yourself into the habit and mindset of always making an effort to pay more than the minimum. 
When your budget allows, incrementally increase the amount. That way, you pay less in interest and get rid of the debt faster.
2. Shop around for the lowest interest rates
An important part of the process to consider is shopping around to different lenders for the best rate. This may help you pay less over the life of the loan, saving you money on your debt. 
Check out different lenders online and use their comparison tools or loan calculators to understand how much the loan will cost. 
3. Borrow from a single lender rather than multiple lenders
Consider using a single lender for your financial accounts, such as your checking and saving accounts, credit cards, or mortgage. Sticking to one lender can help you build a solid credit history. It also builds a relationship and shows that you're a reliable customer, which may help you snag a lower interest rate. 
4. Create a plan for your finances
Come up with a plan to keep your debt-to-income ratio low—30 percent or lower. This ratio is calculated by taking the total amount of debt you have in relation to your income. Keep an eye on it as you work out a monthly budget. 
In order to keep your spending in check, understand where your money is going each month. Take a look at bank statements and your monthly spending and total up your essentials, such as:
Rent/mortgage

Car payments

Groceries

Phone bill 
Then look at the last three months of your non-essential spending:
Restaurant/bars

Entertainment such as movies, subscriptions

Taking Ubers/Lyfts

Gym memberships
After you find the average amount you've spent on non-essentials in the last three months, try to reduce the amount you spend. Perhaps you can have a goal to decrease this amount by 20 percent by canceling unnecessary subscriptions and cooking at home. 
Focus on your needs vs. wants–which helps you figure out what is an unnecessary habit, such as eating at a restaurant or getting takeout three times a week. If you've reduced your weekly delivery habit and saved $100, for example, you can put that money into your debt. 
An important part of this plan to highly consider is to actually stick to it. Spend less, be intentional about paying down debt, and try to avoid using your credit cards–which may hinder your progress to getting out of debt. 
5. Create healthy financial habits
It may not be realistic to completely avoid debt. Establish healthy spending and saving habits, and live below your means. Also, don't borrow more than you can afford, even if you qualify.  
These are a few good practices to help get this going:
Contribute to an emergency fund

Throw extra money into your debt

Pay off credit card balances in full, if you can

Reduce your wants and focus on your needs
Take control of your debt situation and change your financial future for the better.