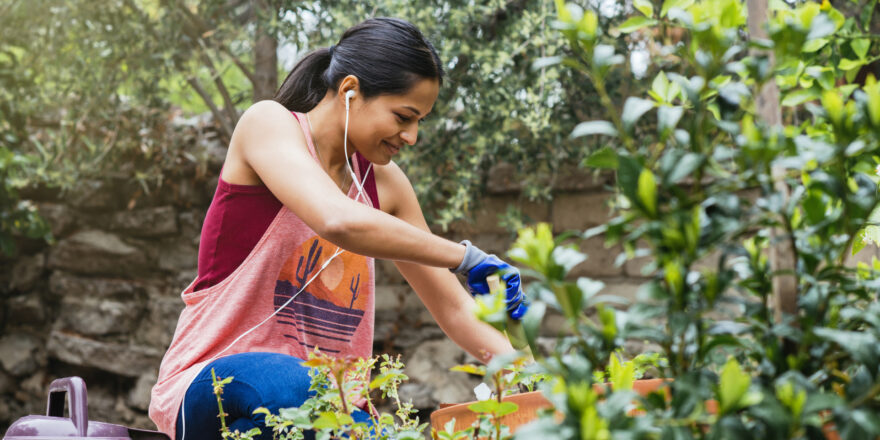 Key takeaways: 
On

average, landscaping costs

range from $4 to $40 per square foot.

Costs may vary based on your property size, project scope, and the materials needed.

Upstart-powered home improvement loans could help cover the costs of materials and labor. 
Landscaping your yard is a massive undertaking. Before you hire a landscaping company or break ground yourself, it's important to understand the cost of landscaping. That way, you can budget effectively for your project and stay one step ahead of unexpected costs. 
In this guide, we'll break down average landscaping prices for popular projects. We'll also talk about some of the factors that influence your bottom line and how much to invest for the maximum ROI. 
How much does landscaping cost?
Landscaping is a catchall term describing everything from planting a few perennials to completely remodeling your backyard. As such, landscaping prices vary dramatically depending on the project. 
For instance, basic lawn care like mowing or weed trimming may cost as little as $50 per hour. Larger projects, like sprinkler installations, could cost $5,000 or more. 
Large-scale projects may also take several weeks and require a large crew. Depending on the scope of work, your bill could climb as high as $100,000.
Average landscaping cost per square foot
Average landscaping costs per square foot range from $4 to $40 after installation, based on the type of landscaping project. 
Basic lawn maintenance may be as cheap as $4 per square foot. An intermediate project like installing flower beds could cost $10 per square foot. Lawn demolition, regrading, or sod installation may drive your expenses up to $40 per square foot for materials and installation. 
Projects involving planting may also up your total costs as you pay for the price of the plants themselves, the price of additional materials, and labor costs. 
Average landscaping labor rates per hour
On average, landscaping companies charge between $25 and $50 per hour, per crew member. Generally, landscaping companies send out 2-person crews for standard services like mowing. With that in mind, plan to spend at least $100 per hour for basic landscaping and more for time- and labor-intensive projects.
Average monthly landscaping cost
Looking for regular lawn care? Monthly landscaping maintenance costs between $50 and $300 based on the size of your yard.
Average cost of landscaping a backyard
Backyard landscaping costs are usually higher than front yard lawn care for a few reasons. First, backyards are generally larger than front yards. They also tend to have more complicated landscaping, like water features, flower beds, large trees, and rocks or gravel. 
Costs range from $1,000 to $5,000 for relatively simple landscaping projects, like installing plants and sod. More complex projects, such as adding a water fountain or building a retaining wall, may cost $15,000 or more. 
Landscaping cost examples: Average cost for popular landscaping projects
Still working on your landscaping budget? To make the process simpler, take a look at this cost breakdown for some of the most popular landscaping projects. 
| | |
| --- | --- |
| Landscaping Project | Average Cost |
| Mowing | $25–$50 per hour |
| Planting flower beds | $11 per square foot |
| Trimming trees | $250–$500 per tree |
| Removing trees | $200–$600 per tree |
| Landscaping maintenance | $50–$300 per month |
| Landscape design | $50–$100 per hour |
| From-scratch landscaping installation | $3,000–$16,000 |
| Sod installation | $0.55 per square foot |
| Lawn seeding | $0.05 per square foot |
| Mulching | $100–$300 |
| Sprinkler installation | $1,750–$3,550 |
| Gravel installation | $300–$400 |
| Landscape curbing | $750–$1,850 |
Sources: HomeGuide's 2022 Landscaping Costs List, HomeAdvisor's 2022 Lawn & Landscaping Costs Guide
Is landscaping worth the money?
Landscaping is well worth the money. A study found that upgrading your landscaping can increase your home's resell value by 10% to 12%, depending on the quality of the installations. 
The study found, on average, homes featuring large, diverse plants and sophisticated designs had higher perceived resale values. In contrast, properties with little to no landscaping found it detracted from the home's value. 
With that said, it's important to balance your cost-to-value ratio, or how your home's resale value compares to your investment. Some experts recommend investing up to 10% of your home's market value on landscaping to get the best return on investment (ROI). That means if your home is worth $250,000, you can spend up to $25,000 on landscaping without diminishing your ROI. 
Is it cheaper to do landscaping yourself?
In the long run, do-it-yourself landscaping may be cheaper than paying a landscaping company to maintain your property. However, you will need to make some upfront investments. 
For instance, you may need to purchase a lawn mower, weed trimmer, or other lawn care tools. You'll also need to buy plants, fertilizer, and other materials. All in all, you may invest a few thousand dollars. But remember: landscapers charge about 115% more than market price on plants and materials. Those costs can add up over several months or years.
That said, deciding to hire a professional landscaper or take on a landscaping project yourself comes down to the time and energy you want to invest in your property. If you'd rather spend time with loved ones or enjoy a hobby on your nights and weekends, you may get more value out of hiring a pro.
How do you estimate landscaping costs?
Estimating landscaping costs isn't easy when you have a long list of projects to complete. But it's important, especially if you want to stick to your budget. 
With that in mind, consider these steps to help you get a better idea of your expenses: 
Make a list of projects you want to complete.

Develop a comprehensive list of landscaping services, such as lawn mowing, planting trees, or flower bed installation. Then, split the list into "needs" and "wants." Doing so can help you decide which projects to postpone if necessary. 
Review average costs.

Websites like HomeGuide monitor project estimates from professionals around the country, then break down the costs for homeowners. Do some research on potential costs, but take national averages with a grain of salt. You may find that local companies offer lower rates. 
Get a quote from local landscaping professionals.

Once you narrow down your list to the projects you want to complete first, get in touch with 2 to 3 local landscaping companies for a quote. In most cases, a landscaping team will inspect your property before providing you with a rate. By doing so, they can provide you with a more accurate estimate. You can then budget accordingly.
Factors that affect landscaping costs
Ultimately, your landscaping costs will come down to a few major factors:
Size of your property

Type of projects

Required time and labor

Time of year
Size of your property
The size of your property is possibly the most influential factor when it comes to estimating landscaping costs. Landscaping a quarter-acre yard will almost always cost less than remodeling a 2-acre property. 
That said, you may be able to cut costs by focusing on one part of your property. For instance, you may decide to install a few flower beds or plant trees in your front yard instead of landscaping your backyard. Or you may prioritize a high-end project, like installing a water fountain or pond, alongside a few smaller projects.
Type of projects
The scope of your project will also impact your bottom line. Tackling a few basic tasks like mulching existing flower beds or reseeding your lawn may cost several hundred dollars. A team of lawn care professionals can likely complete the job in a few hours. 
On the other hand, major projects—like building a retaining wall, resodding your property, or installing a sprinkler system—will cost substantially more. Not only are they labor-intensive, but they also require more materials and, in some cases, specialty equipment. 
Required time and labor
As mentioned above, hiring a lawn company to cut your grass will cost you about $100 per hour. The job is relatively low-effort and a team of two can likely complete it in an hour or less. But as you take on projects that require more time, effort, and crewmembers, your costs will increase, too.
Time of year
Lastly, consider the time of year you plan to start a landscaping project. Most landscaping companies are busier during the spring and summer. Because of this, labor costs are higher and scheduling is more difficult.
If you postpone a major project until fall or winter, your landscaping company may offer reduced labor rates. You may also be able to start—and finish—your project faster.
Ready to take on a new landscaping project? Upstart can help
No matter how big or small the project, landscaping prices can add up. Depending on your financial circumstances, you may decide to split up projects or tackle a few tasks at a time to avoid draining your savings account. Or you may be planning to put your expenses on your credit card and repay the balance over time.
Before you swipe, consider a home improvement loan instead. Home improvement loans are unsecured personal loans you can use to pay for renovations, remodels, DIY projects, or—you guessed it—landscaping. 
In many cases, personal loans may come with lower interest rates than credit cards. Plus, you can repay your loan over several years instead of racking up expensive interest on a revolving credit balance. And when you apply for a home improvement loan through Upstart, we could help you find a loan by considering your work experience and education¹.
With a home improvement loan, you can turn an overgrown yard into a personal escape faster than you planned. Learn more about your loan options and check your rate online in 5 minutes or less. 
¹Neither Upstart nor its bank partners have a minimum educational attainment requirement in order to be eligible for a loan.