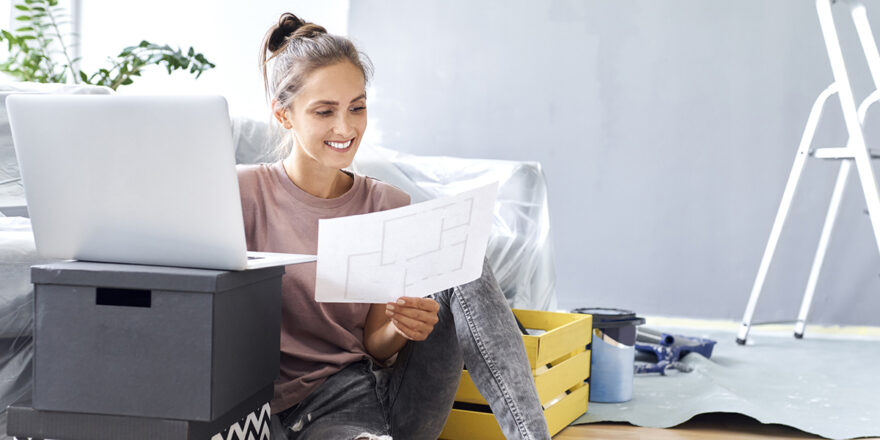 Whether you recently bought a house or have lived in yours for years, you know how transformative a few simple home improvement projects can be. Unfortunately, some renovation projects can cost hundreds, if not thousands, of dollars to complete.
Luckily, you don't need a huge budget to complete a high-impact project. Sometimes all you need is an idea, a few hours to work, and some elbow grease to upgrade your living spaces. 
Not sure where to start? Take a look at these 10 budget-friendly home improvement ideas to help save you money now and yield a solid return on investment in the future. We'll also show you how you can finance your next DIY projects in your home.  
1. Brighten your space with a fresh coat of paint
Nothing updates a space more than a fresh coat of paint. Give your walls a makeover with a trendy color, or opt for a crisp, fresh coat of white paint for the ultimate blank canvas. 
You don't need a lot of painting experience, either. You can find countless video tutorials online that teach you how to cut in, tape off, and evenly cover your walls. Just remember to buy plenty of drop cloths to protect your floors—unless you're ready to update those, too. 
2. Refresh your window treatments
Changing your window treatments is another high-impact DIY home improvement project that requires little time, money, or experience. Depending on your level of craftiness, you may even decide to make your own window treatments. Otherwise, head to your local home goods store to see what you can find. 
You may decide to go for a classic look with soft, white curtains. Or, you could embrace a sleek, minimalist aesthetic with folded Roman shades. No matter what style you want to capture, this easy DIY project will refresh your space in no time. 
3. Refinish your cabinets
You've probably heard how expensive a kitchen remodel can be. It's also one of the few home improvement projects you probably want to leave to the pros, especially if you're making major changes like installing new cabinets or flooring. 
Good news: cabinet refinishing allows you to capture the look and feel of a professional renovation at a fraction of the cost. As long as your kitchen cabinets are in working order, you can complete this project in as little as a weekend. Simply clean your kitchen cabinets, sand them down, and apply a fresh coat of your favorite paint color.  
4. Install crown molding
Installing crown molding is high on lists of the most popular home remodeling ideas. Typically, it's a tricky DIY project that requires woodworking skills and a miter saw to achieve perfectly aligned corners. 
But some clever DIY-ers have found an easy, cost friendly solution for DIY crown molding. Plaster-coated foam molding can make the DIY installation process easier. Simply cut the pieces with a handsaw. Then, fix the molding to your walls with joint compound. No nails, no miter saws, and no complicated cuts required. 
5. Upgrade to an energy-efficient dishwasher
Upgrading to a new dishwasher may not be the most exciting DIY home improvement idea. Still, it could help you save in the long run by reducing your water bills. 
You only need a few hours to replace your dishwasher, too. Then, you can say goodbye to dried-on stains and costly water bills, and hello to better savings. 
6. Update your backsplash with peel-and-stick tile
Peel-and-stick tile makes it easy to bring your outdated kitchen into the 21st century without a large budget. In many cases, you can stick the tile directly onto your drywall or existing backsplash. That means no demo, no clean-up, and no time or money wasted. 
And if a traditional tile backsplash isn't your thing, you're in luck. Many home improvement stores offer a variety of budget-friendly peel-and-stick products, like stick-on beadboard paneling, faux bricks, or reclaimed timber. 
7. Make a DIY accent wall
Installing an accent wall adds a touch of modern farmhouse charm to any space. What's more, it's one of the most popular DIY home projects for beginners on a budget. We recommend using adhesive shiplap or peel-and-stick flooring for maximum impact and minimal effort. 
8. Paint your bathroom tile
Believe it or not, you can update your bathroom tile without undertaking a major project. Instead of replacing the tile, simply paint it instead. 
Painting your bathroom tile is a relatively short-term solution to an outdated space. Still, it's much easier—and much cheaper—than installing new tile. 
Keep in mind that you can only paint certain types of tile, including ceramic, porcelain, unglazed quarry tile, and natural stone tiles. If your bathroom features glazed quarry tiles, you may need to consider another option. 
9. Add charm with DIY wainscoting
If you love the idea of a wooden accent wall but want to avoid a rustic farmhouse look, consider wainscoting. Wainscoting is wood paneling that covers the lower portion of your walls. You can go for a classic look similar to shiplap. Or, you could save money by building wooden frames with base cap molding for a modern approach to a timeless architectural feature. 
The project may take an entire weekend, but the result will be well worth the time and effort required. Just remember to measure carefully to avoid uneven panels. 
10. Whitewash your fireplace
A fireplace adds unmatched depth and coziness to any room. But if you've got a dark brick or stone fireplace, it can suck all the light out of your space. 
Fortunately, you can brighten your rooms in a few hours by whitewashing your fireplace. Simply mix one part white latex paint with one part water. Then, use a paintbrush to transform your dark fireplace into a fresh, modern centerpiece. 
5 ways to pay for home improvement projects
Whether you plan to start a major renovation or stick with a budget-friendly DIY update, home improvement projects require some financial planning.
Depending on your circumstances, you may have to tackle one or two small updates at a time. In doing so, you can cover your expenses without draining your bank account. 
But some situations may require immediate funds or a substantial amount of money. For example, your home may need renovations or repairs immediately, leaving you with limited ways to cover your expenses.
Not to worry. Consider the 5 following ways to pay for renovations or repairs: 
Find ways to save on debt.

High-interest debt, such as credit card debt or auto loans, can add up over time. But that doesn't mean you're stuck with expensive debt forever.

Debt consolidation or credit card refinancing may make it easier to repay your debt by lowering your monthly payment or reducing your interest rate. You can then use the money you saved to take on easy DIY projects for the home or your latest backyard landscaping ideas.
Look into 0% APR credit cards.

If you know you need to make a large purchase, you may consider a 0% introductory APR credit card to cover your costs. After qualifying for a 0% APR credit card, you'll have a period of time (usually ranging from 6 to 21 months) to repay your balance without additional interest charges.

However, it's important to repay your balance in full before the end of the promotional period. Otherwise, you'll have to pay interest on your remaining balance.
Ask about in-store financing.

If you're buying most of your supplies from the same home improvement store, you may consider in-store financing. Some stores offer credit cards or financing options for qualified applications that allow you to spread out your payments over time.

That said, you will probably need a fair to good credit score to qualify. You may also find that in-store loans and credit cards offer less flexibility when it comes to minimum and maximum spending limits.
Use a home equity loan.

A home equity loan is a type of lump-sum loan borrowed against the equity you have in your home. Usually, you can borrow up to 85% of your current equity, or the value of your home minus the amount you owe on your mortgage.

Home equity loans typically come with fixed rates and flexible repayment periods. As a result, they may seem like a convenient way to fund your home improvement projects. But, be careful. Your home equity loan is secured with your equity. If you become unable to repay your loan, you could lose your home.
Apply for a home improvement loan.

Finally, you may consider applying for a

home improvement loan

through a lending platform like Upstart. A home improvement loan is a type of unsecured

personal loan

you can use to cover unexpected expenses, renovate your space, or tackle a long list of

DIY home improvement projects

.

Traditionally, you would need a solid credit score to qualify for an affordable loan with a fair interest rate. But, at Upstart, our model considers factors like your education¹ and work experience to help you get the rate you deserve. We also make it easy to repay your loan with 3- and 5-year terms² and monthly payments that work with your budget.
Ready to update your home? Upstart can help
At Upstart, we know how exciting it can be to update your home. Whether you're preparing for a major renovation or tackling a few DIY home projects, you have the chance to personalize your space and make it your own. 
Saving for a home renovation isn't easy, though. With that in mind, take the time to get familiar with your options and learn about the most affordable ways to fund your home improvement projects. That way, you can choose an option that works for you and get to work faster.
¹ Neither Upstart nor its bank partners have a minimum educational attainment requirement in order to be eligible for a loan.
² The full range of available rates varies by state. The average 5-year loan offered across all lenders using the Upstart platform will have an APR of 24.74% and 60 monthly payments of $26.35 per $1,000 borrowed. For example, the total cost of a $10,000 loan would be $15,808 including a $591 origination fee. APR is calculated based on 5-year rates offered in April 2022. There is no down payment and no prepayment penalty. Your APR will be determined based on your credit, income, and certain other information provided in your loan application. Not all applicants will be approved.