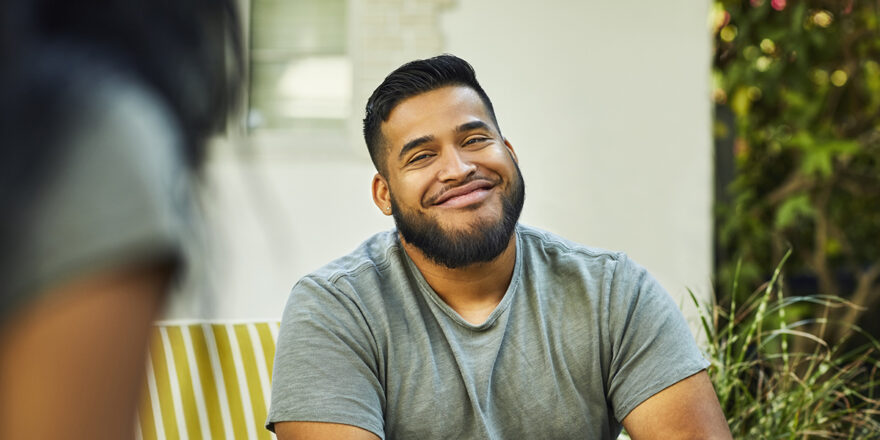 *Images are not actual customers, but their stories are real.
After accruing debt from credit cards and other loans, Saul felt overwhelmed by the payments each month, and wanted to find a way to simplify the amount he needed to pay.  

Saul found Upstart after searching online for ways to roll the multiple debts into a single, lower monthly payment.

Saul was able to combine all the previous amounts he owed into one single payment, allowing him to alleviate some of his financial stress and save money on a monthly basis.  
As humans, we lean into the satisfaction of making progress, moving forward, and mentally marking "done" when we complete a task. Just the opposite—when we put in the legwork but don't feel like we're accomplishing much, it's frustrating and discouraging. That's how 26-year-old Sacramento resident Saul felt. Month after month, he'd pay multiple credit card and loan bills but didn't see the balances shrink fast enough. 
Keeping up with his bills and when they were due also added unwanted pressure. Saul explained, "I needed some relief from my stress."
Consolidating bills to lessen the tension
Saul, who works at a Sacramento-based non-profit to help keep the city clean, was already familiar with personal loans since he had a few existing loans before finding Upstart. Those loans and additional credit card debt loomed over him—each one with different due dates and amounts to pay.
The multiple high monthly payments felt suffocating and Saul decided to do something about it.  He started shopping around for a personal loan with a competitive rate that would enable him to roll the multiple debts into a single, lower monthly payment.
"I have so much going on, so consolidating my payments felt like a good next step. I wanted to make more of an impact with one payment."
He came across Upstart after comparison shopping for personal loans on Credit Karma. He was thrilled to discover he could get a better rate and lower his monthly payment, saying, "It immediately took a lot of the stress off of me."
Authentic Upstart reviews sparked Saul's interest
Saul read about other people's experiences while he explored Upstart's website—people like him wanted to combine various debts into one streamlined payment to save money monthly. 
Many borrowers shared stories of financial struggles and the comfort they experienced after consolidating their debt into a simple payment. Upstart's easy-to-use dashboard showed the exact payoff amount, and when it went down each month, it motivated customers to pay off their loans early.
"Reading the reviews made me curious to give Upstart a try. Plus, it wouldn't hurt my credit to check my rate. So, I decided to take a chance."
'Upstart's application was very easy to maneuver'
Since Saul already had a few other loans under his belt, he was familiar with the application process, and appreciated the simplicity of signing up with Upstart. After submitting his application, Saul was approved on the same day and received the loan quickly. 
"I got the money in my account fast—it was the next day1. Other loans would take around two to three days for me to receive the money and overall, the process with them was slower."
Saul added, "I got a better monthly payment, so it was definitely a win-win." Rates and saving money aside, Saul liked the fact that he was treated like a real person. 
The best thing about Upstart was that they understood me.
Worrying less and paying off the loan early
Saul's experience with Upstart was quick, efficient, and brought his stress levels down to be more manageable. If he were to measure his stress level on a scale of one to 10, with 10 being the maximum amount of discomfort, he exclaimed, "I was at an eight before I signed up with Upstart. Now I'm at a 3 or 4!" 
Saul appreciated the simplicity of using Upstart. "The payments were so easy; just once a month—not biweekly. It made it easier for me to knock out everything else I needed to do within the month."
Feeling rejuvenated about getting his debt under control, Saul said, "I paid off my Upstart loan in less than a year."
Eager to share his own experience to those who could use less stress in their lives too, Saul tells his friends, "I still have money for anything else I need to do."
He smiled, "It's like, what more do you want?"
Motivated to pay off your debts like Saul did? Learn more about Upstart's personal loans. 
¹If you accept your loan by 5pm EST (not including weekends or holidays), your funds will be sent on the next business day. Loans used to fund education related expenses are subject to a 3 business day wait period between loan acceptance and funding in accordance with federal law.