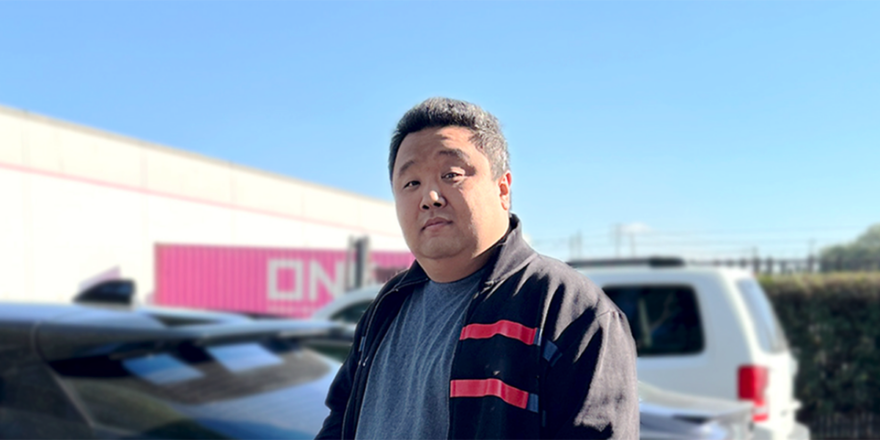 Key takeaways:
As head of household for his family of four, Joe has an important financial responsibility in order to provide for his family. 

After multiple unforeseen expenses including a car accident, he was struggling to pay off a new high-interest car loan and continue to provide for his family. Joe found Upstart after searching online for options to refinance his car loan. 

By refinancing his car through Upstart, Joe was able to save money on his monthly car payment and gain the confidence he needed to get his finances back on track. 
Bankruptcy, a wrecked car, and less-than-stellar credit—all three of these factors were devastating to Los Angeles native Joe. 
As a father of five and the head of his household, Joe felt enormous financial pressure and stress from the fallout of filing for bankruptcy—which ended up destroying his credit. 
Joe recalled, "In addition to the bankruptcy, I also had a car accident which totaled my car. I needed a car to commute to work, travel, and shuttle my kids around. It was a real bummer."
Handling bankruptcy and bad credit
Like many L.A residents, Joe relied on his car to get to and from his job as an international shipping company logistician. In addition, Joe used the car to shuttle his kids around and run errands outside of work. He was also a part-time pastor, so traveling between various locations within the sprawling L.A. area meant a car was crucial to Joe's day-to-day life.
Joe didn't know what to expect when shopping around for a new car because of his bad credit. When he did, Joe realized just how much the chapter 7 bankruptcy had damaged his previously good credit. Time after time, Joe received ridiculously high-interest rates when applying to take out loans.. 
Like many people who struggle with the effects of bad credit, Joe eventually was able to get a car, but had to pay a premium on top of the purchase price. 
According to Joe, the car loan was approved at an extremely high-interest rate.
Seamless application process and approval through Upstart
Joe wanted to find out if he had other better options to lower the interest rate on his monthly car payments. He started researching and quickly found Upstart. He discovered that by refinancing his existing car loan, he could lower his monthly car payments with a better interest rate.
Prior to checking his rate, Joe was wary, especially after dealing with multiple disappointing experiences. He said, "Upstart was straightforward, you get a quote right away. So I thought, 'what do I have to lose?' I'm going for it."
Saving money each month with a better rate
After filling out an application on Upstart.com, Joe's skepticism immediately melted away. Throughout the process, Upstart was simple and transparent. 
He also liked Upstart's customer service team, since there were real people that he could talk to for any questions or concerns.
"It was fast. Everything was online, I just uploaded all of my documents and I got a decent rate. The staff was very friendly. If I missed something, they emailed me right away." 
From Upstart's website to the customer service team, the end-to-end car loan refinancing experience was easy and seamless—this made Joe feel more at ease. 
And he was thrilled to learn that his application was approved at a better rate. "I was able to save a ton on interest by getting a better rate and refinancing through Upstart." 
Joe improving his credit score after refinancing his car loan
Raising your credit score doesn't happen overnight for anyone; however, Joe was delighted to see his financial situation improving with his new car loan through Upstart. As Joe makes on-time payments every month, he can improve his credit score little by little. 
"I'm improving my credit score little by little." 
Joe's increasing credit score helps him feel hopeful about stabilizing his finances and paying off high-interest debt. Joe felt grateful for finding a company like Upstart that looks beyond his credit score and helps him experience control over this part of his life with a new car loan at a better interest rate.
When asked what kind of advice he has for others stuck trying to pay off high-interest debt, Joe replied, "I know lots of people suffering with high-interest rates, paying almost double the amount of principal. But in their minds, they believe their credit isn't 'there' yet because they've been turned down by so many different banks, just like me…I just wanted to share how much I've been able to gain confidence, financially. My experience with Upstart was seamless." 
Your loan terms will be determined based on your credit, income, and certain other information provided in your loan application. Not all applicants will be approved.
Customers who participate in testimonials are compensated for their time.