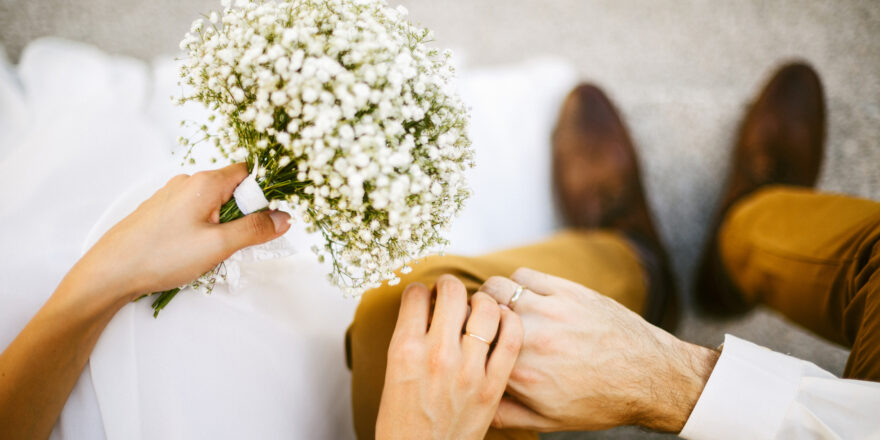 Your wedding is likely one of the biggest and most expensive celebrations you may ever host. In 2021, the average wedding cost was $28,000, or $34,000 if you include the engagement ring, according to The Knot. In 2022, couples should expect to pay $1,000 to $3,000 more, without including extras like a honeymoon.
If you're thinking about eloping after looking at these averages, don't worry. Whether you want an intimate ceremony or a 200-guest event, scroll on to learn how to cut costs and finance a wedding that exceeds your hopes but not your budget!
Average wedding costs for services and items
The total cost of a wedding depends on a variety of factors, including the size and location of the venue, the number of guests, the food, and entertainment to name a few.
Here's the average cost of wedding expenses in 2021:
| | |
| --- | --- |
| Wedding expense | Average cost |
| Wedding and reception venue | $10,500 |
| Rings | $5,900 |
| Wedding photographer and videographer | $4,200 |
| DJ or band | $1,200 to $3,700 |
| Catering (for 50 guests) | $3,500 |
| Flowers | $2,000 |
| Rehearsal dinner | $1,900 |
| Dress | $1,600 |
| Wedding planner | $1,500 |
| Wedding day transportation | $800 |
| Invitations  | $590 |
| Cake  | $500 |
| Officiant | $280 |
| Tuxedo rentals | $280 |
Ways to save money on wedding costs
When it comes to planning a wedding, start by making a list of your priorities and set a realistic budget. That way, you can allocate your wedding budget funds more easily. If you find that you're over budget, revisit your list of priorities and find ways to save on your wedding expenses. 
Remember, other than some type of ceremony and possibly some food, nothing in a wedding is mandatory. All of the extras, including a dress or tuxedo, flowers, and even the cake, are optional.
Estimate the cost of your venue
A ceremony and reception venue will likely be your biggest wedding expense. Before you commit to a location, shop around and consider your options. For example, you may think that getting married in a barn is more affordable, but it could end up costing you more. 
If the location isn't equipped with basic venue essentials, you'll need to bring in your own tables, chairs, plates, glassware, silverware, kitchen equipment, and restrooms. All of that can add up very quickly. After you check out a few venues, estimate and list the total price of a wedding at each location and choose accordingly.
Reduce the number of guests
When you factor in the cost of invitations, transportation, favors, and a piece of cake, wedding guests cost much more than their meal at the reception. If you have a tight budget, revisit your guest list and make some thoughtful cuts. Shrinking the guest list can save you hundreds of dollars.
Choose your wedding date carefully
The day you choose to get married can make or break your budget too. Saturday is the most popular day of the week to get married, and with high demand comes a bigger price tag. Similarly, months during prime wedding season, which is spring through fall, are more expensive than in winter. You may be able to save a lot by selecting a wedding date on a Friday/Sunday, or during January and February. 
Create your own invites, place cards and menus
If you love the look of personalized invites, place cards, table numbers, and menus, but not the price, try making your own. You don't need to be an artist to create beautiful paper goods for your wedding, you can do it online from the comfort of your home. Once you select a design template from a vendor, print the goods at home or from a local print shop.
Research dress deals
You don't need to spend a lot on a wedding dress to look amazing. To save money on a dress, shop early and strategically. Research upcoming designer trunk shows and sample sales then mark them on your calendar. Buying a dress from these types of events can mean a significant retail markdown.
Wedding payment options
There are many methods you can use to finance a wedding. When it comes to choosing the right method for you, keep in mind that there's no one-size-fits-all approach. Before you make any commitments, consider your options and create a plan in advance so you're prepared.
Wedding loan
If you're concerned about paying for your wedding expenses out of pocket, consider applying for a wedding loan. A wedding loan is a personal loan that you can use to fund wedding expenses. This is a good option for borrowers that feel confident they can pay back the debt within a reasonable time frame. Before you apply for a personal loan, keep in mind that lenders may require you to have a good credit score and reliable source of income to qualify.
Credit cards
Credit cards can be a great way to pay for wedding expenses if you're strategic about it. When you charge expenses to your credit card, pay off the balance in full immediately. That way, you can earn rewards and avoid paying extra in interest. If you have a credit card with rewards, and you're careful with it, you could earn enough points to offset your wedding spending or fund your honeymoon.
Additionally, your credit card company may guarantee all of your purchases. For example, if one of your vendors goes out of business or you need to dispute charges, you have protection from your card issuer.
Personal savings
After your engagement, take the time to estimate the cost of your wedding so you can start saving for it. You may not be engaged long enough to save for the entire wedding, but by saving a bit each month, you could make up the difference with your savings.
Loan or gift from a loved one
In some cases, loved ones will chip in to help couples pay for their wedding costs. If your loved ones have expressed they'd like to contribute, have a conversation with them about what that might entail. When you know the specific amount, you can get a better understanding of how the gift, combined with other financing, will help you achieve your dream wedding.
Plan ahead for a financial happy ever after
Before you jump into wedding planning, start by having a conversation with your partner about wedding expectations. Like most big decisions, wedding planning requires careful planning and saving. Once you're both on the same page, create a list of priorities to get an estimate of how much it'll cost.
Next, check your finances, create a budget, consider your wedding finance options, and create a plan that'll work for your needs. By preparing in advance, you can make a financial wedding plan to cover your happily ever after.