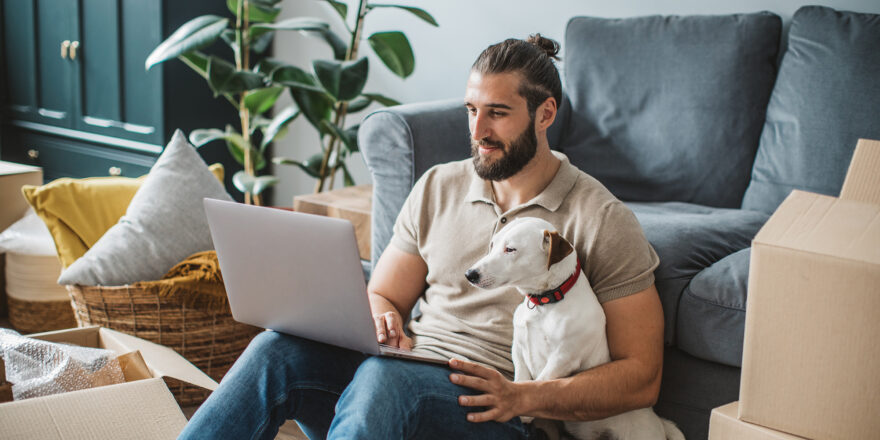 Getting a personal loan may be easier when you have good credit because lenders want to see that you are responsible and have a history of paying your bills on time. 
If you're interested in getting a personal loan but are new to the credit world and don't have enough credit established, it could be challenging. Here's what you need to understand if you're interested in getting a personal loan with no credit. 
What does it mean to have no credit?
Not everyone may have good credit or any credit at all. If you have thin credit, it means there isn't enough information from your financial history to generate a credit score. This is due to a variety of reasons, including: 
General avoidance of credit cards (i.e., only using debit cards or cash) 

Living outside of the country for many years, which means they need to reestablish a credit history

Recently immigration to the U.S.
If you fall into any of these camps, you may still be able to obtain a personal loan without credit. If time is on your side and you can reasonably wait three to six months to build up your credit, it's a good idea to do that first. 
However, if time is of the essence, it's worth doing your due diligence to understand what your options are before trying to obtain a personal loan. 
Having no credit isn't the same thing as having a poor score, which is a result of consistently paying bills late or not paying it at all. 
What is a personal loan?
A personal loan is typically an unsecured loan that can be used for just about anything, from paying off medical bills to high interest credit cards. Unsecured means the loan is based mostly on creditworthiness rather than being backed by collateral, such as your home or car. 
Personal loans generally have a simple process to apply and get funded—some lenders fund in as little as one business day directly to your bank account. Because of the accessibility of personal loans, people use them for a specific purpose, such as paying bills or funding a wedding. Personal loans also tend to have lower interest rates, compared to credit cards, for example. 
Can you get a personal loan without any credit?
Those who lack credit and are affected by it are more common than you might think—the Consumer Financial Protection Bureau noted about 22 percent of U.S. adults are affected by a lack of credit history. These people are referred to as being "unscorable" by the CFPB. 
If you fall into this group, it may mean borrowing to get a personal loan may be an uphill battle, but doesn't necessarily mean a personal loan is completely out of reach. 
If you have little or no credit history, it may be tricky to get a personal loan, but not impossible. 
Here's what you need to consider:
Having little to no credit makes it more difficult for you to get approved. If you don't get approved, you may need to spend time trying to build and establish your credit.

Available loans may come with higher interest rates and less desirable terms, which can make the life of your loan more expensive. This is especially true if you make minimum payments or take your time paying off the loan.
Here are steps to take to if you need to get a personal loan:
Research and shop around different lenders.

Low interest rates are important, but look for lenders and lending platforms who take financial factors outside of just your credit when considering you for the loan. For example, Upstart takes a borrower's employment and education¹

 into consideration. Be sure to account for any fees—for example, some lenders may charge a prepayment penalty if you decide to pay back your loan early.

Fill out the application.

At this point, you'll need to submit all of the proper documentation that is required, such as bank statements and pay stubs. If your credit is thin, you may need to provide other documents such as your employment history. 
If you do not get approved, you may want to consider ways to build your credit quickly.
Receive your funds.

If you're approved, you can get your funds in as little as a day or a week, depending on the lender and your specific situation. 
Ways to build your credit quickly
The best way to obtain a personal loan is to be fully prepared and take the time to build and maintain your credit. This can be as easy as applying for a credit card and making monthly payments on time. Here are some easy ways to build your credit quickly:
Consider a co-signer, which is another person who will agree to pay off the loan in the event you cannot. 

If you're a renter, you can also ask your landlord to report your on-time rental payments to the credit bureaus. 

Get a secured credit card, which is similar to a debit card in that you must load it with cash before using it. But unlike a debit card, some secured cards report on-time payments to the major credit bureaus. 

Become an authorized user on someone else's credit card. If that person has a solid credit history, you can essentially "piggyback" off of their good standing. Conversely, if they consistently make late payments, that could also negatively impact your score.  
Types of loans to avoid
If you've done your research, you may have likely come across payday or title loans that are relatively easy to get without any credit. But both of these loans come with exorbitant fees and interest rates. So much so that some states have restrictions on, or have banned these types of loans completely. 
What are payday loans?
Payday loans are catered to the creditless because they are relatively easy to obtain, but the catch is the high fees and interest rates. Some payday loans charge interest rates of up to 600 percent and require fast repayment of the loan, usually in a few weeks. 
What are title loans?
Title loans are often available without any credit check because it uses your car as collateral. This is assuming you own your car outright. Title loans allow you to keep your car while you have the loan but if you fail to make payments, the lender can take your car away. Title loans typically need to be repaid in 15 to 30 days. 
How to monitor your credit
There are many ways to monitor your credit score, whether you want to do it on your own by manually checking your report and score every quarter. It's important to check your score regularly because there could be errors and inconsistencies that you may not be aware of. There's also fraud and hackers who could take your credit and open fraudulent accounts. 
Check your credit report: You can do this for free from AnnualCreditReport.com—every year you're entitled to three reports (not to be confused with your credit score) from each of the bureaus. 
Check your credit score: Your bank or credit card company will likely offer this up to you for free, sometimes on a monthly basis. You can also use a financial account aggregator such as Mint or Personal Capital to check your score. 
Where to apply for personal loans
Shop around to find out which lenders or lending platforms take more than just your credit score and history into account. Upstart, for example, factors in a borrower's education¹ and employment when assessing creditworthiness and credit risk. These two factors could demonstrate a person's ability to potentially repay the loan.
If you're dealing with a thin credit profile, it may be more challenging to obtain a personal loan, but it doesn't mean it's impossible. Consider building up your credit profile if you find you aren't getting approved.
¹Neither Upstart nor its bank partners have a minimum educational attainment requirement in order to be eligible for a loan
While most loans through Upstart are unsecured, certain lenders may place a lien on other accounts you hold with the same institution. It is important to review your promissory note for these details before accepting your loan.