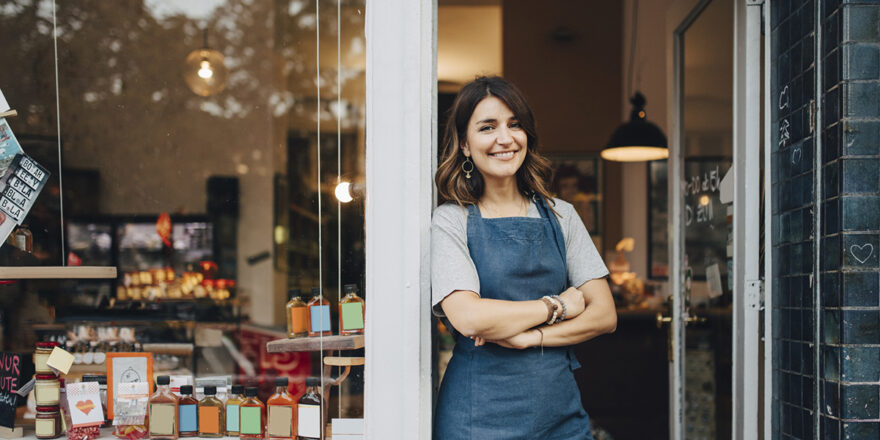 Personal loans can be used to fund large expenses, such as paying off high-interest credit cards or medical bills, but what about starting a new business?
Similar to a U.S. Small Business Administration (SBA) loan, a personal loan can also be used to start a small business—but unlike an SBA, obtaining a personal loan won't require you to share your business plan or tax information. Small business loans are designed to grow and benefit a business. 
At the same time, lenders want assurance that you will be able to repay the loan, so they would want to see that your business has consistent cash flow. This could be difficult if you're in the beginning stages and have not generated any revenue yet. A personal loan may make more sense if your business is brand new and can't qualify for a traditional business loan. If your credit is in good standing, you may qualify for an affordable lower rate.  
Personal loans are typically unsecured, which means you don't have to put your car or house up as collateral. Small business loans may be secured or unsecured, but lenders may require a personal guarantee even if the loan is unsecured. This would mean that you need to repay the loan personally, even if your business doesn't generate revenue to pay back the loan.  
As long as your lender doesn't have rules against using the personal loan towards your business, you can use the funds to purchase inventory, do market research, hire contractors, or whatever else you may need. As you shop around for the best rates, ask lenders about any potential restrictions around using the loan for your business needs.  
How do personal loans for small businesses work?
A personal loan can help fund your business idea or provide payment for necessary business expenses. Personal loans usually need to be repaid in three to five years, depending on the lender and the terms of the loan.
Here are important advantages and disadvantages of taking out a personal loan for your business.
The advantages of a personal loan
There are benefits to using a personal loan for starting your business—the main ones being flexibility and the qualification process. 
Typically, small business loans require you to provide in-depth business details, such as legal and tax documents, along with your financial statements. If your business is still very new or just an idea, you may not qualify. 
If you're still employed at a 9-5 job, you could include that in your salary requirements for a personal loan. This may help with the qualification process, since most personal loans look at your credit and income. 
Because personal loans don't require as many documents to apply and qualify, the time it takes to get funded may be quicker. Once approved, you can get funded on the same day or the next day. SBA loans can potentially take up to 30 days or more.  
The disadvantages of a personal loan to start a business
Unlike a business loan, the interest you pay on a personal loan may not be tax deductible. However, if you're self-employed or run a small business as a sole proprietor, it is possible to deduct some of the interest from a personal loan, as long as you can prove you used 100 percent of the funds for business expenses. It's a good idea to talk to your tax professional and your lender to understand if there are restrictions for using the personal loan to fund your business needs. 
If you can't repay the personal loan, your personal credit is at risk, which may make it more difficult for you to secure affordable financing for big purchases in your future. 
Most personal loans are unsecured, which means you don't need to put up your home or car as collateral. If the personal loan is a secured loan and you have collateral tied to it, you may end up losing those assets if you default on your loan. 
Depending on your business needs, a personal loan may not provide you the amount you require—personal loans can roughly range from about $1,000 to $50,000. If you happen to need a lot more, an SBA loan may be a better option. 
Personal loans tend to have shorter terms for repayment. If you need more time to repay the loan, this may not work for you. A business loan may be the better route, as SBA loans have longer repayment terms—from five to 25 years. 
When to use a personal loan for your small business
A personal loan may be best for businesses that are brand new because it may be challenging to obtain a small business loan if you aren't generating revenue yet. Therefore, if you need a certain amount to get your business off the ground, this may be your best bet. 
Just make sure you speak to your lender about how you plan on using your personal loan and shop around for competitive rates. Remember to check your credit score so you can qualify for the best rates.