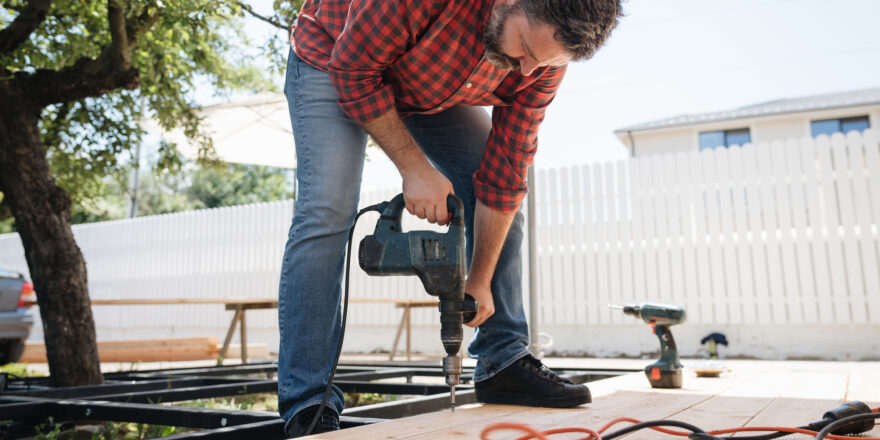 Key takeaways: 
The

average cost to build a deck

ranges from $15 to $35 per square foot. 

Costs vary depending on materials, labor, location, and deck size.

Home improvement loans, credit cards, home equity lines of credit (HELOCs), and in-store financing may help you cover the cost of your new deck. 
Are longer days and warmer nights calling your name? If so, it may be time to take on a deck installation. But how much does a deck cost? And more importantly, what's the best way to pay for a deck? 
In this guide, we'll break down the cost of deck installation based on size, materials, and labor. We'll also discuss factors to consider before getting started, plus 5 ways to finance your deck installation. 
Average cost to build a deck
According to HomeGuide, the average cost to build a deck ranges from $15 to $35 per square foot. Most homeowners invest about $6,000 in their deck installations. Splurging on premium materials like exotic wood or composite deck boards can increase installation costs.
You may be able to cut costs by opting for a smaller porch, basic materials, or DIY installation. If that's the case, you could spend less than $1,000 on a simple deck. 
Average cost to have a deck built
Labor usually makes up the bulk of professional deck installation costs. Rates can vary dramatically, with some homeowners paying as little as $8 per square foot for labor. Others may pay as much as $32 per square foot, thanks to higher demand or trickier installations. 
Average cost to install a deck yourself
Are you relatively handy and looking to cut costs on your deck installation? Then you may consider a DIY project. You'll still have to pay for decking materials, but you could spend as little as $1,500 on a 16×16 deck made with pressure-treated wood. 
However, depending on your skill level it may take longer to finish the deck if you install it yourself. Even so, you could save close to $3,000 on labor costs. 
Average cost to build a deck by size
The size of your deck is one of the most important factors to think about when planning your budget. Consider the average prices of some popular deck sizes to get a better idea of your material and installation costs. 
| | |
| --- | --- |
| Deck Size | Average Cost |
| 8×10 (80 square feet) | $1,200–$2,800 |
| 10×10 (100 square feet) | $1,500–$3,500 |
| 12×12 (144 square feet) | $2,160–$5,040 |
| 12×20 (240 square feet) | $3,600–$8,400 |
| 16×16 (256 square feet) | $3,840–$8,960 |
| 20×20 (400 square feet) | $6,000–$14,000 |
Source: HomeGuide's 2022 Costs to Build A Deck
How much does a deck addition cost?
Planning a deck addition? The costs for labor and materials will be roughly the same on a deck extension or installation. However, extending your existing deck will likely be a smaller project than building a new one. 
Plan to pay at least $30 per square foot for labor and materials if you're outsourcing the job. A DIY deck extension will cost less, with materials making up most of your expenses. 
How much are decking materials?
Like most home improvement projects, the amount you spend depends on the materials you use. 
A simple 10×10 patio made of pressure-treated wood may cost less than $500 to build yourself. On the other hand, you can expect to pay up around $1,500 in materials for a deck made of composite materials.
You'll also have to consider labor costs, plus additional features like railings, built-in planters, or screens. Pouring concrete footings for a floating deck can drive your costs up even more. 
We'll get into these additional expenses soon. For now, take a closer look at the average cost per square foot for popular decking materials. 
| | |
| --- | --- |
| Decking Materials | Cost Per Square Foot |
| Bamboo | $3–$10 |
| Cedar | $3–$7 |
| Pressure-Treated Wood | $2–$5 |
| Redwood | $5–$30 |
| Composite Decking | $12–$22 |
Source: HomeAdvisor's What's the Average Cost to Build a Deck? 
After reviewing these costs, you may feel tempted to use budget-friendly wooden deck boards to build your patio. But before you do, take a moment to think about maintenance and upkeep. 
Pressure-treated lumber, bamboo, and cedar require regular maintenance. You will need to sand and seal or stain your patio at least once a year to keep it in good condition. 
Using wood also increases the risk of metal corrosion. As your wood deck encounters moisture, it can cause the nails, screws, deck hangers, and fasteners used during construction to corrode. If left untreated, your deck could become structurally unsound. 
With that in mind, you may consider investing in sturdy redwood or durable Trex decking instead. You'll spend more money upfront, but you won't have to worry about maintenance or repairs. 
Factors that impact the cost of a deck installation
You already know you'll have to pay for labor and materials. But those aren't the only factors that impact your bottom line. Consider the following variables to get a better idea of your total costs: 
Extra features

Time of year

DIY vs. professional installation
Extra deck features
Keeping your deck design simple can help reduce your expenses. For instance, rather than building a curved deck with custom seating, lighting, and built-in planters, you may decide to go for a simple rectangular patio instead.  
If you have bigger plans for your patio, you may need a bigger budget, too. 
Let's take a look at a few deck additions, plus the average cost for each feature. 
| | |
| --- | --- |
| Deck Feature | Average Cost |
| Railing | $15–$36 per linear foot |
| Screening | $4.50 per square foot |
| Stairs | $40 per step |
| Planter Boxes | $80–$150 per planter |
| Paint | $2–$5 per square foot |
| Sealant or Stain | $0.40 per square foot |
Source: HomeGuide's 2022 Costs to Build A Deck
Time of year
Spring and summer are prime times for home improvement projects. Unfortunately, that means contractors are busier, scheduling takes longer, and costs may be higher.
If possible, try to postpone your deck installation for the fall or winter. Contractors usually have fewer jobs in the cooler months, which means you may be able to start and finish your project sooner. Your contractor may also offer reduced labor costs during the off-season. 
DIY vs. professional installation
Building a new deck isn't the easiest DIY project, especially if you're new to construction. Between building a sturdy deck, pulling building permits, and satisfying local building codes, deck installations are often more complicated than they seem. 
If you decide to tackle deck installation yourself, you may be able to cut costs. As mentioned above, labor costs range from $8 to $22 per square foot. If you're planning to install a 400-square-foot deck, you could spend close to $9,000 on labor. 
However, if you don't have any construction experience, it's a better idea to hire a contractor. The peace of mind—and labor warranty—may be well worth the extra expense. 
Can you finance a new deck? 5 ways to pay for decking costs
Looking for the best ways to pay for your new deck? Consider the 5 following ways to finance a home improvement project based on your budget, financial circumstances, and savings goals: 
1. Save up to cover costs
Generally speaking, saving money for a new deck is the most affordable way to pay for the project. You won't have to worry about interest payments, origination fees, or prepayment penalties. You also won't have to worry about submitting applications or gathering all your financial information. 
Still, saving isn't easy, especially if you're already paying off other types of debt. It could take months or years to save enough for the project. It may also prevent you from achieving other savings goals, like planning for retirement or paying for tuition. 
2. Use a home improvement loan
A home improvement loan may be a great way to finance your deck-building project. A home improvement loan is a type of unsecured personal loan used to cover the costs of renovations, remodels, and repairs. 
You can use a home improvement loan for any type of home-related project, ranging from DIY upgrades to installing a pool, upgrading your landscaping, or building a new deck. 
In many cases, a home improvement loan may be more affordable than other types of financing. Typically, borrowers may also have more time to repay a home improvement loan. For instance, home improvement loans through Upstart come with 3 or 5 year terms¹.
3. Consider a HELOC
A home equity line of credit (HELOC) allows you to tap into your home equity without selling your home. If you get approved for a HELOC, your loan provider will set up a credit line with a maximum borrowing limit. You can use as much or as little of your credit line as you want. Then, you'll repay the money you withdraw, plus interest. 
But HELOCs come with a few downsides. You'll need a substantial amount of equity in your home to make a HELOC worthwhile. HELOCs also tend to have variable interest rates. That means your interest rate could change based on an external index, resulting in higher monthly payments and more expensive debt.
4. Use a credit card
Depending on the cost of the project and your credit limit, you may be able to use a credit card to pay for your deck. Credit cards are convenient and easy to use. However, it's only a good idea to use them in some cases. 
Before you start swiping your card, consider your credit limit. It may not be large enough to cover material and labor expenses. Using too much of your credit limit can raise your credit utilization rate and impact your credit score, too. 
Finally, credit cards tend to come with higher interest rates than other types of credit. So it's a good idea to pay off your credit card balance as quickly as possible—and preferably before the next billing cycle. Otherwise, you could rack up expensive credit card debt. 
5. Ask about in-store financing
Some home improvement stores offer in-store financing to cover the costs of materials. In-store financing likely won't cover labor costs, but it could allow you to spread out some of your expenses over several months or years. 
Before you sign up for in-store financing, take a careful look at the terms and conditions. High interest rates, origination fees, and prepayment penalties could end up costing you more in the long run. You may also have to spend a certain amount of money to qualify for financing. 
Looking for ways to finance a deck installation?
Whether you want to build a small deck or extend an existing one, determining how you'll pay for it can feel like the most challenging step. Luckily, you have several options to choose from based on your budget and financial goals. 
In-store financing and credit cards allow you to cover some of your costs, then repay them over time. However, it's best to use in-store financing or credit cards if you know you can repay your balance quickly. Otherwise, you could rack up expensive interest charges. 
With a HELOC, you can tap into your home equity to upgrade your space (and potentially boost your resale value). A flexible line of credit makes it easy to withdraw funds as needed. But you'll need a substantial amount of equity to make it worthwhile—and a strict budget to reduce the temptation to overspend. 
And with a home improvement loan through Upstart, you can make a deck construction project more affordable. Our model look at factors like your work experience and education² to find you a rate. That way, you can spend less on financing and more on upgrading your building materials or investing in comfy patio furniture. 
Learn more about our home improvement loan options, check your rate, and start planning your next project today. 
¹The full range of available rates varies by state. The average 5-year loan offered across all lenders using the Upstart platform will have an APR of 24.91% and 60 monthly payments of $26.36 per $1,000 borrowed. For example, the total cost of a $10,000 loan would be $15,816 including a $591 origination fee. APR is calculated based on 5-year rates offered in May 2022. There is no down payment and no prepayment penalty. Your APR will be determined based on your credit, income, and certain other information provided in your loan application. Not all applicants will be approved.
²Neither Upstart nor its bank partners have a minimum educational attainment requirement in order to be eligible for a loan.