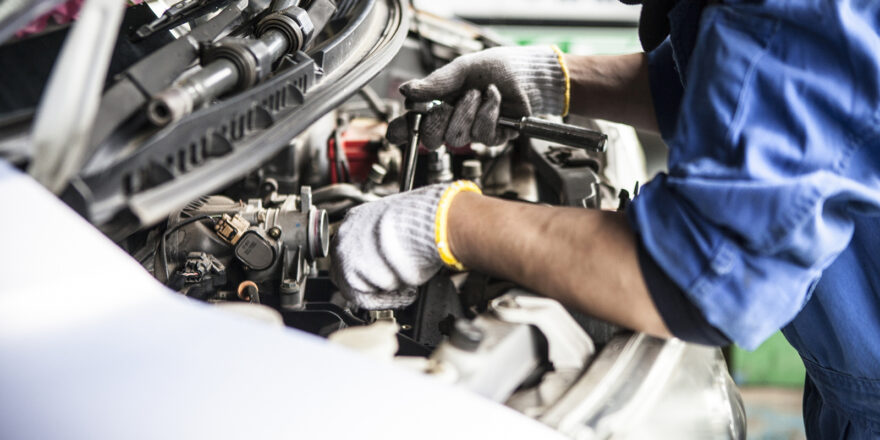 Key takeaways: 
Average

car repair costs

may range from $500 to $600. However, depending on several factors, you may pay significantly more or less to repair your car.

Determining whether it's more affordable to repair a car or buy a new one depends on the cost of the repairs, your current car's market value, and the estimated monthly payments on a new car.

Auto repair loans, in-store financing, and credit cards can make it easier to cover the cost of car repairs.
No matter what kind of car you drive, maintenance and repair costs are unavoidable. Car repair costs can also get costly, leaving drivers wondering how to pay for their latest trip to the car shop.
In this guide, we break down the average cost of car repairs to help make the budgeting process simpler. We'll also provide details on the most common car repairs, plus budget-friendly ways to pay for repairs.
How much are car repairs? Average auto repair costs
According to a survey by AAA, average vehicle repair costs range from $500 to $600. However, it's important to remember these are national averages. Actual repair costs can climb much higher depending on the location and your car's make, model, and required repairs.
Common car repair costs
Let's take a closer look at the average cost of common car repairs to make planning your trip to the mechanic more manageable.
| | |
| --- | --- |
| Type of Repair | Average Auto Repair Costs (Parts and Labor) |
| Oil change | $137–$151 |
| Windshield wiper replacement | $58–$84 |
| Air filter replacement | $56–$71 |
| Wheel replacement | $745–$756 |
| Wheel alignment | $165–$203 |
| Tire balancing | $27–$34 |
| Battery replacement | $335–$345 |
| Brake pad replacement | $254–$279 |
| Coolant change | $98–$124 |
Source: RepairPal Estimator 
These prices are based on national averages. As such, these estimates don't consider factors like your location, the make and model of your vehicle, or special pricing from dealerships. 
Pro tip: To make sure you get the best rate on common repairs, shop around and get a second—or third—opinion.
Average cost of car repairs per year
A survey conducted on behalf of Ally Financial found that Americans spent an average of $1,986 on car repairs and routine maintenance between 2014 and 2019. This average breaks down to about $400 per year.
According to the survey data, repair and maintenance costs increased for younger generations. Millennial and Gen-Z drivers spent closer to $470 per year on car repairs and maintenance, while drivers over the age of 55 spent less than $350 annually.
Average cost of car repairs by brand
Did you know the type of vehicle you drive can impact how much you spend on car repairs each year? 
Some brands may be more expensive to fix than others due to several factors, such as:
Design complexity:

Some vehicles, including several imported vehicles, may be more expensive to fix due to the complex technology used in the car. Examples include vehicles by Audi and BMW.
Car quality:

Some less expensive cars can become a financial drain due to the frequency of repairs required.
Specialized training:

Finally, some vehicles require specialized training to repair. For instance, if you drive a Mercedes-Benz, you will likely need to bring your car to a speciality mechanic shop for maintenance and repairs. Similarly, electric vehicles may require specialized service.
CarMD's annual Vehicle Health Index ranks the top 10 vehicle brands with the lowest average car repair cost for a check engine light (CEL)-related fix. Keep these brands in mind next time you shop for a vehicle to cut down on potential maintenance and repair costs.
| | |
| --- | --- |
| Vehicle Brand | Average Auto Repair Costs (for a CEL-related fix) |
| Volkswagen | $413 |
| GMC | $384 |
| Ford | $382 |
| Chevrolet | $376 |
| Jeep | $359 |
| Dodge | $355 |
| Hyundai | $352 |
| Mazda | $339 |
| Chrysler | $333 |
| Kia | $322 |
Source: CarMD 20200 Vehicle Health Index Make and Model Reliability Rankings
What car repair costs the most?
Some of the most expensive car repairs involve the engine, cylinders, transmission, airbags, or suspension. 
For example, the cost to repair an engine and cylinders can climb as high as $10,000, depending on the type of repairs needed. Similarly, repairing your vehicle's suspension system can cost anywhere from $2,500 to $3,500, leaving you with a hefty bill and lengthy repair process.
Is it cheaper to repair or buy a car?
Determining if it's cheaper to repair your car or buy a new one depends on the extent of the damage. Removing scratches, straightening a dented bumper, or tuning up your engine will almost always cost less than buying a new car.
As with anything, there's an exception to the rule—or, in this case, two exceptions. Plan to repair your vehicle unless: 
The cost of repairs exceeds the vehicle's market value

The cost of repairs exceeds one year of monthly payments on a financed replacement car
Let's take a closer look at how to determine if car repair costs are worth it.
How to determine if a car repair is worth it
If you're not sure if a repair bill is worth the money, use a reliable vehicle market value estimator like Kelley Blue Book or Edmunds to determine your car's current worth. Then, compare its value against your estimated repair costs. If the estimate exceeds your car's value, you might consider replacing the vehicle.
However, if you'll need to finance a new or used car, consider the monthly payments you may face if you replace your current vehicle. 
For example, according to a study by Edmunds, average monthly car payments for new cars in 2022 are expected to reach $648. 
Based on this figure, one year of payments on a new car would set you back by about $7,770. If you're facing a $10,000 engine rebuild on your hands, you may actually save money on a new car. Otherwise, it may be more cost-effective to have your car repaired.
Reducing car repair costs: 4 ways to manage auto repair costs
If the average cost of car repairs have you feeling nervous about your finances, you're not alone. In fact, a AAA survey found that 1 in 3 drivers aren't able to pay for an unexpected car repair without going into debt.
You can take steps to maintain your car—and your wallet—today. Consider the 4 following tips to prepare for unexpected car repairs: 
Budget for auto repairs:

No one can predict when major repairs will spring up. With that in mind, make it a priority to

budget for potential car repairs

. At a minimum, try to set aside $50 each month for car repairs. By the end of the year, you will have saved $600—enough to cover the average car repair bill.
Stick to your vehicle's maintenance schedule:

Regular maintenance can't prevent major damage caused by an accident, but it can keep your vehicle in good working order. 
Have your oil changed, tires rotated, and brakes checked regularly. If you notice any additional problems—like sticky brakes or a check engine light—bring your car in for a tune-up as soon as possible. Most importantly, stick to your manufacturer's recommended maintenance plan.
Find a trusted mechanic:

Many dealers have in-house mechanics who specialize in certain makes or models. If that's the case, you may rely on your dealer's shop for repairs and maintenance.
However, you can also establish a relationship with an independent mechanic shop. No matter which mechanic you choose to use, make sure you've built a relationship and trust their work before bringing your car in for extensive repairs.
Always get a written estimate (and a second opinion):

Finally, get a written estimate before any kind of major car repair job. A written estimate should contain the total cost of labor and repairs. It may also indicate which repairs are time-sensitive and which can wait.
After you get a written estimate, always get a second opinion. You may spend a bit more money on it, but it will confirm the problem and may even result in a lower repair estimate.
How to finance auto repair costs
Even if you follow your car's maintenance schedule, problems can still arise and cost far more than you planned. If that's the case, you may feel like you need to choose between a working vehicle or your savings account.
Luckily, there are a few financing options available. For an in-depth look at the best ways to finance auto repair costs, check out our guide to auto repair loans. 
In the meantime, consider the 3 following ways to cover the cost of car repairs:
In-store financing:

Some auto repair shops offer in-house financing to help cover the cost of car repairs. Options like branded personal loans and credit cards can make it easier to pay for car repairs by spreading out your payments. 
Auto repair loans:

You may be able to use a

personal loan

to pay for car repairs, maintenance, and other related expenses. Personal loans may be a simple, affordable way to cover repair costs if you don't want to drain your bank account or you're tight on funds.
Payment plans:

Payment plans split up your costs over a set period of time. Depending on the terms of your payment plan, you may or may not have to pay interest fees on top of the actual repair costs. Keep in mind that some payment plans come with strict terms and costly fees for late or missed payments. Before you sign onto a loan, ensure you can make your payments on time.
Don't let car repairs keep you from the open road
Auto repairs are an unavoidable part of life, but they don't have to result in a financial crisis. 
Rather than letting hefty bills creep up on you, take a proactive approach and save for vehicle maintenance and repair costs. Set aside a small amount of money each month for emergency repairs and stay on top of your car's maintenance schedule.
Most importantly, take the time to plan ahead. Research your auto repair financing options, build a relationship with a trustworthy mechanic, and put the pedal to the metal with confidence, knowing you've prepared for any unexpected bumps in the road.