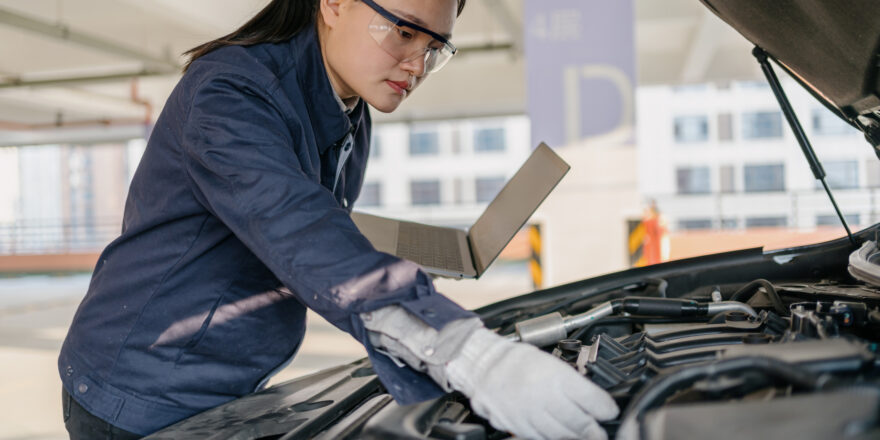 Key takeaways:
You can use a

car repair loan

for any car repair or maintenance expense you may have.

Car repair loans

are a type of personal loan and are typically unsecured, which means you don't have to guarantee them with collateral.

In addition to

car repair loans

, you can use credit cards, mechanic payment plans, and payday loans to pay for auto expenses.
"I've got some good news and bad news. What do you want to hear first?"
No one wants to hear these words, let alone from their car mechanic. However, car repair costs are inevitable. Unless you have access to another mode of transportation, keeping your car in good shape isn't optional. It's a necessity—typically a costly one. 
According to a study by AAA, the cost of a new car's maintenance and repairs is an average of $0.095 per mile. If you drive 15,000 miles annually, that's $1,425. That's why it's essential to create a budget for these types of maintenance and emergency expenses.
If you don't have savings, there are some financing options you can use, such as a car repair loan. Read further to learn what a car repair loan is, what you can use it for, and your additional options for any current or future car repair expenses in your life.
What is a car repair loan?
An auto repair loan is a personal loan you can use to finance almost any car-related expenses you may have. Taking out a car repair loan can be a simple, manageable way to pay for car maintenance or repairs, especially if you're low on funds. 
Rather than paying for the car expenses all at once, you can use the loan to pay for the repairs and then pay back your lender in fixed installments. 
Here are a few key details to keep in mind: 
No collateral required:

Most car repair personal loans are

unsecured

, which means they're not backed by collateral, like your home or car. It also means you don't have to stress about losing your property if you default on payments.

Funds come in a lump sum:

If you're approved, you'll get the funds as a lump sum, or all at once, so you can use them for your repairs immediately.

Fast funding:

Depending on the lender you choose, you may get your

car repair loan

funds within a few business days. Some lenders may be able to get you your money in as little as one business day.

Flexible usage:

You can use a

car repair loan

to pay for almost any expense related to the repair or maintenance of a vehicle, including new tires, battery replacement, or a cracked windshield. Keep in mind that although you can use a

car repair loan

for upgrades like cool rims or an expensive sound system, you'll have to pay back what you borrow.
Although car repair loans are a good funding option, it's important to note these are usually a little more expensive than other funding options because they're not backed by collateral. Before you commit to anything, shop around for the best rates and learn more about your loan options.
How to get an auto repair loan?
To get a car repair loan, you need to go through the same steps you would in order to get a personal loan. The requirements and steps you need to complete for a loan vary by lender, but generally you can expect the following steps:
Review your credit:

Before granting a loan, lenders want to be sure you're financially responsible and are likely to make your monthly payments on time. To be sure they can trust you, they'll check your credit score and history. Before you apply for a loan, check your credit score and credit report to understand the state of your finances.

You can get one free copy of your credit report annually at annualcreditreport.com. If you have a low credit score, unpaid bills, or see any errors, address them in advance. That way, you'll increase your chances of qualifying for a loan with good terms.

Compare lenders:

Before committing to a

car repair loan

, shop around for different lenders and lending platforms. Review what each of them offers and compare each of the loan features, rates, and terms. Calculate monthly payments to determine what you can afford.

Get pre-qualified:

To see the rate and loan amount you could get, pre-qualify with a few lenders. Once you see what each lender offers, you can decide what might be the best decision for your budget. Since pre-qualification only requires a soft credit check, you can get estimates from several lenders without impacting your credit score.

Accept your offer:

Before you sign on the dotted line, carefully read over the

auto repair loan

contract to be sure that you fully understand the terms.
Alternatives to an auto repair loan
If you need to pay for an auto repair but are hesitant to take out a car repair loan, there are a few additional car repair financing options you can use. 
Credit card
In some cases, using a credit card to pay for car repairs could be a good choice. If the expense is small, you can easily cover it with a credit card. However, with bigger expenses, using a credit card you already have might not be worth it. 
For example, with an annual percentage rate (APR) of 15% and a $25 per month payment, a $1,000 car expense may take you 56 months to repay and cost you almost $395 in interest. 
For that reason, we recommend using an existing credit card only for purchases you can comfortably afford to pay on time and in full within one billing cycle.
You may also consider opening a new credit card to pay for your car expenses if you get a 0% introductory APR offer. These cards allow you to repay your balance without charging interest for a certain period of time, usually ranging from 6 to 21 months. 
You often need a good credit score to qualify. But if your credit history is solid, you can skip the loan application process and pay off your repair expenses without any interest fees. Be aware that if you don't pay off your expenses within the zero-interest period, you'll have to pay interest on the remaining balance.
Mechanic financing plan
Some auto body shops partner with lenders to offer their own car repair financing options. Your shop may offer a branded credit card or a car repair payment plan in the form of a personal loan. These are great options, especially if you're offered several months of interest-free financing for car repairs. By paying off the loan or credit card before the introductory period ends, you'll save a lot in interest.
Getting back on the road
To avoid having to go to the mechanic often, keep up with routine car maintenance services, such as oil changes and tune-ups to help you nix small problems before they turn into big ones. If you do have to visit the mechanic and you're tight on funds, know there are several financing options in addition to car repair loans. The key is to do your research in advance so you can find the best option for your financial needs.
Car refinance loans not available in IA, MD, NV, or WV.