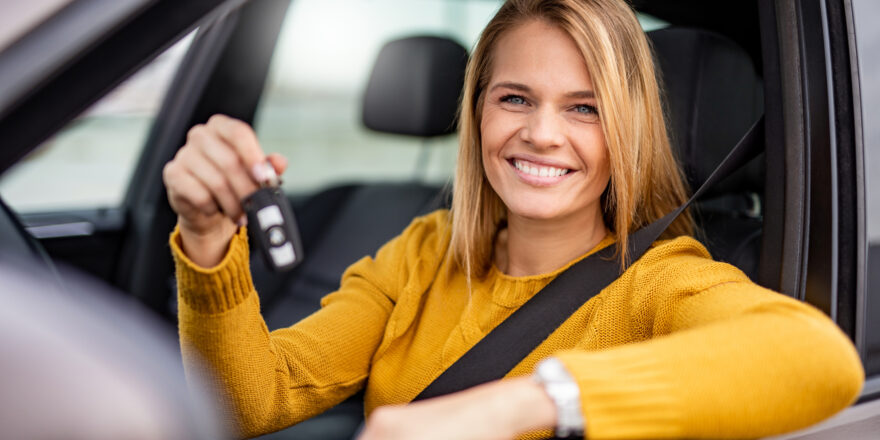 Buying a car can be stressful. Trying to get a car loan with bad credit can be even more stressful. 
However, having a low credit score doesn't mean you can't qualify for a car loan. It just means you may need to put in some extra effort to find the right lender and loan for your financial needs. 
Really, it all comes down to research. Before you get started, learn about where you can find a car loan with bad credit, and the steps you can take to improve your chances of securing a loan.
What credit score is needed for a car loan?
There's no universal minimum credit score required to get an auto loan. However, having a low credit score may impact the loan terms and the interest rate you qualify for. 
Generally, the lower your credit score is, the more you may be charged in interest to compensate for the risk. According to the FICO credit score system, which ranges from 300 to 850, any number below 580 is considered too low or "bad."
Excellent credit:

800 – 850

Very good credit:

740 – 799

Good credit:

670 – 739

Fair credit:

580 – 669

Bad credit:

300 – 579
Types of lending options offering bad-credit auto loans
Many lenders offer car loans to borrowers with bad credit. Before you spend too much time applying or prequalifying for a car loan, check the requirements of each lender. 
Knowing how each type of lender works in advance could save you time and energy later on. Here are some common types of lenders that offer car loans for borrowers with a low credit score: 
Banks and credit unions

Online loan platforms

Online car retailers, such as Carvana

Auto dealerships
How to get a car loan with bad credit
Whether you're looking to buy a car now or in the near future, there are a few steps you can take to help improve your chances of qualifying for a loan with more favorable terms. 
Check your credit score and reports
When you apply for a loan, the lender has to gauge whether you can pay back the loan funds in full and on time. To understand whether you're financially reliable, lenders will review your credit reports to check your credit score and payment history. 
Before you start shopping for a car loan lender, get copies of your credit reports to check your credit score and history. Look for areas where you can make improvements, such as delinquent accounts or fixing errors. Addressing issues on your credit reports won't immediately improve your credit score. However, it may increase your chances of qualifying for a car loan with more favorable terms.
Pro tip: You can get copies of all three credit reports for free once every 12 months from AnnualCreditReport.com.
Show that you can make monthly payments
In addition to your credit history and scores, lenders will check your sources of income to verify you can afford to make payments on time without any issues. When you shop around, expect them to ask the following:
Sources of income:

Be ready with proof of your income and employment with a copy of a recent pay stub. If you don't have a steady income, some lenders will accept other supplemental income sources, like child support, social security benefits, or disability payments.

Debt-to-income (DTI) ratio:

Lenders will review your

DTI ratio

to understand how much debt you currently have. As a reminder, a DTI ratio is your total monthly debt divided by your gross pay. If you have paid off accounts and your debt isn't as much as your credit report shows, address it with the lender.
Credit utilization ratio:

Lenders will also check your credit utilization to see how much credit you're already using. This is the sum of all your balances, divided by the sum of your cards' credit limits. Lenders usually prefer borrowers to have a ratio of 30% or less.

In the event that your utilization is high on your credit report, but you have paid down balances recently, be prepared with proof.
Payment history:

Another big factor that lenders consider before granting a borrower a loan is payment history. If the lender notices a history of consistently missed or late payments, they'll be hesitant to give you a loan with good terms. Be ready to talk to your lender about the circumstances of any late payments and why it won't happen again.
Lower the amount you need to borrow
Before approving a loan, lenders will consider how much they can lose if you stop making payments. By lowering the risk of loss to the lender, you may increase your chances of getting approved for a loan. You can do this by reducing the amount you need to borrow from the lender. 
Make a down payment:

When you purchase a car, you're usually required to pay a down payment or a portion of the price upfront. The remaining amount is divided into monthly payments that you'll pay back over time.

The more you contribute to the down payment, the lower your loan amount and monthly payment will be. A bigger down payment also reduces the risk to your lender, which may help you get a lower interest rate on your loan.
Trade in your old car:

If you have a trade-in, check car value guides before you trade it in to understand how much it's worth. This way, you can better negotiate what the dealer gives you for your trade-in, which means you'll have less to finance.
Have a co-signer on stand by
If you have a low credit score, consider asking a friend or family member, someone you really trust, to be a co-signer. When they sign the loan with you, they take on the legal obligation to be a backup repayment source for the loan. Adding a co-signer reduces the risk to the lender and can help you qualify for a loan with a lower interest rate.
How to compare auto lenders
Once you have a better understanding of your credit score and history, shop around for different lenders. If you have trouble finding a lender that accepts your credentials, consider lenders known for working with people that have low credit scores. 
Before you commit to a lender, get prequalified from a few to get an understanding of the type of loan terms they may provide. Then, you can better compare what lender and loan works best for you.
If you choose to submit applications with several lenders, remember that lenders will perform a hard credit inquiry, which may impact your credit score. It's best to submit all applications within two weeks so the inquiries will be grouped into one.
Pro tip: Before you apply for an auto loan, or any loan, avoid opening new credit cards or loans. Doing so may hurt your chances of qualifying for a loan with better rates.
Alternative financing options
Getting a new auto loan and sticking with it for the entire loan term is a common way people finance their cars, but it is not the only way.
Get a loan and refinance it
If you can't wait to get a new car, settle for a loan. Even if the loan has unfavorable terms, make monthly payments on time until you can refinance it. 
You can refinance your car loan after you make consistent payments for 6 to 12 months. Once you've reached that benchmark, you can research lenders and lending platforms, like Upstart, for car refinance options.
Pay cash for a used car
Although you may want to get a new car, consider getting a pre-owned car from a private seller or dealer. You should do your research on the history of the car before you commit, but you may find the price will be lower than a new car. Depending on the price, you may be able to pay cash for a used car. 
Wait until the time is right
If you cannot get approved for an auto loan, or you prefer not to pay cash for a pre-owned car, wait to buy a new car. While you wait, work on improving your credit score, paying down your debts, and saving money for a down payment.
Bad credit doesn't have to mean bad car loan terms
Getting a car loan with bad credit isn't impossible, it just takes some extra effort. 
Because you know more about how your credit score may impact your ability to get a car loan, and what your options are, it's time to put words into action. Start by checking your credit report and scores, so you have an idea of how they may appear to a lender.
If you don't have to get a new car right now, wait and make a plan to work on improving your credit. Of course, if you need a car now, shop around and compare loans across lenders so you can find the best rate and terms for you.
Car refinance loans not available in IA, MD, NV, or WV.