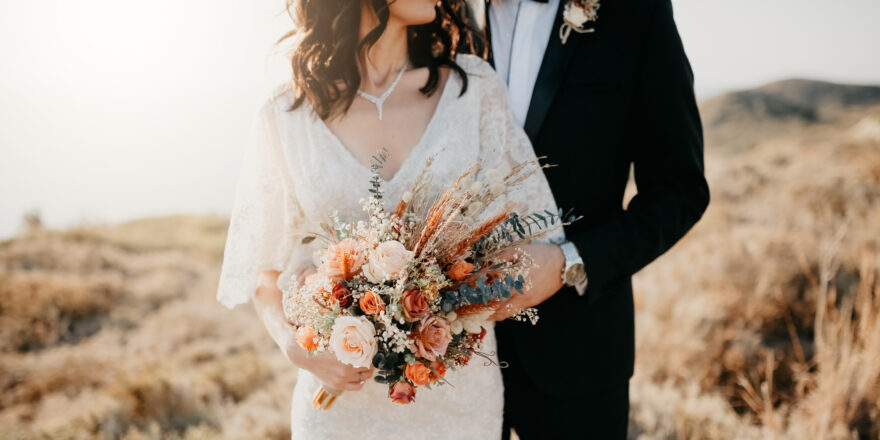 Key takeaways: 
The average wedding costs about $34,000.

Today, nearly 70% of couples pay for the majority of their wedding expenses. 

Wedding loans, credit cards, and personal lines of credit can help you cover wedding costs and extend your payments over time. 
First comes love, then comes marriage—and before that comes a lot of planning. Some of it is exciting, like sampling different types of cake, picking out your dress or suit, and selecting your bridal party. But some of it can be stressful, like setting a budget for your big day. 
With average wedding costs currently ringing in around $34,000, it's no surprise that countless couples experience financial anxiety before they say "I do." The risk of going over budget, going into debt, or draining your hard-earned savings can take a toll on your celebration. 
At the same time, cultural shifts have left many couples feeling uncertain about how to move forward financially.
This guide takes a look at who traditionally pays for the wedding—and who typically pays for weddings in 2022. We'll also discuss ways to broach the conversation with family members, plus 3 ways to make paying for your wedding less stressful. 
Traditionally, who pays for the wedding?
Historically, in many cultures, the bride's family pays for the wedding. The tradition evolved out of the practice of providing a dowry to the groom or groom's family following the marriage. Dowries typically involved a transfer of money, livestock, or property to help offset the costs of setting up the newlyweds' household. 
The practice has evolved since then, with the bride's family paying for the majority of the wedding expenses. These costs may cover wedding items, such as: 
Wedding planner expenses

Wedding dress

Bridesmaids' attire

Floral arrangements

Wedding day transportation

Photo and video expenses

Reception decor

Food for the reception
What do the groom's parents pay for?
While the bride's family has traditionally picked up most of the tab for the wedding, the groom's family has expenses to cover, too. Generally, the groom's family pays for the rehearsal dinner. They may also cover the cost of alcohol for the reception or help with honeymoon expenses. 
What does the groom pay for?
According to old-school traditions, the groom may have to cover a few expenses as well. These include: 
Wedding and engagement rings

Groomsmen's gifts

Marriage license

Officiant fees

Bride's bouquet, corsages, and boutonnieres

Wedding day gift for the bride 
Who pays for the wedding in 2022?
Times—and wedding payment traditions—have changed since the days of dowries. Couples are getting married later, changing the wedding-planning process to suit their preferences, and taking on more of the financial responsibilities of a wedding. 
Recent studies show that nearly 70% of couples report paying for most of their wedding expenses themselves. The number increased to almost 75% for LGBTQ+ couples. These stats show a considerable uptick in the number of couples who assume financial responsibility for their wedding. 
But when parents can contribute financially to a wedding, they often cover more than 50% of the costs. Some agree to pay for specific expenses, like venue fees or the engagement party. Others provide the couple with a lump sum of money to spend as they see fit.
How to pay for a wedding: 5 wedding financing tips for your big day
For many couples, paying for a wedding may be their first major, shared expense. That makes it even more important to talk about money with your partner before the big day. 
If you're not sure how to start the financial planning process, you're not alone. Consider the following tips to help simplify the process: 
1. Set a budget
Before you approach your parents or start withdrawing money from your bank account, set a wedding budget. Budgeting allows you to assign priorities to potential expenses, like decor, entertainment, or food. It also allows you to set money aside for the non-negotiables, or the things you won't compromise on.
Divide your wedding budget into 3 categories or options based on expenses. Make sure you and your partner can pay for the least-expensive option without putting yourself in a difficult financial position.
| | | | |
| --- | --- | --- | --- |
| | Budget #1 – Least Expensive | Budget #2 – Moderately Expensive | Budget #3 – Most Expensive |
| Financial contributors | You and your partner can realistically cover the full cost of this budget.  | You and your partner will need some financial support from your families to cover this budget.  | You and your partner will need significant financial support from your families to cover this budget. |
| Included expenses | This budget includes all of your "must have" priority expenses or all of the priority expenses that you and your partner can reasonably afford.  | This budget may include more of your favorite wedding options that were too costly for your least expensive budget. This budget may also include more costly variations of your choices from the least expensive budget. For example, this budget might include more costly centerpiece designs.  | This budget will include your "nice-to-haves," such as inviting your parents' colleagues and friends.  |
2. Ask family for help
After setting your budget and determining how much you and your partner can pay, let your parents know you want to discuss your wedding day expenses. 
Set aside enough time to go through your budget and explain your vision to your loved ones. Emphasize that your family's help is appreciated but not expected or necessary to pull off the least-expensive wedding option.
Ideally, your family will contribute to your wedding. However, if they aren't in a place to do so, you will still be able to plan a wedding you can afford, and your family won't feel like a roadblock to your big day. 
3. Determine how much each of you can pay
Once you decide if and how much your family can contribute, take some time to review the remaining expenses with your partner. How you divvy up the expenses depends on your financial circumstances. That said, it's important to be honest and open with your partner rather than allowing resentment to fester.
If you're both feeling overwhelmed by expenses, you may consider scaling back on your big day. Doing so will allow you to pay for your wedding without the extra stress. At the same time, it will keep you on track for other financial life events, like buying a home, retiring, or starting a family. 
4. Consider your wedding financing options
Even if you and your soon-to-be spouse have saved enough to pay for your wedding, there may be a smarter way to cover the expenses. Draining your bank account in one swoop can be intimidating. It also reduces the amount of cash you have on hand for emergencies, like medical expenses or unexpected home repairs.
With that in mind, you may decide to finance your big day and pay for it in installments. In doing so, you can use your savings for major life events while still planning the wedding of your dreams. 
Only you and your partner can determine the best wedding financing option for you. However, some common options include: 
Wedding loans:

You may consider taking out a

wedding loan

to finance your big day. Wedding loans are

unsecured

personal loans you can use to cover venue deposits, vendor fees, engagement and wedding rings, and more.

After you get approved for a wedding loan, you'll usually receive the funds in one lump-sum payment. Then, you'll begin making monthly payments on your loan over a predetermined period of time.For instance, Upstart-powered wedding loans come with terms of 3 or 5 years¹. Our model also look at factors like your education² and work experience to help find you a loan. That way, you can focus on your wedding day instead of worrying about paying for it.
Credit cards:

Credit cards are easily accessible and convenient to use, especially when it comes to wedding planning. You can use the card to pay for flowers, food, or a venue deposit. Then, you can repay the balance over time.

That said, credit card debt can get expensive quickly. Many credit cards come with interest averaging close to 17%. If you don't repay your balance in full each month, you can rack up costly debt or get caught in a cycle of revolving credit.
Personal lines of credit:

A personal line of credit (PLOC)

works similarly to a credit card. If you get approved for a PLOC, your loan provider will establish a borrowing limit you can use for a fixed period. You can withdraw as much money as you want, up to your maximum borrowing limit.

Then, you'll begin making monthly payments on the money you withdraw, plus interest. It's important to remember PLOCs often have variable interest rates, which means your interest could change based on an external index. You may also need a credit score in the "good to excellent" range to qualify for an affordable line of credit.
5. Don't lose sight of your long-term financial goals
Finally, keep your long-term financial goals in mind while planning for your big day. Your wedding day is a time to celebrate the beginning of your life together. Start it on the right foot by making smart financial decisions and prioritizing what matters most: your love for one another and your financial wellbeing. 
Wedding planning, simplified: Paying for a wedding in 2022
Wedding planning may not be easy, but you can minimize the stress by making a plan to pay for your big day. Get started by reviewing your financial circumstances, determining how much you and your partner can contribute, and talking to your loved ones. 
And if you're searching for a smarter way to pay for your big day, a wedding loan through Upstart could help you cover costs without the stress. That's what we call wedding planning, simplified.
¹The full range of available rates varies by state. The average 5-year loan offered across all lenders using the Upstart platform will have an APR of 24.91% and 60 monthly payments of $26.36 per $1,000 borrowed. For example, the total cost of a $10,000 loan would be $15,816 including a $591 origination fee. APR is calculated based on 5-year rates offered in May 2022. There is no down payment and no prepayment penalty. Your APR will be determined based on your credit, income, and certain other information provided in your loan application. Not all applicants will be approved.
²Neither Upstart nor its bank partners have a minimum educational attainment requirement in order to be eligible for a loan.