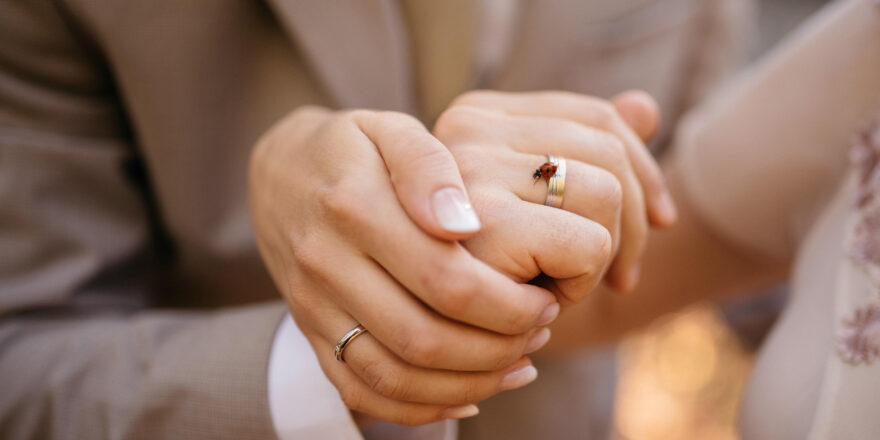 Key takeaways: 
The national average cost for an engagement ring is $6,000.

Shopping online, sourcing lab-grown diamonds, and opting for undersized diamonds can help you save money on a stunning ring. 

Wedding loans, retailer financing, or credit cards may make it easier to cover the cost of an engagement ring without draining your bank account. 
Getting engaged is simple enough, right? You get down on one knee, ask your partner to spend the rest of their life with you, and present them with a beautiful engagement ring.
However, there's a lot to consider about the ring inside prior to getting down on one knee. You have to choose the metal, cut, and size. Then, there's the matter of paying for it.
If you're not sure where to start, you're not alone. Engagement ring prices can vary widely, and many couples end up spending more than expected.
Luckily, with a little research, you can set yourself up for success. Learn more about average engagement ring costs and financing options in this helpful guide.
What's the average cost of an engagement ring?
According to a survey conducted by The Knot, the average engagement ring cost in 2021 was $6,000. Keep in mind that prices vary based on numerous factors, including:
Your location

The size and type of stones you choose

The style of the ring
For example, a 2019 survey conducted by The Knot found that, on average, couples living in the Mid-Atlantic spent over $2,000 more on an engagement ring than those living in the Southeast. 
How much should you spend on an engagement ring?
Engagement rings are pricey. To reduce the risk of overspending, take some time to prioritize ring features before visiting the jewelry store. For instance, you may prioritize the quality of the stone over its size. 
Most importantly, consider setting a budget before you start shopping. Setting some boundaries around the price tag will help ensure you and your partner are comfortable with the expense long term. 
Budgeting for an engagement ring can get tricky, though. To help you get started, consider the following to help you determine an engagement ring budget. 
The monthly salary rule
The monthly salary "rule" was created by diamond companies following World War II. The rule states ring shoppers should spend one month's gross income on an engagement ring. Over time, it doubled, then tripled to become the three-month salary rule many of us know today. 
According to the rule, you should triple your gross monthly salary to determine a ring budget. For instance, if your total monthly income is $2,000, you should spend $6,000 on an engagement ring.
For modern couples, this rule is outdated. It doesn't consider factors like student debt, credit card debt, or mortgages. Furthermore, it doesn't factor inflation into the equation. 
When it comes down to it, preparing for a sound financial future together may be a better idea than purchasing a pricey ring.
The manual approach
Looking for a foolproof way to budget for an engagement ring? We recommend taking a manual approach. You can collaborate with your partner if they're in on the ring-buying process. If not, take some time to sit down and consider the following factors to determine your budget: 
Your current financial situation:

Before you set a budget, consider your current expenses, debt load, and buying preferences. If you pay for your ring upfront, you could put a serious dent in your savings account. But if you finance your ring or buy it with a credit card, you'll add monthly payments and interest fees to your existing bills. 
Your financial goals:

We mentioned it above, but it's worth revisiting your near-term financial goals. If you and your partner have been

planning a vacation

or thinking of returning to college, dropping thousands of dollars on an engagement ring could delay your goals.

That doesn't mean you should skip the ring entirely. Instead, decide on a number that works for you and your financial goals.
Your partner's preferences:

Finally, take your partner's preferences into account. You may ask them outright for ring options or you could go window shopping to get a better idea of the rings they like. 
You should also consider their personalities, hobbies, and taste. For instance, an antique ring or family heirloom may be more meaningful than a new diamond ring. On the other hand, they may prefer a single large stone on a simple band, which may require a smaller budget.
Ways to save on engagement ring costs
Ready to go engagement ring shopping? Before you pull out your credit card, consider the following tips to get the ideal engagement ring at the right price. 
Consider shopping online
Online shopping has changed the way consumers make purchases—even major ones, like engagement rings. In many cases, online retailers charge up to 40% less for a diamond engagement ring than traditional jewelry stores. 
Shopping online also provides access to a wide range of stones, styles, and price tags. Further, many online diamond retailers offer customization options you may not find in-store.
Opt for an undersized stone
Looking for an easy way to save money on an engagement ring? Consider an undersized diamond. Undersized diamonds are those cut slightly below traditional carat weights. For instance, you could opt for a diamond weighing 1.97 carats instead of 2 carats. 
The diamond size difference will be virtually undetectable. But the smaller stone may come at a heavily discounted price. 
Look for lab-grown diamonds
Lab-grown diamonds are chemically and visually identical to mined diamonds. In fact, the only difference between the two is where they form. Lab-grown diamonds are developed in labs through a process called chemical vapor deposition. They are generally considered more ethical and environmentally friendly than mined diamonds.
They may also come at a deep discount. Depending on where you shop, you may be able to purchase a lab-grown diamond for up to 50% less than a mined stone of similar quality.
How to pay for an engagement ring
Paying for an engagement ring can seem overwhelming, especially when you're balancing living expenses, bills, and debt.
Fortunately, ring shopping doesn't have to be financially stressful. Consider the following four ways to cover the costs of an engagement ring:
1. Save up to buy a ring
Saving up for an engagement ring has several benefits: 
You may be less tempted to overspend if you know you have a fixed amount of money.

Using your savings to buy a ring means you won't have to worry about expensive interest fees.
However, saving takes time—lots of it. Rising inflation, higher gas prices, and your existing debt load can make it hard to save while paying your bills, too. And if you do save up enough money, draining your account in one fell swoop may drastically reduce the cash you have on hand for emergencies.
2. Consider a wedding loan
A wedding loan is a type of personal loan used to pay for costs related to your wedding. With a wedding loan, you can determine how much you want to borrow. If your application is approved, you'll receive the money in one lump sum. Then, you can use the funds to buy your rings, make vendor deposits, or plan a honeymoon.
Taking out a loan to buy engagement rings or plan a wedding may seem unusual, but it has several benefits: 
Manage multiple expenses:

A loan can make it easier to manage multiple expenses related to your engagement or wedding. You'll know exactly how much you have to spend. This can take the stress out of

paying for your wedding day

.

Maintain more savings for future use:

Using a loan to help with wedding costs may help you to maintain more of your hard-earned savings for the future. This can be helpful for a new couple taking on married life and all of life's unexpected expenses together.

More financing flexibility:

A wedding loan may offer a more affordable way to finance your rings and other related expenses, especially when compared to a credit card. When you take out a wedding loan through a lending marketplace like Upstart, our model looks beyond your

credit score

and uses your education and work experience to find you a

personal loan

. As a result, you may qualify for a

lower interest rate on your loan

.
3. Ask about retailer financing
Many jewelers now offer in-store or online financing to make purchasing engagement rings easier. For instance, you may be able to use buy now, pay later financing that splits your purchase into monthly installments. Other retailers have in-house financing options. 
Keep in mind that retailer financing isn't always as straightforward as it seems. Keep an eye out for factors like: 
Extra fees:

Some retailers may charge high interest fees or late payment penalties. 

Short-term repayment periods:

Some retailers may only offer short-term repayment periods, which could make it difficult to cover the costs of a ring. 

Less flexibility:

Retailer financing may be less flexible than other forms of financing when it comes to term lengths and repayment options.
4. Use your credit card
Lastly, you may consider using your credit card to pay for an engagement ring. However, it's important to proceed with caution. Using your credit card to buy an engagement ring may only be a good idea if you know you can repay the balance by the end of the billing cycle.
Otherwise, you could rack up expensive credit card debt, costing you hundreds or thousands of dollars in interest. For a closer look at the true cost of credit card debt, consider the following scenario.
You have a credit card with an interest rate of 18%. You use it to buy a $6,000 ring. You then begin making the minimum payment of $120 each month, which covers interest and 2% of the balance.
If you continue making the minimum payment, it will take nearly 8 years to pay off the purchase. When you reach the payoff date, you will have paid an additional $5,173 in interest and driven your total costs up to about $11,200—almost double the ring's original price tag.
Say "yes" to affordable engagement ring financing
Buying an engagement ring should be an exciting time in your life, not one that causes financial stress. Still, it's a major purchase—and one you'll look at every day for the rest of your life. 
With that in mind, buying the perfect engagement ring is more than worth the effort involved. You don't have to drain your bank account or add thousands of dollars to your credit card balance. 
Consider all your options and do your research before popping the question. That way, you can focus on celebrating your engagement and planning for your future together instead of wondering how to pay for the ring.