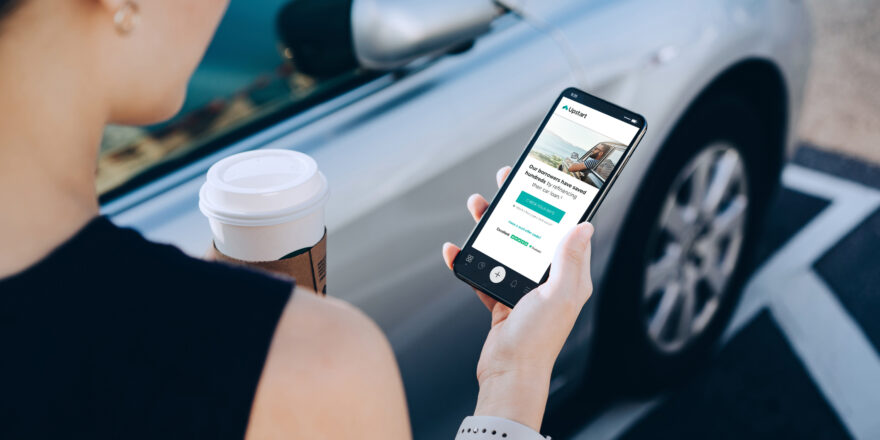 You've probably heard that you can save money by refinancing your car loan. But did you know just how much you could save? As of October 2021, borrowers who refinanced their car loan through Upstart saved an average of $945 per year.¹ 
Still, you might be hesitant, especially if you've never gone through the refinancing process before. It's surprisingly easy, but there are a few things to ask yourself first:
1. Do I know my current loan information?
You don't necessarily need to know all of the details about your current auto loan in order to refinance. 
But it can be helpful, especially if you're making comparisons about how much refinancing can save you. In order to know your savings, you'd need to know how much your old loan cost you in terms of APR and monthly payment amount, compared to your new loan. 
In any case, if you refinance through Upstart, we'll send the payoff amount directly to your old lender so that you don't even have to worry about this chore. 
2. Do I have proper insurance for refinancing?
If you have a car loan, your lender also has a stake in that vehicle. And to make sure it's protected, lenders generally require you to have insurance for your car. 
Most lenders — Upstart included — require comprehensive and collision insurance. They may also require a maximum deductible amount, such as $1,500 each, in the case of Upstart. This ensures that no matter what happens to your car, it's fully protected and you're more likely to be able to afford the deductible. 
3. Do I have add-ons that won't transfer to my new loan?
Some auto loans come with optional add-ons, such as a GAP waiver (Guaranteed Asset Protection) that waives the remainder of the loan balance if you total your car. Or, maybe you paid for an extended warranty for your car. 
If you paid for any of these additional features, it's a good idea to check with your current providers to see whether they'll transfer to your new loan or inquire about a refund upon cancellation. GAP waivers typically don't transfer to your new loan, for example, while extended warranties do. 
4. Do I have a valid registration or any red flags with the DMV?
When you refinance your auto loan, your state's DMV will issue a new car title to your new lender. But in order for that to happen, your car registration needs to be valid and current. If you've let your car registration lapse, you'll need to bring it current again before you can refinance. 
Similarly, you'll also need a clear title, with just your current auto lender listed. If you have other claims on the title, such as a tax lien for not paying your taxes, or a car title loan, then you'll need to pay off these debts before your title is able to be switched to a new lender. 
5. Am I up to date on car maintenance?
Making sure your car is in tip-top shape isn't a requirement to refinance. You can still refinance your auto loan if there's work you've been putting off. 
But it's generally a good idea to keep up with car maintenance when you can, and refinancing is an especially good time to make sure everything's checked off your list. 
This becomes even more important if you're refinancing your loan for a longer period of time. The last thing you want is to be paying off a car loan for a vehicle that doesn't even run anymore, and by taking care of your car today, you can ensure that doesn't happen. 
Shop around for the best rates
You have endless options when it comes to finding an auto refinance lender. If you decide refinancing might be right for you, it's important to shop around and check your rates with several different lenders. 
Checking your rate with most lenders — Upstart included — won't have any impact on your credit, as long as they do a "soft" credit pull. This gives you a good idea of what rate each lender can offer you, so you can decide whether it's worth continuing your application. 
At Upstart, it only takes a few minutes to check your rate and apply for a loan. We've streamlined the process to make it as simple as possible for you, so that you can move on to the things that really matter in your life.
¹This information is estimated based on all consumers who were approved for an auto loan through Upstart and accepted their final terms. As of 1/1/2022, the average yearly savings amount is $945. To evaluate savings on a loan you are considering refinancing, it is important to compare your APR and remaining term from your existing automotive loan to the APR and term offered by Upstart.
Car refinance loans not available in IA, MD, NV, or WV.