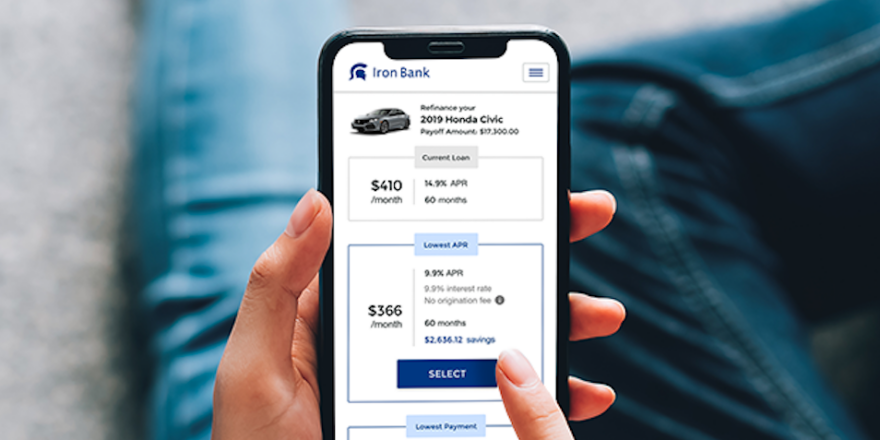 By Arjun Aletty, Product Manager
Last month, we announced Credit Decision API, the industry's first AI-enabled decisioning service for consumer credit. I'm excited to share that Upstart is launching another new product, a soft pull Auto Loan Lending Platform. Now banks can offer automotive refinance and purchase auto loans through our lending platform with a seamless all-digital experience, higher approvals, and potentially lower loss rates.
In the last six years, we created an exceptional experience for personal loans. Our bank partners have been able to deliver higher approval rates, lower interest rates, and NPS scores in the 80s*. Creating an equally compelling experience for auto loans is no small challenge, which makes it the right next step for Upstart. Here's why:
Experience: The process of getting an auto loan can be painful and complex, both for borrowers and banks. Liens, powers of attorney, title transfers, and repossession make auto lending expensive and complicated. Additionally, the process varies by state making nationwide lending difficult. This is the kind of challenge we thrive on at Upstart.
Opportunity: Two-thirds of the $1.2T** in outstanding auto loans are originated through dealerships. Consumers choose this option because the experience is more convenient – you can buy your car and finance it all in one place. But that convenience comes at a price: consumers often pay unnecessarily high interest rates as well as fees added to the price of the vehicle. What if a better auto lending option were available right from your phone.
A dramatically better experience
Our goal was to simplify the process for both banks and borrowers. We focused on:
Creating a mobile-friendly application process that integrates with DMV registration records to provide seamless vehicle lookup. This way, applicants don't have to hassle with entering their VIN or license plate number.

Delivering an instant decisioning and automated fraud and verification process that leverages our experience with personal loans, so borrowers can finish their application in one sitting.

Performing title management (placing and releasing liens, and transferring titles), disbursement of funds, and collections activity, including asset repossession.
Enhanced risk modeling
Building on our experience in personal loans, we developed a new AI decisioning model for soft inquiry auto loans that more accurately models risk. For borrowers that fit within our bank partner's credit policy, Upstart's platform provides individualized risk-based pricing unique to the borrower and vehicle combination. Our model computes the probability of default for each month over the life of the loan, the residual vehicle valuation including specifics such as the vehicle trim-level, and real-time economic factors to adjust for market conditions. Those models enable you to provide the right price to the right applicant (and vehicle!) in real-time.

*To determine Net Promoter Score (NPS) score, Upstart used a third-party service to administer surveys to personal loan applicants immediately following an applicant's acceptance of a loan on Upstart's platform.
**Per the February 2019 Driving into Debt report by U.S. PIRG Education Fund and Frontier Group.