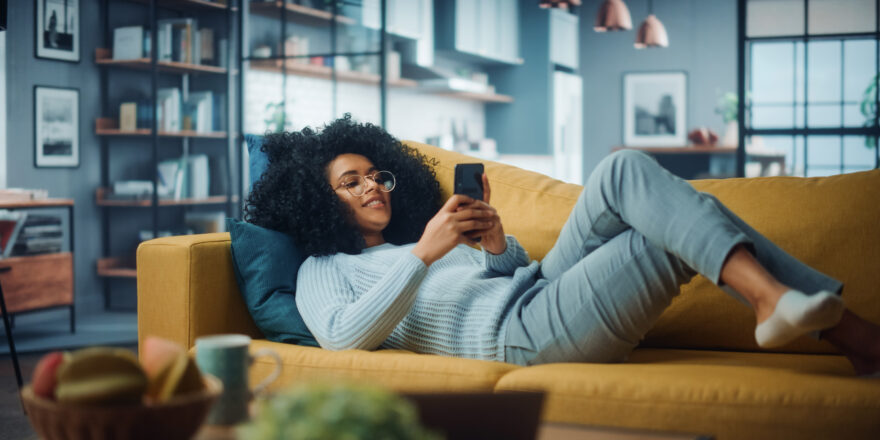 Are you thinking about applying for a personal loan, but dreading the thought of having to go to a stuffy bank to complete the process? If so, you're in luck. Not all personal loans require you to show up and apply at a brick-and-mortar financial institution.
Online loans are a safe, easy, and popular way for borrowers to apply for and get a personal loan. Plus, top online lenders typically offer accessible eligibility requirements, a simple application process, and speedy turnaround times.
To find the best online personal loans for your needs, learn about the pros and cons of online personal loans. Then, find out how to search for a lender and apply.
What is an online personal loan?
An online personal loan is a type of term loan that you can apply for online without having to visit a local lender. Just like regular personal loans, online personal loans can be used for a variety of purposes, but they're sometimes easier to get than traditional loans. 
For that reason, many borrowers opt for an online loan over financing from a bank or credit union. Here are some common reasons you may want to apply for an online personal loan:
You need funds for unexpected expenses like auto repair costs, medical bills, or funeral expenses

You need to borrow money ASAP

You have credit card debt and want to streamline payments through debt consolidation

You want to try and qualify for more competitive interest rates and terms than those offered by a traditional lender

You cannot qualify for a personal loan from a traditional lender
How to decide if a personal loan is right for you
When it comes to getting a loan from an online lender or brick-and-mortar bank, the right choice depends on what's most important to you. If you value speed and convenience, opt for an online personal loan. If you prefer to speak to someone face-to-face or value more in-personal customer service, apply for a personal loan at a bank.
Before you solidify your decision, here are some pros and cons of online loans to consider.
Pros of an online personal loan
It's usually convenient. With an online-only lender, you can typically complete the entire loan process from start to finish on your laptop or even your phone. 
Some branch-based lenders will give you the option to start the loan application online and submit essential documents, like your paystub or photo ID online. But they may require you to visit their physical branch toward the end of the process to sign the final documents.
Online lenders usually offer a pre-qualification that won't impact your credit. Depending on the online lender, you can sometimes apply for loan pre-qualification with a soft credit inquiry, which won't impact your credit score. As a reminder, pre-qualification is an estimate of how much you can borrow from a lender based on their review of your finances and a soft credit check. 
You can pre-qualify from several lenders to help you see which ones offer the best terms and rates for online personal loans. Once you select a lender, you need to fill out a loan application and give the lender permission to complete a hard credit inquiry, which can slightly lower your credit score. 
Potentially faster loan approval and funding. Online lenders usually have a quicker turnaround time for loan approvals compared to traditional lenders. If you need access to funds quickly, applying for a personal loan through an online lender may be a good financial move for you. Once you're approved, some online lenders and lending platforms, like Upstart, send funds as quickly as a single business day1.
Possible low rates and fees. Most online lenders have lower operating costs, which means they sometimes offer more favorable interest rates and fees (or no origination fees at all). If you have a stellar credit history and solid financial profile, you're more likely to qualify for lower interest rates.
If you don't have a strong credit score or financial background, consider taking steps to improve your score or research lenders that allow cosigners.
Cons of an online personal loan
There might be a lack of security. Technology and data security have come a long way in the last few years. But it's still essential to make sure you're working with a reputable online lender before applying. Besides possible hacking risks, scammers have targeted online businesses in the past. 
If you decide to apply for a personal loan through an online lender, only use their official banking website. Be wary of any unsolicited calls from people claiming to be a representative of that lender, especially if they ask for your personal information, since it could possibly be a scammer.
You might not qualify for loyalty discounts. If you've been working with a specific bank for a while, you might be eligible for loan interest rate discounts or a rewards program. Online lenders, on the other hand, don't commonly have these types of perks. 
While you're shopping around for the best deals, ask your local bank or credit union about their terms and rates for personal loans. Then compare their details with online lenders. 
Pro tip: Even though most online lenders don't usually offer loyalty perks, they do sometimes offer an interest rate discount if you sign up for autopay.
Customer service might be a robot. Even though an online lender may be quick and convenient, you may have to give up the option of speaking with a customer service representative in person, or at all. If you get frustrated easily by having to do everything online, you can save yourself a lot of stress in the future by working with a bank or credit union instead.
How to shop for an online personal loan
If you've carefully weighed the pros and cons of applying for a personal loan through an online lender and you feel it's the right move for you, start shopping around for lenders. Just like traditional lenders, different online lenders offer different types of loans, terms, requirements, and fees. 
While it may seem tedious to have to shop around for lenders, the good news is that comparing online loans is typically quicker and easier than comparing loans from other financial institutions. Start by checking your credit score and report from each of the three credit bureaus: Equifax®, Experian™ and TransUnion®. Why? If you have a good credit history and overall financial health, lenders will consider you to be creditworthy, which means you may qualify for better rates. 
Then, research lenders that offer the type of loan you want and will accept your credit level. Once you've done some research and compared rates offered by the lenders you're considering and the fees required, calculate how much you'd spend over the life of the loan to narrow down your choices. 
How to apply for a personal loan online
The application process for a loan from an online lender can differ from lender to lender, but most have similar application requirements. Consider these steps when you apply for a personal loan online:
Apply for pre-qualification to your top three lenders (if they offer it!).

Select the lender that offers you the loan with the best terms and interest rate for your financial needs and fill out your loan application. 

Send in additional documentation the lender asks for and e-sign your loan agreement. 

Wait to get your funds, which can be the same day or in a few business days.
Online loans: Quick and convenient, but still require consideration
Depending on your financial needs, applying for a personal loan through an online lender or lending platforms can be a good move for you. The beauty about shopping for a loan in this digital age is that it's pretty easy to compare legitimate online lenders and apply for a personal loan within a single afternoon from the comfort of your own home.   
Even though it's convenient to get a loan online, remember to take your time to properly search for the loan that best fits your situation—it could help you save hundreds of dollars (even thousands) in interest and fees over the course of your loan.
¹If you accept your loan by 5pm EST (not including weekends or holidays), your funds will be sent on the next business day. Loans used to fund education related expenses are subject to a 3 business day wait period between loan acceptance and funding in accordance with federal law.