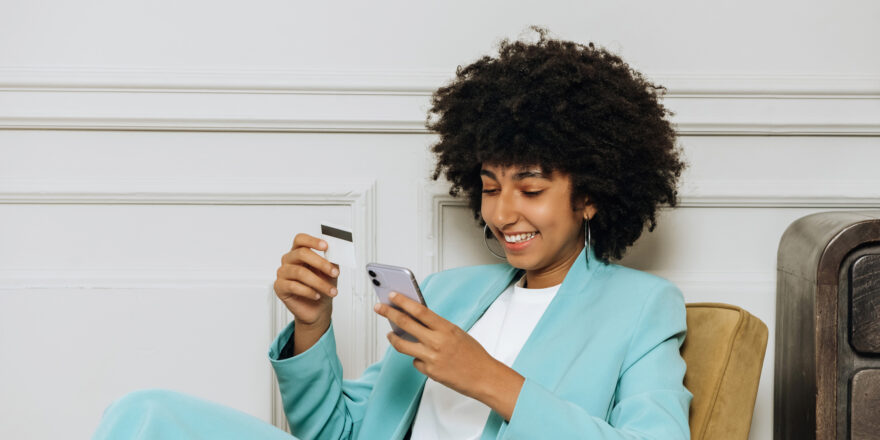 Picture this: It's Friday and you're deep into a shopping session. You select the items you want and click on your shopping bag in the upper right-hand corner of your screen to check out. When reviewing the available payment options, you notice an option called buy now, pay later. What do you choose? 
If you're like many other consumers, you'd opt for the buy now, pay later option. With buy now, pay later (BNPL), you can get whatever you want now, and pay it back in a few, interest-free installments. 
Seems like a convenient deal, right? The short answer: It's complicated. 
Get an in-depth look at what buy now, pay later is, how it works, and the pros and cons, so you know exactly what you're bargaining for the next time you go to checkout. 
What is buy now, pay later?
Buy now, pay later is a type of no-credit-check personal loan, or a form of short-term financing that doesn't usually require a hard credit inquiry. With this lending approach, a consumer's purchase is split into several even payments. The first payment is due at checkout and the others are billed to your debit or credit card until the purchase has been paid in full.
Many retailers offer buy now, pay later options online and in-stores to make it easier for people to make purchases. Although it may be more convenient, it's important to note that some providers charge interest and late fees. 
Some of the most common buy now, pay later programs include: 
Affirm

Afterpay

Klarna

PayPal

Sezzle

Zip (formerly known as Quadpay)
Buy now, pay later vs. credit cards
Buy now, pay later is similar to credit cards. They provide consumers with the chance to buy something instantaneously and pay it back over a period of time. 
However, one of the biggest differences is that many buy now, pay later providers don't charge interest if payments are made on time. 
| | |
| --- | --- |
| When to use BNPL | When to use a credit card |
| To make purchases without a credit inquiry | If you'd like to earn benefits based on your annual spending totals |
| If you prefer a simple application with instant decision for new credit | If you want to get purchase protection benefits |
| If you'd like to pay over time without being charged interest | If you prefer flexibility of lower minimum payments |
| To pay off purchases with minimum payments | If you want to earn cash back, miles, or points on your purchase |
| If you'd like to build credit without getting a secured credit card | To get a complimentary extended warranty |
How does buy now, pay later work?
All buy now, pay later options generally work the same way, but they usually vary when it comes to terms and conditions. If you use buy now, pay later, your experience will likely work like this:
You make a purchase at a retailer and opt for buy now, pay later at checkout.

You submit an application with basic details about yourself to see if you qualify. Applications will typically require your name, email address, mobile number, and date of birth.

If approved (you'll find out in seconds), you make a small down payment, such as 25% of the overall purchase amount.

Then, you pay off the remaining amount due in several interest-free payments over a period of time. You can pay by check or bank transfer. Payments can also be deducted from your debit card, bank account, or credit card automatically.
Pro tip: It's not common, but some buy now, pay later providers conduct a hard credit check before they approve you. This is important to note because a hard credit check may lower your score temporarily. Be sure to read the application's terms and conditions carefully before you commit.
What is an example of buy now, pay later?
You purchase a few items and the total is $100. By using a buy now, pay later financing option, you pay 25% of the purchase or $25 at checkout. Then, you'll make three additional $25 payments every two weeks until the purchase is paid off. If you make all of your payments on time, you'll pay off your purchase in six weeks.
Does buy now pay later affect credit scores?
Using buy now, pay later can easily lower a consumer's credit score if they're unaware of how the process works and they miss payments. Because most BNPL providers don't perform hard credit checks, they're unaware of how much debt an applicant has and if they can pay it off on time. 
There is no limit to the number of BNPL loans a consumer can take. Unfortunately, without limits, some consumers may take on more than they can handle, which can lead to a cycle of debt. If you fail to pay, your debt may be sent to collections, which can seriously damage your credit score.
Additionally, some BNPL providers report late payments, which may impact your credit score further. Before you opt for buy now, pay later, check your finances. If you're already struggling to pay off several loans, avoid taking on more debt.
Should you use buy now, pay later?
Whether you should use buy now, pay later depends on your unique financial situation. Before you use this payment method, review the pros and cons to decide if this is a good financial move for you. You can review the pros and cons of buy now, pay later below:
| | |
| --- | --- |
| Pros  | Cons |
| Some BNPL providers have zero-interest plans available | Some BNPL providers charge interest and fees |
| You don't need a minimum credit score | Payments may not be reported to the three main credit bureaus |
| They're available at most major retailers during checkout | The convenience makes it easy to overspend |
Additionally, keep in mind that buy now, pay later loans are managed by a separate company than the retailer you make the purchase through. If you decide to return what you purchased, it's your job to make sure the refund is applied to your buy now, pay later loan.
The bottom line on BNPL
You may want to use buy now, pay later if you can't or don't want to pay for an item all at once. Before you commit, consider if you can afford the payments and what penalties you may be charged if you're unable to pay. Read the fine print in the terms and conditions thoroughly, so you fully understand what you're agreeing to. 
If you're thinking twice about the item and using buy now, pay later, trust your instinct and wait to save up. In the event that you use buy now, pay later and become overwhelmed with more debt than you can handle, consider consolidating your debt into a new loan with a lower interest rate.