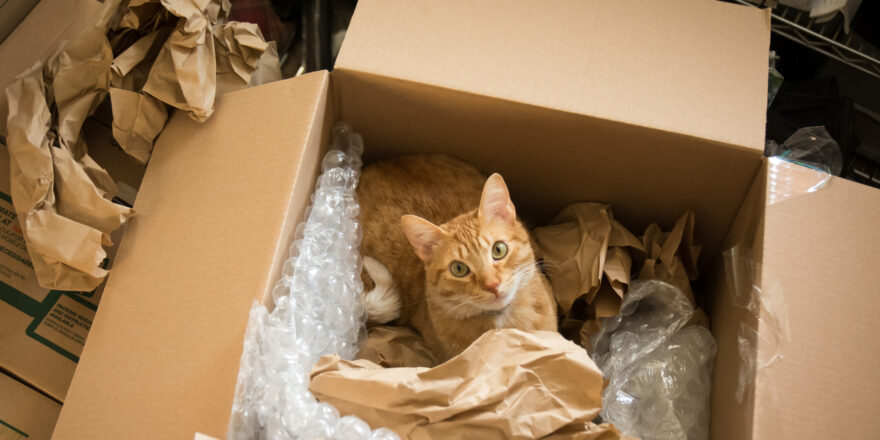 Whether it's a few blocks away or across the country, the process of moving can be stressful and expensive. From packing up your belongings to making decisions about hiring movers, there is a lot to take care of. 
A successful move requires a lot of research and planning to ensure the process runs smoothly. Although you may have created a budget for your move, you may not have accounted for all your moving costs. 
If the expenses add up and you feel you may not be able to afford the average moving expenses, consider getting a moving loan. Also called a relocation loan, a moving loan is a type of personal loan you can use to pay for a variety of expenses related to your move.
From parking tickets to mover surcharges, we've gathered 11 hidden costs you should know about before you start unrolling the packing tape.
Unexpected moving costs to consider
With everything you need to do and take into consideration before you move, it's easy to overlook some line items in your budget. To make sure nothing takes you by surprise and puts you over budget, check out our list of unexpected moving expenses.
1. Packing supplies
If you're planning on doing the packing and moving yourself, don't forget that you need to buy reliable packing supplies. Some common supplies you'll need to get, and budget for, include: 
Boxes

Plastic bins

Sturdy packing tape

Bubble wrap

Plastic wrap

Mattress cover(s)

Markers
2. Truck rental
Renting a moving truck is more affordable than hiring professional movers, but the fees associated with renting a moving truck can add up. Knowing what these fees are can help you get a better idea of what your total moving truck cost will be.
Size of the truck.

If you have a lot of items to move, you may need a bigger vehicle, which will be more expensive.

Move distance.

If you're moving locally, you'll probably be able to get the job done and return the truck the same day. If the move is longer, you may have to return the truck to a different location the next day, which could cost more.

Helpful tools.

To help the loading/unloading process, you may need to rent tools from the rental truck company. Renting tools like moving blankets and a tow dolly will usually be an extra cost.

Truck rental insurance.

You're not usually required to get insurance for your truck rental, but it's something you may want to consider. Most auto policies do not cover rental moving trucks. The cost of rental truck insurance will vary depending on the company you select. 

Time of year.

The date you choose to move can have a big impact on the cost of your truck rental. If you move during the off-season, the demand for truck rentals is lower and prices drop. During peak moving season, renting a truck will be more expensive.
3. Fuel expense
Fuel is a commonly overlooked moving expense because it's a regular chore for many of us. Whether you have to fill up your tank once, twice, or more, it's an expense you need to consider. Bear in mind that moving trucks have large gas tanks, so the cost to fill up will be higher than you're used to. 
If you opt to work with a professional moving company, fuel expenses may not be in the initial quote. Movers usually wait until the trip is complete to add it because gas prices can vary. 
4. Storing your belongings
Figuring out how you're going to move and fit your belongings into a new space is a big undertaking. You may realize during the process that you have several items that may not fit into your new space. In this case, you may need to rent a storage unit to keep your items in until you know what you want to do with them.
5. Boarding pets
During the moving process, pets can become stressed or can get in the way. You may want to board your pet during the day or overnight. Boarding fees vary depending on the kennel you use. 
Additionally, pets typically need vaccinations to board at many kennels. If your furry friend isn't vaccinated, that'll be an extra cost to consider.
6. Security deposit
If you rented your old place, you likely gave the landlord a security deposit when you first moved in. As long as you didn't violate the terms of your lease, you'll get your security deposit back in full. 
However, you may have accidentally damaged something in the space while you lived there that you might not remember doing. If you're unable to fix the damage before you move out, it may impact your ability to get your security deposit back in full, or at all.
7. Moving surcharges
Professional moving companies typically offer services you can add to your agreement. In some cases, the extra services and fees that come with them aren't a choice. Some of the circumstances of your move may require a specific service, resulting in an added surcharge. 
When shopping around for a moving company, review their services and rates so you can account for any potential surcharges in your budget. 
Busy location surcharge.

A move to a metropolitan location can possibly be more complicated for movers and may cost you more.

Item surcharge.

Movers will usually charge more if they have to handle especially large, heavy, or fragile items.

Distance surcharge.

If movers have to carry items a long distance from the truck into the location, it can result in a higher fee.

Delay of move date surcharge.

If you adjust your move date at the last minute, the company may charge you extra if you don't give them enough notice. It's also possible that they might not have the new date available. A different mover could have different rates or charge more for short notice.

Overnight surcharge.

You may have to pay more if the movers are unable to unload all your items in one day. In this case, the driver will lock up the remaining possessions in the truck overnight and will come back the next day to finish the job.

Stairs or elevator surcharge.

If movers will have to carry items upstairs or go into an elevator to complete a move, it may cost more.
8. Unexpected hotel stay
Even if you're able to move into your new place in a single day, you might not have the time or energy to set up your bed and unload kitchen essentials to cook. To avoid sleeping on the floor, you may want to plan ahead and book a hotel for a night. 
Budget for this ahead of time so you won't end up paying more for last minute booking.
9. Parking tickets
If your movers have to park illegally to move your belongings, they may get a ticket and you'll be responsible for paying it. To avoid this, plan where the movers can park before the move date. If you can't find a spot, get a parking permit from the city office in your new community in advance.
10. Tips for movers
Movers do a lot of hard work and heavy lifting. Thus, they deserve a tip. Even if you're already spending a lot on the moving company, prepare to tip each of your movers. Add this to your budget and get cash from your bank before move day so you're prepared.
11. Getting new furniture
If you're moving into a bigger space, you need to account for the new furniture you're going to get to fill it. If you move from an apartment into a house, you may need to buy costly pieces like beds, dressers, couches, and more. Consider these added expenses when moving. 
Let's get moving
Life is unpredictable sometimes and even if you prepare, you may encounter other surprise moving expenses along the way. 
To ensure a smooth and seamless move, it's essential to be realistic about how much you can afford.