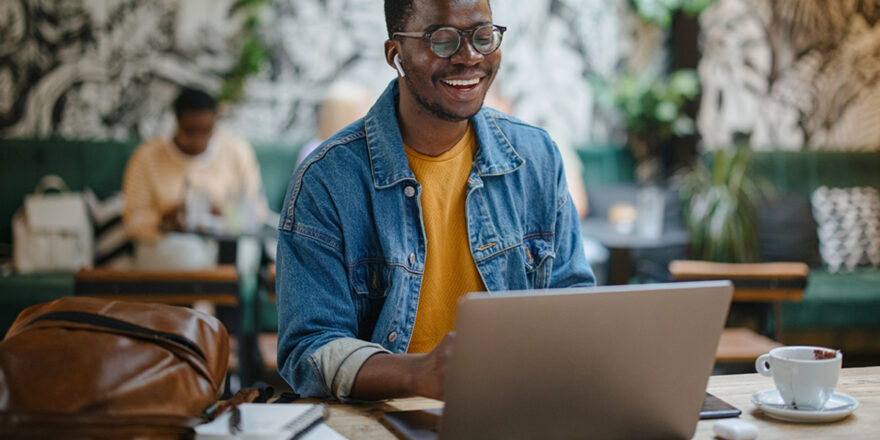 Are you planning to set your work status to Out of Office? If so, you're in good company. A recent study from TripAdvisor suggests that 71% of Americans plan to go on a trip in 2022. After all, travel is essential for recharging, seeing the world, and getting out of your comfort zone. 
Although planning a trip can be exciting, it can also be daunting when it comes to doing research, planning logistics, and making sure you don't break the bank if you plan to travel on a budget.
Whether you're dreaming about relaxing on the beach, hiking a mountain, or exploring a new city, it pays to plan. Before you start finalizing the details of your travel itinerary, check out these budget travel tips. Learn about how to travel on a budget to ensure the only baggage you take with you on your vacation is literal.
1. Make a sinking fund
A sinking fund is the opposite of an emergency fund. Instead of putting away money for future emergencies, you strategically set aside money each month to save for a big financial goal. 
To help you stay on track, automate a certain amount from your monthly paycheck into your sinking fund. By automatically setting aside money into a sinking fund for your next vacation, you won't be tempted to dip into your emergency funds or charge it to your credit card. 
2. Be conscious about how and where you swipe
If you plan to use a card in addition to cash while you're away, you should consider getting a travel credit card, so you won't be charged international fees. Those types of cards are best for spending to help you gain reward points. 
Travelers may also use a debit card while away. A debit card is best to help you access cash. It's essential to note that not all debit cards are created equal—ask your bank well before your departure date what the fees are to use your debit card internationally.
You may also want to consider the international withdrawal fees on your debit card before traveling the globe. Many banks will charge an international fee of about $3 per transaction plus 2% or 3% of the total amount that you withdraw. For example, if you take out $200 and your bank charges a $3 international fee plus 3%, you'd have to pay $9 to make that withdrawal. If your bank charges these fees, do research to find another bank or credit union. 
Pro tip: In the United States, many credit unions offer no-fee international debit cards. Although you might have to pay $3 per withdrawal, you won't have to pay an additional percentage on top of the fee. 
3. Get travel insurance
Regardless of whether or not you're traveling on a budget, you need to get travel insurance. Travel insurance is coverage designed to protect travelers from emergencies and financial losses that can happen abroad. Depending on the provider and coverage you get, you can get insurance for smaller issues like a missed airline connection, delayed luggage, and theft. Or, you can get coverage for bigger issues like an injury or major illness. 
It might be tempting to skip insurance if you have a tight travel budget. But think twice—it can help you save hundreds or even thousands of dollars in the future if something happens.
4. Select your destination wisely
If you're a budget traveler, you probably already know some places are not low-budget destinations. But you likely also know that other locations are  less expensive than others. 
To find out which is which, start by researching places that are good for traveling on a budget—e.g., where it's cheap to get to by plane, train, or car. It can also be a place where you get more bang for your buck if it has a different currency and there's a favorable exchange rate.
Pro tip: Go to Google Flights and select the "Explore" tab. On the next page, a map will appear with all the cheapest flight destinations.
5. Travel in the off-season
Once you've selected a destination, research the best times of the year to visit. Then, consider traveling right before or after the high tourist season or the holidays, during the off-season (aka shoulder season). 
In the off-season, the weather might not be as favorable, or the destination as busy. But, you can still have a fantastic trip for a fraction of the price you'd spend if you travel during peak tourist season because rates for activities, food, hotels, and airlines will be lower.
6. Be flexible with flight dates and times
If you're able and willing to be flexible on travel dates and times, you can possibly save a lot of money on your flight. Plus, finding the best cheap flight for your vacation doesn't require any special skills—you just need to have some patience and to know where to look. In general, it's typically more expensive to book flights directly on an airline website. Instead, opt for third-party websites like Google Flights, Priceline, or Expedia for the best flight deals. 
For more specific travel times, use Google Flights and type in the city, not a specific airport, for both your departure and destination. Then select the "Date grid" dropdown menu to see when the cheapest flights are for that period of time. If you're not sure when you'd like to go, select the "Flexible dates" tab on Google Flights and search the times and location you'd like to go. 
7. Set price alerts for flight deals
If you're unable to find a flight price that you like, set price alerts with Google Flights so you'll get emails when prices change. If you book a flight deal too quickly, remember that you can take advantage of airlines' 24-hour cancellation policy. All major U.S. airlines are required by law to give travelers a 24-hour grace period to make cancellations. 
Pro tip: You can save even more money by booking flights in Google incognito mode, by using a VPN, or after deleting your cookies.
8. Book affordable or free accommodation
Prices for accommodation can quickly eat away at a travel budget. After you select a destination, research accommodation options that'll fit your budget. In some cases, hotel alternatives like Airbnb can be a great way to find affordable housing options. If you're looking for cheap accommodation, especially in a large city, opt for a hostel. No matter where you're staying, always be sure to read the reviews of the property and the host before you book with them to make sure they're legitimate.
If you don't have family or friends to stay with for free, you can still find free accommodation by checking out Couchsurfing.com. This website can help you find locals in different cities who offer their couches or guest bedrooms to travelers to stay in for free. Not only will this help you save a lot of money, but it might give you a more authentic snapshot of real life in the city as your host can act as a personal tour guide. 
If you're worried about security, the website has several safeguards in place, such as identity verification, an on-call safety team, and a risk detection system.
9. Book transportation and activities in advance
One of the best traveling tips is to book everything you can—transportation, activities and accommodation—in advance. Waiting to book these vacation essentials until a few weeks before you depart, or until you're there, may cause you more stress and cost you more in the long run. 
Do your research and planning and book everything you can in advance so you can avoid schedule issues and ensure that you're not going over budget. 
10. Find free things to do
No matter where you're traveling, there's likely a treasure trove of free things to do for budget travelers. That might mean that on specific days of the week you can visit some museums for free, or at least at a reduced price. If the weather is nice, you can visit a beach, go on a hike, or visit a local park. You can also go on a free walking tour, which is a great way to see and learn about the place you're visiting. Just note that it's customary to tip the tour guide at the end of a walking tour, whether or not the tour itself is free.
11. Plan restaurant visits carefully
If you're a big foodie, but you're also a budget traveler, and you're worried about spending too much on meals while you're on vacation, don't worry! You can indulge in many ways without spending too much. The key is to plan what meals you'd like to splurge on. That way, you can enjoy yourself and make sure you don't go over budget. If you plan to spend a bit more on dinner at a specific restaurant one night, you can offset the price by having cheaper breakfasts and lunches.
You can also save money by booking stays at hostels or hotels that include breakfast. If you're looking for a more authentic, more affordable experience, ask locals or hotel staff for delicious recommendations that are off the beaten path. 
12. Buy a local SIM card
If you don't have a phone plan with international data coverage, consider getting a local SIM card to replace your regular one while traveling. An international phone plan can average $10 per day, which can add up quickly if you're going to be away for a while. If you get a local SIM card, you can use it to navigate, make calls, and text for a fraction of the price of an international plan. You can get a local SIM card at the airport or in any major city that you're flying into. 
Pro tip: If you want to save even more money, opt for free WIFI only and be sure to turn off your cellular data completely so you don't incur any charges. 
13. Walk and use public transportation
The cost of getting where you need to go when you're on vacation can add up quickly. This is especially true if you plan to take cabs, hire private drivers, rent a car, and take planes. 
For some vacations, like a road trip across the United States, renting a car may be necessary. But for the most part, walking, and taking buses, trains, scooters, and additional country-specific modes of transport are the cheapest and arguably the best ways to get around. Not only will you save a lot of money, but these options will provide you with a more authentic experience of what life is like in that location.
14. Pack efficiently
It's rare that travelers get free checked luggage these days. Many airlines charge about $30+ per luggage, per flight—that's an extra $60 on top of the hundreds you spend on flights. If you're traveling with more than one person or a family, these fees can add up quickly, which can make it that much harder to travel on a budget. 
If you're concerned about the extra fees, you can opt to travel light and use a carry-on instead. To help you decide when you book a flight, remember to check two details about luggage—if there is a cost for checked luggage and if so, what are the carry-on suitcase dimension requirements for that airline. 
Packing a carry-on isn't as hard as it seems and if you're concerned about having to sit on your suitcase in order to close it, use the military roll method. With this method, you roll your clothes tightly to pack them instead of folding them. Not only will this method help you fit more in your bag, but it'll help reduce wrinkling too. 
Vacation financing options
If you're dreaming about going on vacation, but you don't have enough money saved up at the moment, you can finance your vacation in other ways. A loan or points from a travel rewards credit card may be the way to go.
Vacation loan
You may not always have the time to create a thorough budget or savings plan for a vacation. When time isn't on your side, consider getting a vacation loan from a lender. A vacation loan is a type of personal loan travelers can use to pay for travel. If you're approved for the loan, you can use the funds to pay for transportation, hotels, a rental car, and other travel-related expenses.
Use points from a travel rewards credit card
It might take a bit more time, but a great way to travel on a budget is to get a travel rewards credit card. This type of card works just like any other rewards credit card. When you make travel or everyday purchases on the card, you rack up points and miles. Once you earn enough points or miles, you can use them for expensive vacation essentials like flights and hotel stays. You get travel perks for traveling!
The rates you can earn for points vary depending on the card you select. Usually, you can earn more points when you use the card for travel-related purchases. Before you get a card, be sure to compare interest rates to ensure you get the best rewards card for your financial needs.
Once you get your card, consider using it for a majority of your expenses, including your bills, for gas, groceries, and everyday coffee runs to help you rack up points faster. To avoid expensive debt or additional interest, avoid running a balance on your card and pay it off at the end of the month, if not every few days.
Pro tip: If you get a travel rewards credit card, make sure that it's a non-airline travel card. An airline-specific travel card may force you to book very specific flights or unfavorable flight times.
Vacation planning mode: Activated
Going on vacation should be a fun experience, not a stressful one. To help you relax and truly enjoy your time off, create a travel budget or find smart ways to finance your trip. Plan ahead and stay money-smart while you're away.