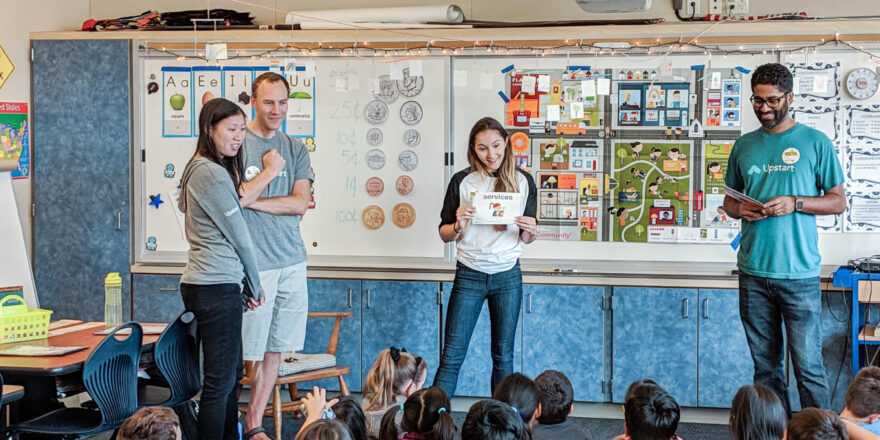 by Ben Chang
At Upstart, not only are we building the future of credit, we are committed to giving back to the community. With our incredible pool of readily-available leadership and talent, we connected with the District Director for Junior Achievement in San Mateo County at the beginning of 2016. Junior Achievement is an organization dedicated to giving young people (K-12) the knowledge and skills they need to own their economic success and plan for their future through experiential learning.
I have always felt that the education system in the U.S. rarely covers education around financial concepts and literacy like money management and paying taxes. According to the Pew Research Center, "36% of Americans say that they have at some point in their lives felt their financial situation was out of control." One of the cornerstones for a happy and secure life is to start understanding and building strong personal finances.

Becoming Teachers for an Afternoon
By volunteering with Junior Achievement, our talented Upstarters are in the classroom to share experiences, educate about financial concepts, and inspire young people. For one of our recent Junior Achievement days, a handful of Upstarters led sessions with second graders at Audubon Elementary in Foster City over three weeks.
The material is designed and provided by Junior Achievement. We first received the training material in advance, and next, they stopped by our office to give a quick tutorial. From there, we spent mornings with second graders going over the concept of jobs, making products and selling them to earn income, paying taxes on that income, understanding where tax dollars go, and voting.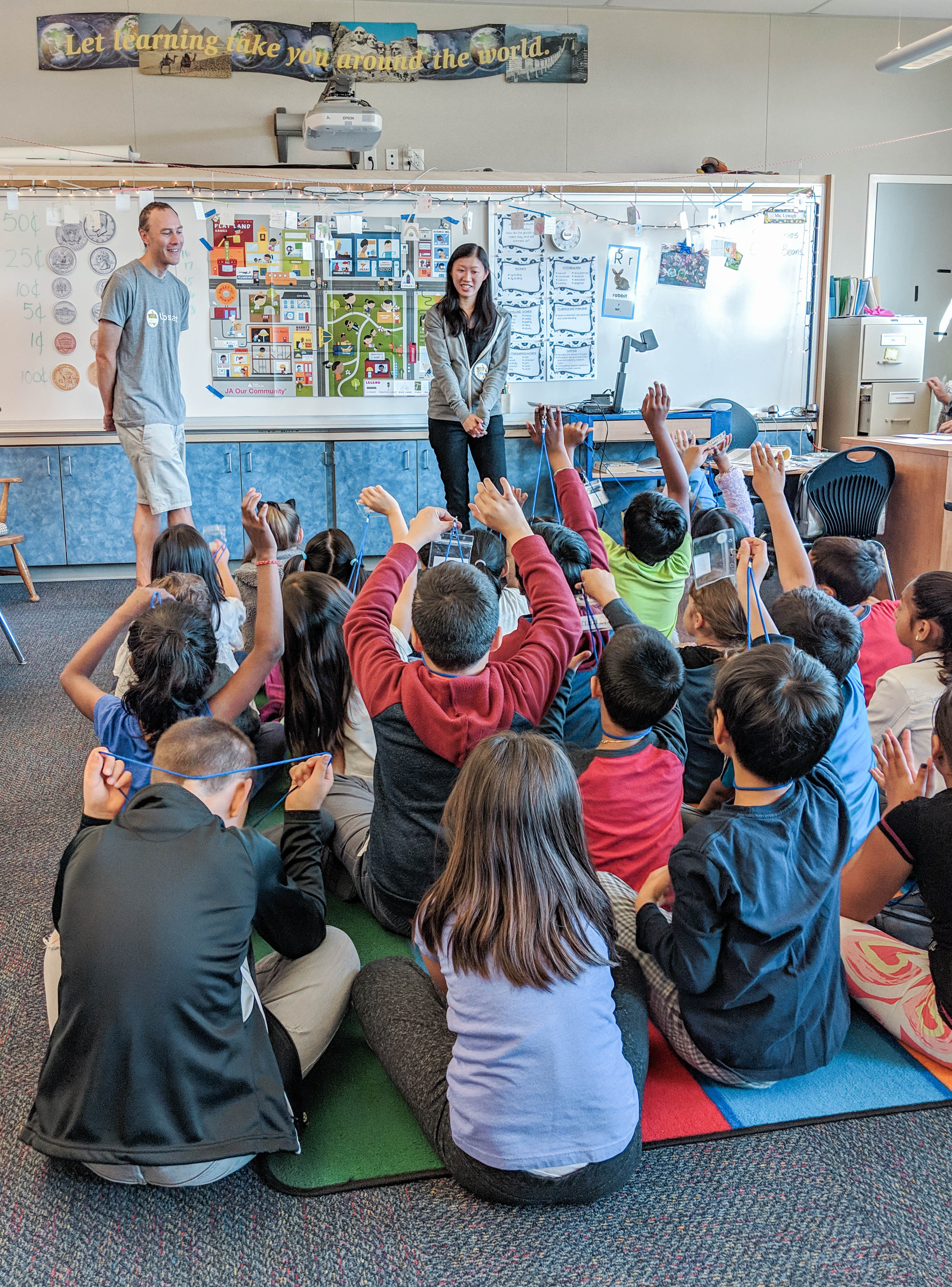 Here's a glance into what a typical 3-day workshop looks like:
Day 1: The first module had a group discussion about the different types of jobs in a community and played several games related to what each role does.
Day 2: The first module had the class make donuts (paper ones), and the second graders were paid based on the quality of their work. In the second module, we talked about the difference between government jobs vs. other jobs, and why they are essential. A tax collector then went around to collect taxes on a portion of the kids' earnings, to demonstrate the need for taxes.

Day 3: The first module talked about how money moves through the system and the community. For the second module, we talked about voting and decision making. And for the final day, the second graders are assigned into three groups to debate the merits of building a butterfly park, improving recycling programs, or invest in art.
It is great to see Junior Achievement work with working professionals to teach young people one of the most important skills necessary for their adult life. The material is of high quality and engaging.
In addition to the Junior Achievement day in Foster City, we have also delivered material to Buri Buri Elementary in South San Francisco and Beresford Elementary in San Mateo. Now that Upstart has an additional office in Columbus, Ohio, we're looking to further financial education for our youths there as well through Junior Achievement.
Join Us!
Upstart's mission is to provide access to affordable credit. If you're excited about the incredible work we are doing in and outside the office, then check out our careers page and join our incredible team! We have openings in Columbus and San Carlos.