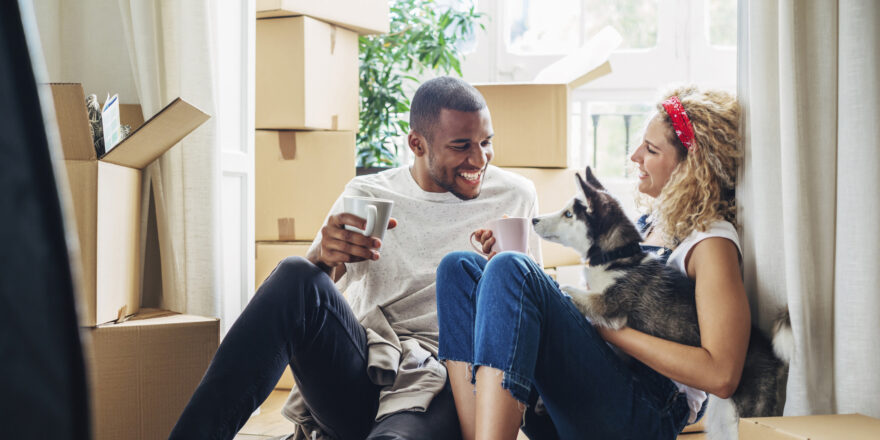 Moving to a new home can be an exciting but daunting journey. This is especially true if you're no longer at the stage in your life where all of your belongings fit into the back of a car. If this sounds like you, you may be wondering: How much does it cost to move these days? 
Average Moving Costs
Moving costs can range anywhere between $873 and $2,402, depending on factors unique to each move. If you're doing a long-distance or out-of-state move, the cost will likely be more. Also, don't forget, moving expenses come on top of your down payment or security deposit.
To help you understand how much your move will be, we've outlined several key factors you need to consider along with a few financing options. 
Factors that determine the cost of moving
When planning a move, it's essential to keep in mind that there's no one-size-fits-all approach for determining the total cost. Whether you're moving on your own or enlisting the help of a local moving company, moving expenses can quickly add up. 
The three biggest factors in determining how much it costs to move include:
The number of belongings you own

The services you require

The distance you're moving
You'll also need to factor in the time of year you plan to move along with overlooked moving costs. 
Moving services
When you move, one of the first things you need to decide is whether you want to hire movers or do it yourself. Local movers typically have a set rate that they charge for projects with a certain number of rooms. However, the set rate can quickly increase depending on several factors, including: 
Types and number of belongings you have

Whether the location is easy to access

Packing/unpacking services 

Overnight storage
Size of the move
When you move, the number of belongings that you have will have a big impact on the overall cost. The general rule of thumb is the more belongings you have, the more expensive it'll be. Even if you're moving yourself, it can still cost more if you have a lot of belongings. That's because you'll need more packing supplies, and you'll likely need to get a bigger truck to transport everything.
Moving distance
If you're moving around the block, you may not have to worry about the distance adding too much to your moving expenses. However, moving to a new state can easily add to your costs.
Cost to move locally
Local movers typically charge an hourly rate for clients moving less than 100 miles within the same state. 
To get a better idea of how much it'll cost, here are the average costs to hire local movers based on home sizes and the time it takes to move:
| | | |
| --- | --- | --- |
| Number of bedrooms | Estimated moving time | Cost |
| 1 | 3–5 | $240–$500 |
| 2 | 4–7 | $320–$700 |
| 3 | 6–8 | $480–$800 |
| 4 | 8–12 | $640–$1,200 |
| 5 | 10–15+ | $800–$1,500+ |
*Numbers from HomeAdvisor
Cost to move across country
Long-distance moving costs are typically higher than the cost of a local move. For a long-distance move, professional movers will need to account for factors like additional mileage, gas, tolls, and lodging if the trip is more than one day. For example, estimated moving costs for a move across the country can range between $2,200 and $5,700.
Time of year
When demand goes up, so do costs, and it's no different when it comes to moving. The most popular times to move are in the spring and summer on weekends. Because demand is higher during these times, the cost to move is typically higher when using professional moving companies or renting a truck. 
Hidden costs
With everything you need to plan and do before you move, it's easy to overlook some items on your to-do list. To make sure nothing takes you by surprise, review our list of hidden moving costs. It covers everything from boarding pets to possible parking tickets. (Your future self will thank you!)
How to finance a move
Moving can be expensive. Between hiring professionals (or getting a truck), buying packing supplies, and paying for storage, you may wonder how you'll pay for everything. If you notice you're going over budget, there are several financing options you can use to make it more manageable.
Save up and pay with cash
Best for: Those that have the time to save up
If you have a lot of high-interest debt from credit cards or student loans, consider planning your move and budget in advance. This will give you time to save up so you can use personal funds to cover the moving costs and avoid taking on more debt. 
Take out a personal loan
Best for: Those with decent credit
It can take a long time to save up for a house and you may not always have the luxury of time. Another great financing option is taking out a personal loan for your move (aka a moving loan). If you have decent credit, and you can make payments on time, you may qualify for a loan with favorable terms. 
If you don't have "great" credit, there are lending platforms, such as Upstart, that consider additional factors like your work experience and education¹ to help find you a loan.
Pay with a credit card
Best for: Those that are high earners
Credit cards usually have higher interest rates than moving loans, which often makes them the more expensive financing option. However, if you cannot qualify for a loan and you don't have time to save up, you may need to use a credit card.
When you shop around for a credit card, keep an eye out for credit cards with a promotional 0% APR. If you qualify for this deal, you won't be charged any interest within the promotional period, which can range between 6 to 21 months after you open your account.
Start moving
Now that you have an idea of how much it'll cost to move, put words into action and create a plan. Start by considering what you need for your move, research different moving companies if you want to hire professionals and work it into your budget. By planning ahead, you'll be move-in day ready.
¹Neither Upstart nor its bank partners have a minimum educational attainment requirement in order to be eligible for a loan.