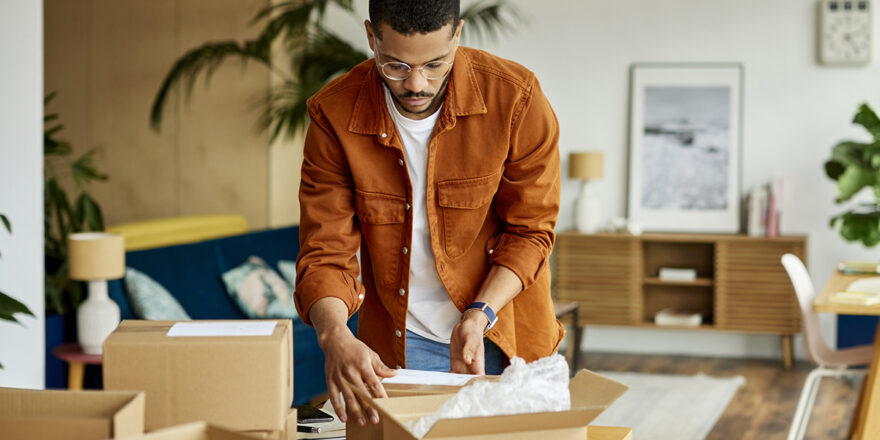 New homeowners face countless costs during the home-buying process. From down payments to closing costs, buying a home always costs more than you expect. Even so, many homeowners forget one major expense: hiring a moving company. 
Even if you're moving across town, professional movers can reduce the stress of a move. They don't come cheap, though. 
In this helpful guide, we'll take a look at average moving company prices. We'll also discuss factors that can influence the cost of movers to help you get a better idea of how much you may need to save. Then, we'll explore several ways to finance the cost of hiring movers.
How much does a moving company cost?
Typically, moving services cost between $800 and $2,500. Most homeowners spend about $1,200 for a local move. Some professional movers may charge as little as $400 for short distances, while a major cross-country move could cost more than $8,000. 
Let's take a closer look at average moving company prices based on the type of move you're planning. 
How much do movers cost for a local move?
If you're moving across town or to a nearby city, you can save money by hiring short-distance movers. Short-distance movers cost about $100 per hour per person. Your moving company may also charge for extra expenses like gas, packing materials, and transportation fees. 
Depending on the size of your home and the number of movers you need, you could spend as little as $400 for a studio or one-bedroom home. Each additional bedroom will increase your bill by about $300 to $500.
How much do cross-country movers cost?
On average, moving 1,000 miles or farther costs about $5,000. Keep in mind that larger homes, specialty items, and larger moving teams will drive your costs up more, too. 
You probably won't pay your movers by the hour for a long-distance move. Instead, your moving company costs will likely be based on the weight of your belongings and the distance traveled. You may also face charges for tolls, overnight stays, driver fees, and gas. 
How much do full-service movers cost?
Full-service moving companies will typically be more expensive than a DIY option. Also known as packing and moving companies, full-service moving companies may charge $2,000 or more for a local move. If you're moving across the country, your costs could increase to as much as $12,000 with a full-service moving company. 
Although these charges seem steep, they may be worth it. Full-service moving companies handle every aspect of your move, from boxing up your belongings to unloading them in your new home.
Factors that affect average moving company prices
As you can see, the cost to hire movers can vary dramatically. That's because moving company prices depend on numerous factors. To get a better idea of your potential expenses, consider some of the most common elements that influence the cost of movers:
The distance you're moving:

A moving company may charge less than $1,000 for a local move, while a long-distance move can set you back by $5,000 or more. 
Your current location:

Like most consumer services, the

average cost of a moving company

is often higher in areas with more demand. If you live in a major metropolitan area like New York City, you can expect to pay more for movers than someone living in a suburban or rural area would pay. 
The size of your move:

Hiring a team to move items from your one-bedroom apartment will cost less than moving belongings from your three-bedroom home. That's because smaller moves require fewer movers, a smaller truck, and fewer packing materials. 
The time of year you plan to move:

The

cost of movers

may increase during the busy summer season. With that in mind, consider waiting to move until the fall or winter when moving companies have less business. 
The types of items you're moving:

You usually won't get hit with extra fees for basic consumer goods like clothes, couches, or kitchenware.

However, if you're planning to move specialty items like pool tables, pianos, or large animal pens, you may get a higher quote. Similarly, you can expect to pay as much as $1,000 per vehicle to move cars across the country. These extra fees often cover wrapping, loading, transporting, and unloading, so it may be money well spent.
What to consider before hiring a moving company
Now that you're more familiar with how much it costs to hire movers, it's time to find the best moving company for your needs. Remember, all moving companies aren't created equally. With that in mind, it's important to do your research and find an affordable, reliable team. 
Before hiring a moving company, consider the following tips: 
Check the reviews.

Perform a quick Google search for local moving companies. Then, check the reviews on any companies that look promising. Pay close attention to details about communication, punctuality, and transparent pricing. 
Shop around for quotes.

Take some time to compare rates before hiring a moving company. In doing so, you'll get a better idea of the average

cost of movers

in your area and you may

save some money

. 
Get an on-site estimate.

After selecting one or two moving companies, ask for an on-site estimate. Explain exactly what you plan to move, how much packing assistance you want, and how far you're moving to get the most accurate estimate. 
Make sure your moving company can handle your move.

We know how stressful the moving process can be. It's only natural that some details slip your mind. Still, it's important to confirm that the moving company you hire can manage your move.

For instance, some moving companies specialize in local moves while others can manage long-distance transportation. Some may offer auto shipping or specialty services for an additional fee.
Ask about extra fees.

Finally, make sure you fully understand the extra fees you may incur during your move.

These vary but could include transportation fees, overnight fees, or gas costs. Getting a clear understanding of potential charges will help you budget, and will help prevent any unpleasant financial surprises when you receive the bill.
How to pay for moving company costs
There's no doubt about it: moving is expensive. Even if you're not moving for several months, it's important to have a plan in place to pay for your moving company. 
Consider these affordable options to help you cover your moving company costs without draining your bank account:  
Start saving to cover moving service costs.

If your move is still several months away, you may be able to

save enough money

to cover the

cost of movers

. Take a close look at your finances to understand your spending habits and see where you can cut back.

For instance, you may decide to cook and eat at home more often to save money. Or you may consolidate debt and lower your monthly payments with a personal loan. You can then transfer the money you saved into a separate account and use it to pay for professional movers when you're ready to relocate.
Borrow money from friends or family members.

Borrowing money from friends or family members can feel awkward. Still, it's one of the easiest—and most affordable—ways to get cash fast.

If you have a trustworthy, financially stable loved one in your life, you may ask for a loan to cover the cost of movers. You can even write up a brief contract outlining your repayment plan and payoff date to avoid any uncomfortable conversations in the future.
Ask your moving company for a payment plan.

Some moving companies will take some of the financial pressure off your move by offering payment plans. Talk with your moving service before signing a contract and find out if you could split the cost into multiple payments. You may even be able to get a monthly payment plan that stretches out the costs over several months. 
Negotiate relocation assistance with your employer.

Moving for work? Your future employer might help. Some companies already offer help with relocation expenses, so check with your soon-to-be employer to see if it's available. If not, you could try negotiating to include professional moving assistance in your contract. 
Use a moving loan to cover moving and relocation costs.

Finally, consider applying for an

affordable moving loan

. A moving loan is a type of

unsecured personal loan

you can use to help cover

moving company costs

and other relocation expenses. And, unlike credit cards, moving loans often come with fixed monthly payments and a clear payoff date to make the repayment process easier.

When you apply for a moving loan from a bank or lending company, your lender will review your credit history before setting your loan terms. Generally, you need a good to excellent credit score to get an affordable interest rate.However, customers with limited credit may find financing solutions through lending platforms like Upstart. Upstart's model considers details like your education¹ and employment when underwriting your loan. These factors could help you qualify for a loan with better rates and lower monthly payments compared to traditional lending models. So, you could spend less on a moving loan and more on making your house a home.

Learn more about your options and get your personalized rate today.
Is it worth it to hire movers?
Deciding to hire a professional moving company depends on several factors. First, you need to make sure your budget has room for moving company costs. You also need to consider the size of your move: is it a major relocation, or could you and your friends move your belongings across town? 
If you decide to hire movers after all, remember you have options when it comes to paying for them. You may be able to borrow the money you need from a trusted friend or family member. Or, you may decide to use an affordable moving loan to cover your costs. 
Regardless, moving is a major financial event. It's important to make decisions based on your needs and circumstances. With that in mind, take some time to learn more about your options when it comes to paying for movers. That way, you can reduce the financial stress of your next big move with a funding source that works for you and your budget. 
¹Neither Upstart nor its bank partners have a minimum educational attainment requirement in order to be eligible for a loan.