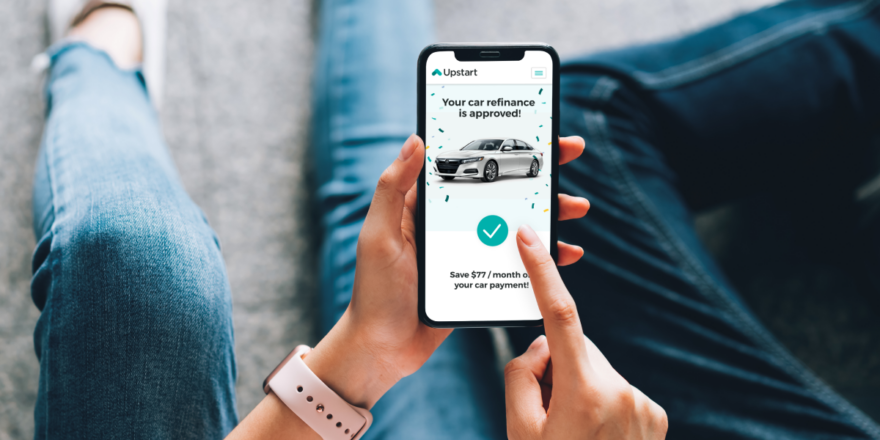 You're not alone if paying off your auto loan seems like more of a burden than you bargained for. The good news is that you're not necessarily stuck with that loan. It is possible to refinance to get a lower payment, a lower interest rate, or even both. 
Refinancing your car loan can save you a lot of money in the long run. For example, borrowers on the Upstart platform save an average of $912 per year on their auto loan¹, and that's not chump change.  
If you've never given refinancing any thought, it's a lot simpler than you might think. We'll walk you through exactly how refinancing your car loan through Upstart works so you know what to expect. 
What are the steps to refinancing a car loan through Upstart?
You don't have to be a financial expert to refinance your car loan. Through Upstart, we make things simple by verifying  information automatically when we can, walking you through the process with our award-winning customer support, and wrapping it all up neatly in an easy-to-navigate online portal.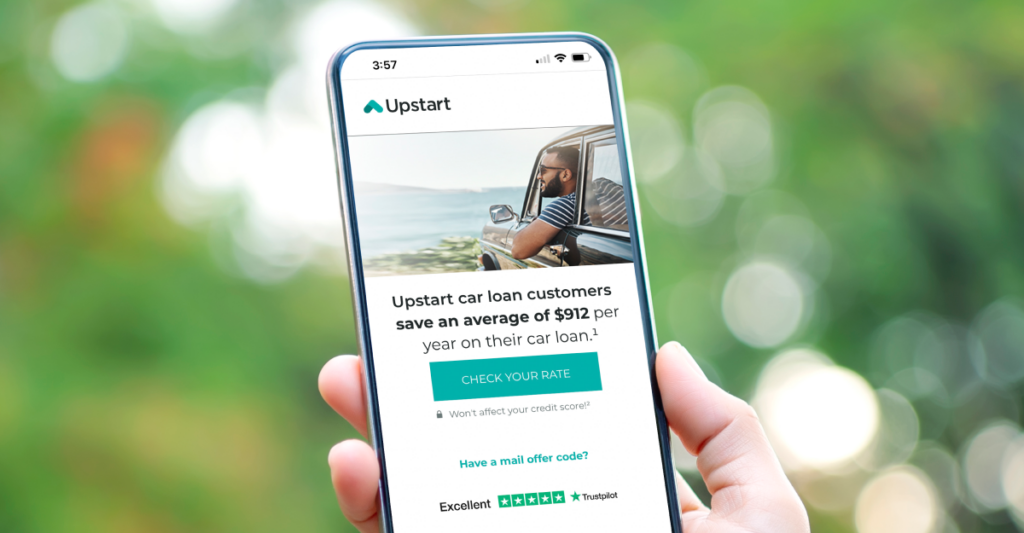 Step 1: Check your rate
You can easily check what rates we can offer you by filling out our online form. It only takes about five minutes and requires just a few pieces of information, such as but not limited to:
Name

Date of birth

Address

Education²

Income
It's important to note, checking your rate doesn't affect your credit score since we only do a soft credit pull at this point³. Most of the time, we're able to pull up your current car and car loan with the information you provided. But if we can't, we might need a few other details like your car's model year, make, and trim package. 
We'll also ask if you have a co-owner on the vehicle. If you do, we'll need their information too. We don't currently allow for multiple people to be listed on the new loan, but we will need their permission to refinance the loan in your name only. 
Step 2: Review your loan offers
If you qualify, we'll present you with a few different options for loans. This lets you choose the monthly payment, term length, and interest rate that works for you. 
Keep in mind that the loan amount we show you might be slightly higher than your current loan balance. That's normal, and it's to account for any interest that accrues on your loan while you're going through the refinance process. Your current lender will refund you any leftover money once your old balance is settled. 
Step 3: Submit your application
After you choose the loan you want, you'll need to enter in a few more details like your Social Security Number and your car insurance details to complete your application. We'll then process it to verify it. If we're able to instantly verify your application, you'll move directly on to Step 5. 
Step 4: Submit any extra documents
Sometimes, we need some extra documents. For example, we might ask for a photo of your driver's license or a copy of your pay stub. 
If we do need any extra info, we'll reach out to you and let you know as soon as possible. It's a good idea to keep an eye on your email during this time, so you can respond quickly. You can easily upload these documents to your secure online portal if we ask for them, and one of our team members will review them.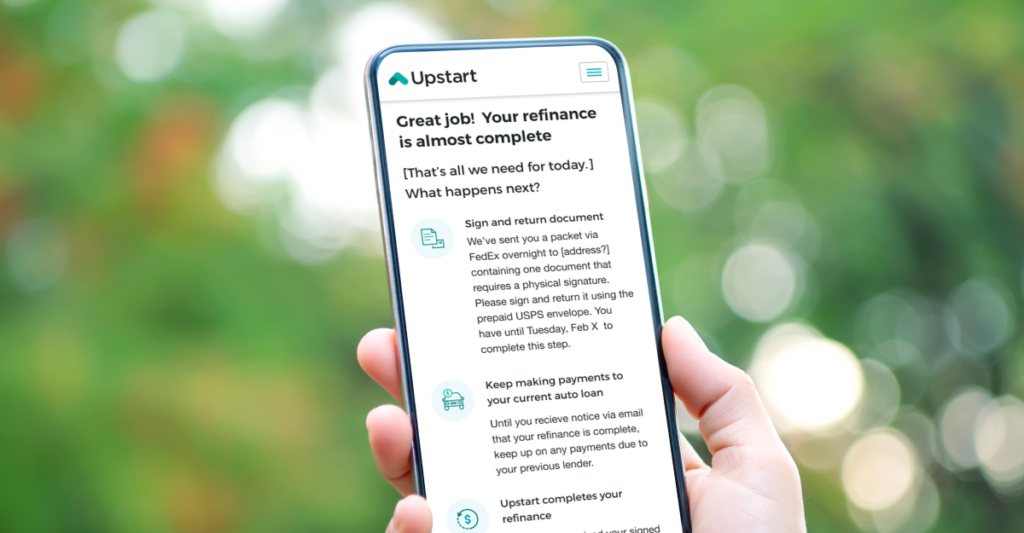 Step 5: Review and sign the final documents
Once we've got everything ready and you're approved, we'll invite you to review your final loan terms and electronically sign your promissory note, at which point we conduct a hard credit check. Generally, a hard credit check has a very small impact on your credit. According to FICO, after one year it won't impact your credit at all, and in two years the mark will fall off entirely. After you sign your promissory note, we'll do one last round of checks to verify your vehicle and insurance details, and have you (and your co-owner, if you have one) sign the documents needed to place Upstart, or an Upstart-powered lender, as the lienholder on your title.
We can often also do this electronically. However, the laws vary and in some states, we may need you to sign a physical copy of the titling documents. If that's the case, we'll mail you the forms along with a prepaid envelope to return them. Some states also require you to have the form notarized, and if your state does, we'll let you know and provide instructions on how to complete this step. We'll be sure to communicate any deadlines to you. Please stick to them! If we don't hear back from you, we'll unfortunately need to cancel your loan to avoid mix-ups with your existing lender or the DMV. 
Step 6: Upstart pays off your old loan
Once everything is official, we'll send a check to your old lender to pay off your old auto loan for you. You won't have to handle any of these payments yourself. If we send your lender any overpayment (to cover any interest that accrues, for example), your lender is obligated to refund that money to you—typically in the form of a check.   
You'll know that your old loan is paid off when you log in or contact your lender and see a $0 balance. 
Important: Make sure that you keep paying your old auto loan until you see that it's entirely paid off. The last thing you want to have happen is to be hit with a late fee and a negative mark on your credit during the hand-off. 
After we've paid off your old auto loan, we'll transfer your car's title in collaboration with your state's Department of Motor Vehicles. Depending on what state you live in, Upstart may hold on to your title until your car loan is paid off, or you might get the title (with Upstart or an Upstart-powered lender listed on it as a lienholder) in the mail. The title transfer process can take up to 60 days, although you'll start repayment through Upstart before then.  
Step 7: Switch to paying off your Upstart powered loan
After Upstart pays off your old loan, you'll start making payments on your new loan. Your first payment will be due 30 days after the date that we originate your loan. We plan it like this to give you enough time for your old loan balance to settle so that you shouldn't have to make two loan payments in one month. 
We like to keep things flexible, so we offer you a few ways to make your payments. It's always a good idea to sign up for automatic payments for any loan so that you don't have to remember to make your payments manually. But, you can always choose to make manual payments if that works better for you. We also offer the option to make twice-monthly payments, either manually or via autopay, so that you can plan your payments around your paychecks. 
Am I eligible to refinance my car loan through Upstart?
On the Upstart platform, we offer auto refinancing for most people, but we do have some criteria for your vehicle and loan. A few examples are:

Why should I refinance my car loan through Upstart?
Often, lenders decide whether to approve you for a loan or not—and at what rates—simply by looking at your credit score. At Upstart, we know that a single number can't capture everything that's going on in your life. That's why we look at more factors, like your education² and work experience. We believe these—together with your credit score—provide a better, more well-rounded picture of who you are. 
We also don't burden you with extra work that you don't need. As we mentioned, some states require us to collect more documents or check more boxes than others. Lenders will often require you to jump through all of these extra hoops even if it's not legally required in your state. But at Upstart, we make it as simple as possible and only require it if it's needed. 
Finally, we make the process as seamless for you as possible. We handle all of the payment details with your old lender and filing requirements with the DMV. We provide you with an easy-to-navigate and secure online account so that you can keep track of the few things we do need from you, as well as your loan repayment. We believe you have more important things to spend time on than managing your auto loan. 
Check your rate now
If you haven't yet, try checking your rate for a car refinance loan through Upstart. It only takes five minutes and won't impact your credit score at all³, so you have nothing to lose. Let's see how much we can help you save today. 
¹This information is estimated based on all consumers who were approved for an auto loan through Upstart and accepted their final terms. As of 10/1/2021, the average yearly savings amount is $912. To evaluate savings on a loan you are considering refinancing, it is important to compare your APR and remaining term from your existing automotive loan to the APR and term offered by Upstart.
²Neither Upstart nor its bank partners have a minimum educational attainment requirement in order to be eligible for a loan
³When you check your rate, we check your credit report. This initial (soft) inquiry will not affect your credit score. If you accept your rate and proceed with your application, we do another (hard) credit inquiry that will impact your credit score. If you take out a loan, repayment information will be reported to the credit bureaus.
Car refinance loans not available in IA, MD, NV, or WV.