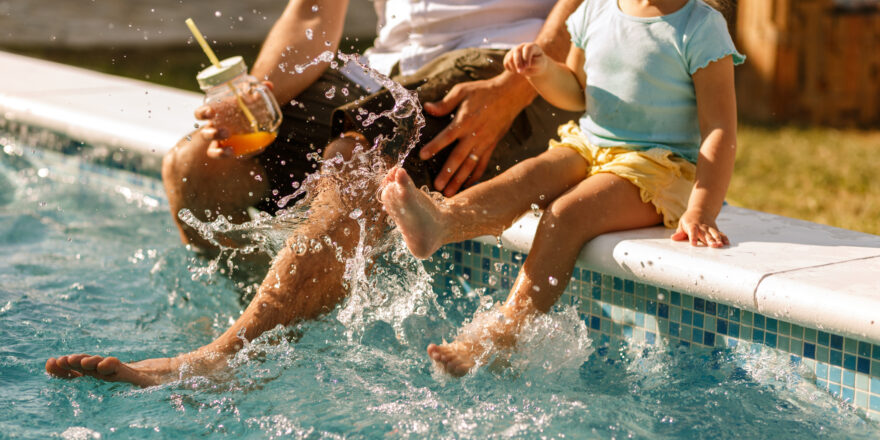 Are you thinking about transforming your backyard with a swimming pool? If so, you may be feeling both excited and overwhelmed by the project. After all, a pool is a big investment in more ways than one. 
To put it into perspective, in-ground swimming pool models range from $28,000 to $66,500, according to Home Advisor. The cost of a pool may vary depending on the size, materials, and pool features you prefer. 
If you create a project budget, and the estimated costs seem to be adding up quicker than you anticipated, consider getting a pool loan. A pool loan is a type of unsecured personal loan that you can use to finance a pool and other related costs.
Before diving any deeper, here's everything you need to know about pool loans. 
How do pool loans work?
Because pool loans are a type of personal loan, you can take the same steps you would take to get a personal loan. Once you know how much you need for your swimming pool, research where you want to apply. 
You can apply for a pool loan from:
A bank

A credit union

An online lending platform
If you apply for a personal loan for a pool and you're approved, your lender may deposit the funds into your bank account within a few business days. After you start using the funds, stay on top of your monthly loan payments so you don't fall behind.
How to choose the best pool loan
If you want to get a pool loan, it's essential to research and compare your options. Prepare in advance to qualify for the best loan and rate possible. 
Prepare before you compare pool loans
Before weighing the pros and cons of your swimming pool financing options, complete the simple steps below to make sure you're prepared:
Pool estimate:

So you know how much money to borrow, take the time to get a final estimate before applying for a

pool loan

. That way, you can narrow down your search for the best lender for your needs.

For instance, some lenders don't offer a wide variety of loan amounts. If you need to borrow $55,000, you can specifically search for lenders offering that amount.
Customer service:

When it comes to researching lenders, the type of customer support a lender offers may be the last thing on your mind. However, it can save you a lot of possible stress in the future if you have issues with payments or face financial hardship. Check the lender's customer service resources and reviews to make sure they're a good fit for you.

Prequalify:

If you come across a lender you're interested in, check to see if you can prequalify for a loan. To prequalify, you'll need to provide the lender with a few basic details about yourself and your loan preferences.

Once the lender has the information they need, they'll run a soft credit check. This type of credit check will have no impact on your credit score. Plus, it'll help the lender determine what loan amounts, interest rates and repayment terms you may qualify for. You can use these details to help you narrow down your loan options.
Compare pool loans
After you prepare, take some time to compare your lender and loan options to select the best pool loan for your financial needs:
Fees:

Some lenders charge fees for loans. To help you select the best option, ask the lender about any fees they may charge, such as an origination, late payment, or prepayment fee. Also, to ensure there are no surprises, review your loan agreement carefully before making any commitments.

Repayment term options:

Pool loans

have shorter terms compared to other types of loans. Additionally, the term options you may qualify for can vary depending on the lender you choose.

Both choices have pros and cons. The right choice for you depends on your financial needs. Consider what you may prefer and keep that in mind when you compare your loan options.
Discounts:

Some lenders offer discounts to borrowers. Check with the lender to see if they offer perks for existing customers or automatic payment discounts. These types of offers may save you time and money in the future.

Co-signer:

If you don't qualify for a loan, some lenders offer the ability to add a co-signer with a stronger financial standing to the loan. Consider checking lenders for this offering if you feel that you may not qualify for a loan.
Alternatives to swimming pool loans
While pool loans are a good option, there are other pool financing options available.
Home equity loan
With a home equity loan, you can borrow against the equity in your home and use it as collateral to back up your loan. When you back up your loan with collateral, you may have a better chance of qualifying for a better interest rate.
Be aware that using collateral to back up a loan can be risky. If you stop making your monthly payments on your home equity loan, your home may be subject to foreclosure. 
Home equity line of credit (HELOC)
A HELOC is like a home equity loan, but there are some key differences. Instead of getting a single lump sum once you qualify, it's an open credit line that you can draw money from when you need it. Usually, HELOCs have variable interest rates, which means your monthly payments can fluctuate. Consider this possibility and your financial stability before choosing a HELOC. 
Dive into the deep end with a pool loan
A swimming pool loan can be a good way to help you fund the backyard of your dreams, but it's ultimately up to you if it's the right move. Now that you've learned about pool loans and other pool financing options, shop around and find the best loan for your future backyard oasis.