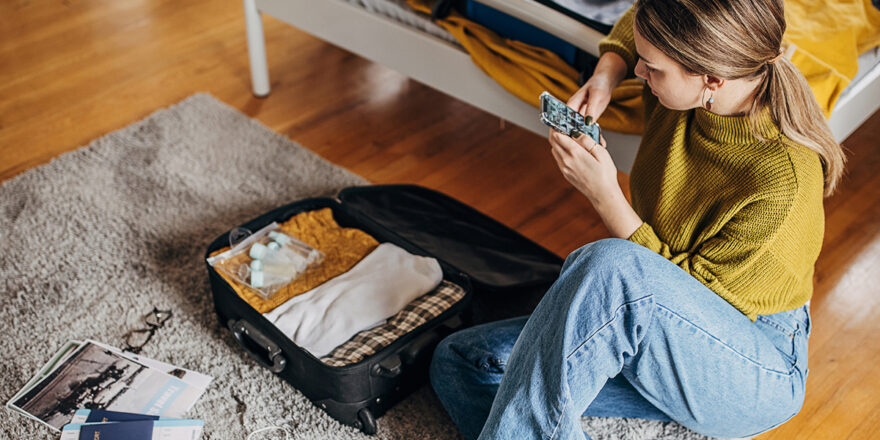 There's nothing as exciting as packing up your suitcases and heading off for a vacation with friends, loved ones, or a good book. But, let's face it: vacations can be expensive. 
The average cost for a one-week vacation in the U.S. can set you back by about $1,500 per person. Whether you're traveling solo or with a buddy, it can become a source of financial stress. 
Rather than worrying about expenses, you may consider getting a vacation loan to schedule your flight, book your reservations, and make the most of your trip without emptying your bank account or racking up high-interest credit card debt. 
Sound interesting? This guide will break down the pros and cons of travel loans. We'll also explain how you can use a loan to pay monthly for the vacation of your dreams.
What is a travel loan?
A travel loan is a personal loan used to finance a vacation or trip. It is sometimes also referred to as a vacation loan or a holiday loan. Generally, personal loans are unsecured, which means they're not guaranteed by collateral like your home or car. 
Taking out a loan for a vacation can be a simple, manageable way to afford your trip, especially if you're tight on funds. Rather than paying for your vacation all at once, you can use the loan to book the trip and then repay your lender in fixed installments. 
That said, vacation loans may be more expensive than other funding options because they're not backed by any collateral. It's important to shop around for the best rates and learn more about your loan options before signing on the dotted line. 
How do personal loans for vacation work?
Unlike some types of loans–like a student loan or mortgage–vacation loans are flexible. Each lender has different guidelines, but you can usually use a vacation loan for any kind of travel expense. You could purchase airline tickets, book a hotel, rent a house, or plan a cruise up front, then repay your lender in monthly installments after your trip. 
Is it a good idea to take out a loan for vacation?
Generally speaking, it's best to avoid taking on additional debt or paying interest when possible. That's why many people prefer to budget for vacations in advance rather than funding a trip with a loan. 
Still, travel loans come with several benefits, like spreading out the cost of a trip over several months or years. To help you make the best decision for your needs, let's take a look at some of the pros and cons of vacation loans: 
Pros of vacation loans
Vacation loans have fast, flexible funding.

Your funding timeline will vary based on which loan provider you choose, but you may be able to get your

vacation loan

in as little as 1 business day. That way, you can plan even the most spur-of-the-moment trip without worrying about how you'll pay for it. 
There's usually no collateral required.

Unlike a secured loan, you don't have to put down collateral on an unsecured

vacation loan

. Your interest rates may be slightly higher, but you won't have to worry about losing your property if your circumstances change and you're unable to repay your loan on time. 
A travel loan may be less expensive than other vacation financing options.

Taking out a

vacation loan

may cost you less than some other

trip financing

options, like high-interest credit cards or a

personal line of credit

.

That said, it's important to remember that your rate will depend on details like your credit score and repayment history, so make sure you compare your options before choosing a funding source.
You'll have a predictable repayment plan.

Like many personal loans,

vacation loans

come with fixed repayment terms and set monthly installments. That means you can build your

monthly vacation payments

into your budget—and have a definite end date in sight. 
You'll have a clear vacation budget.

We know how easy it is to lose sight of your budget while you're traveling, especially when you're on vacation with friends or family. Luckily, a

travel loan

can help you stick to your budget, because you'll know exactly how much money you have to spend. 
Cons of vacation loans
A travel loan will increase your debt-to-income ratio.

When you borrow money to

finance a vacation

, you take on more debt and increase your

debt-to-income ratio

, or the percentage of your monthly income that you use to pay off debt.

Typically, potential lenders look for a debt-to-income ratio of 43% or lower. Anything higher indicates you could be at a higher risk of defaulting on your loan. So, accepting a vacation loan might prevent you from getting approved for another line of credit, like a home mortgage, in the near future.
Your vacation loan may come with costly fees.

We mentioned your interest rate will be influenced by factors like your credit score and repayment history. As a result, you could end up with higher rates on your

vacation loan

if your credit score is less than stellar.

However, your travel loan may also come with other expensive fees, like origination fees, processing fees, late fees, or prepayment penalties, that can add up over time.
You could have a long-term repayment plan.

Depending on your financial circumstances, the amount of money you plan to borrow, and the lender you choose, you could end up making payments on your

vacation loan

for 5 years or more–long after you return from your trip. 
Vacation loans can reduce your credit score.

Finally, taking out a

vacation loan

can impact your credit score in several ways. First, you'll likely undergo a hard credit inquiry after choosing a loan. This will appear on your credit report and lower your score by a few points.

Second, taking on a new loan will shorten your average credit history length. Credit bureaus take your credit history length into consideration when measuring your credit score.

Pro tip: You can typically improve your score by making timely payments on your travel loan and managing your credit utilization rate. Your credit utilization rate is the amount of available credit you're using. One easy way to do so is by using cash or debit cards to make purchases while you repay your loan instead of credit cards.
How can you get a personal loan for a vacation?
Ready to apply for a travel loan to finance your next adventure? The personal loan application process will likely vary depending on which lender or lending platform you choose. But, you can get started by following these simple steps: 
Shop around for the best vacation loan offers.

When it comes to

personal loans for travel

, it's a good idea to shop around for the lowest rates instead of signing onto the first loan you find. Taking this extra step could help you save in the long run, especially when planning a last-minute vacation.

Find a lender that works for you.

Narrow down your list of potential lenders by searching for ones that work for your specific circumstances. Do you need a larger loan or want flexible repayment terms? Do you need a lender that offers affordable loans to borrowers with bad credit? Consider your

must-have loan features

. Then use them to filter through potential loan options.

Prequalify for travel loans when possible.

Prequalifying allows you to check personalized rates without undergoing a hard credit inquiry.

While your rates may change slightly after you accept the loan terms, you'll have a better idea of how much your loan will cost each month, making it easier to work your loan into your budget.Pro tip: Use a personal loan calculator for a clear picture of how much your loan will cost you each month to help determine if you can afford the funding.

Complete your application.

Many online lenders offer straightforward applications, but make sure you fill out your documents completely to reduce the risk of delays. You may also want to gather additional financial or personal identification information, just in case your loan provider needs more details before approving your loan.

Review your loan terms and accept the loan.

Once your lender approves your application, take a moment to review your loan terms and conditions to make sure you understand the details of your loan. Otherwise, you could end up with high fees, unnecessary services, or unaffordable payments on your

travel loan

.

It's also a good practice to perform a quick search to check for current average interest rates before you sign onto a loan. If you notice that your loan comes with substantially higher rates, you should probably consider another option.
Can you take out a loan for a trip with bad credit?
You may be able to qualify for a travel loan even if you have bad credit. While lending companies have historically favored borrowers with good to excellent credit scores, some lenders will approve affordable vacation loans despite a lower credit score.
For instance, some loan providers specialize in vacation loans for bad credit or no credit. Other lending platforms like Upstart consider factors such as education1 and work history when determining the rates for your trip financing. 
These factors may help increase your chances of qualifying for an affordable, flexible travel loan from a legitimate lender, even if you're still building–or rebuilding–your credit. 
How to finance a vacation: Alternative travel financing options
Not sure if a loan for a vacation is right for you? We've got you covered. You may consider these alternative vacation financing options instead: 
Savings accounts
There's no denying that saving money for a vacation is the cheapest option. You may have to cut back on spending for a while, but you'll save time, energy, and money by avoiding a loan. 
If you're stretched too thin financially to save? A debt consolidation loan may be able to help by combining multiple debts into a single monthly payment with a potentially lower interest rate. 
Credit cards
Depending on your credit score, you may be able to qualify for a low-interest travel credit card. Offers vary from card to card, but some issuers advertise perks like a sign-on bonus, points for qualifying purchases, and other benefits. 
Alternatively, you may be eligible for a 0% introductory annual percentage rate (APR) credit card. These cards allow you to repay your balance without charging interest for a certain period of time, usually ranging from 6 to 21 months. You often need a good credit score to qualify. But, if your credit history is solid, you can skip the loan application process and pay off your trip without any interest fees. 
Be careful, though. If you don't pay off your trip within the zero-interest period, you'll have to pay interest on the remaining balance. 
Personal lines of credit
A personal line of credit (PLOC) is similar to a personal loan, but it may offer slightly more flexibility. When you get approved for a personal line of credit, you'll have access to a certain amount of money you can borrow against for a designated period of time. 
Unlike a travel financing loan, you can borrow as much–or as little–from your PLOC as you want. For instance, if you get approved for a $10,000 PLOC and borrow $6,000 against it, you'll only repay the money you withdrew (plus interest).
However, PLOCs come with a major catch: in many cases, the interest rates on a personal line of credit are variable instead of fixed. That means you could start out paying less in interest and have a lower monthly payment than you originally thought. But if rates increase, you could end up with higher interest and a more expensive monthly payment. 
Point-of-sale trip financing
Finally, you may consider point-of-sale (POS) financing to spread out your travel expenses. These lenders allow you to pay for a purchase in fixed installments instead of a lump sum. 
Point-of-sale financing can be useful if you have a lower credit score. However, point-of-sale financing is usually limited to a certain amount and may come with hefty late fees if you miss a payment. In addition, some POS financing platforms restrict your spending limit for the first few months. 
Bottom line: Should you get a personal loan to travel?
Making the decision to finance your vacation with a travel loan can seem complicated. However, getting familiar with your options–and understanding how a vacation loan can impact your current and future financial circumstances–can help you make the right choice. 
And if you decide a personal loan for a vacation is right for you? Make sure you work with a safe, legitimate lending platform like Upstart to find an affordable loan. That way, you can feel confident you've made the best choice for your financial health and truly relax on your next financed vacation. 
¹Neither Upstart nor its bank partners have a minimum educational attainment requirement in order to be eligible for a loan.