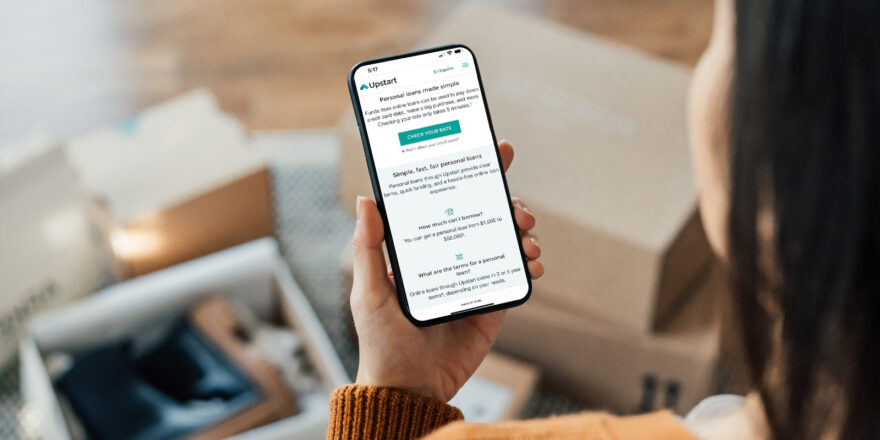 When it comes to personal loans, the world is your oyster. If you're approved for one, you can typically use it for almost anything. You could use it for personal needs like moving costs or to travel. You could also use it for financial matters like credit card debt consolidation, to pay off medical bills, or to start an essential home improvement project.
Personal loans are truly meant to help you, whether that means reaching financial goals or aiding in stressful situations. If you're worried about figuring out how to apply for a personal loan, don't be. The process for taking out a personal loan is pretty simple, even if the prep work is a bit tedious. 
To take out a personal loan, you need to make sure you're financially healthy, get prequalified, and pick the best option for your needs once approved. We've put together a guide with seven easy steps to help you navigate the process of shopping for and getting a personal loan.
Before the loan application process
If you're thinking about getting a personal loan, you should consider and research a few things first. You want to be certain you're comfortable with making this kind of financial commitment. 
While getting a personal loan is a big decision and  investment, preparing in advance will help streamline the application process and could even improve your chances of qualifying.
1. Determine your credit health
When you apply to borrow money, financial institutions will review your finances and credit history to determine your creditworthiness (aka whether or not you'll be able to pay them back). To prepare, first check your credit score to help you understand your credit status.
The higher your score, the better chance you'll have of qualifying for a personal loan with a lower interest rate. A very good or excellent credit score will give you the best chance of getting approved for a loan with a low interest rate. If you have a lower credit score, you can still qualify for a decent personal loan with a fair credit score. As a reminder, credit scores range from:
Excellent credit:

800 – 850

Very good credit:

740 – 799

Good credit:

670 – 739

Fair credit:

580 – 669

Bad credit:

300 – 579
Consider reviewing your credit report for errors you can fix or potential issues that you can improve in advance. You can get a free copy of your credit reports from each of the three major credit bureaus (Equifax®, TransUnion™ and Experian®) at AnnualCreditReport.com every 12 months. If you notice any errors on your report, contact the major credit reporting agencies to get them corrected. 
Can I get a personal loan with bad credit?
Maybe. If your credit score is lower than you'd like, you could still possibly qualify for a loan. However, since lenders consider lower credit scores to be risky, the interest rates and additional fees might be too high to be worth it. In that case, it'd be wise to wait and take steps to boost your credit score before applying. 
Pro tip: To boost your score, work hard to pay your credit card and other loan payments on time. Do your best to use credit rarely to keep your credit utilization rate low. Credit utilization is the credit you use in relation to your credit limits.
2. Estimate your monthly personal loan payment
Lenders will carefully evaluate a loan application, credit report, and debt-to-income (DTI) ratio (monthly debt payments divided by total monthly income) before they grant a loan to ensure that you're creditworthy. While lenders will run the numbers to make sure you're being set up for success, it's smart to run your own numbers too.
First, think about the loan amount you'll need and consider padding it a bit in case the lender charges an origination fee (a charge to take out a loan). The fee will be deducted from your loan proceeds, so you'll want to make sure that you take out enough to get what you need.
Next, use a personal loan calculator to get a rough estimate of your monthly payment. If you aren't sure what the exact rates or loan terms will be, go online and research potential rates you might be eligible for based on your financial standing. Then play around with the numbers. Even if the estimate isn't exact, it'll give you a general idea of what the loan will cost you and will help you decide if you can afford it. 
3. Prequalify
To get an idea of what your possible personal loan rates and terms might be before committing to the formal application, search for lenders with a prequalification process. With this no-commitment option, lenders will ask basic questions about personal information (think: name, address, total income, loan amount you're seeking, etc.). 
Once the lenders have the information they need, they'll do a soft credit inquiry (which will not impact your credit score!). From that, they'll give you an estimate of the loan amount you're eligible for. 
Getting prequalified for a loan doesn't guarantee that you're approved for it. Before committing, your lender will need some additional information and time before granting you final loan approval.
Prequalification vs. preapproval
What's the difference between preapproved and prequalified? The answer: it depends.
In practice, there really is no difference between these terms. However, lenders commonly use these terms interchangeably and they can mean different things, depending on the lender you're working with.   
When you select a lender, take the time to ask them to explain what these terms mean to avoid confusion.
4. Shop around for lenders
Now that you've been prequalified (hopefully with several lenders) and you've got an idea of the rates you'll possibly be eligible for, take some time and compare. When you compare loans, you should consider several key factors including: 
Fees:

Lenders sometimes charge fees for loans. The tricky part is they may not always tell you about these fees in advance. To help you select the best option, ask the lender about any fees they may charge—like an origination fee, late payment fee, or prepayment penalty.

Type of interest rate:

Lenders often offer two types of interest rates—fixed rate or variable rate. Fixed interest rate loans will have the same interest rate throughout the life of the loan. A variable rate loan will either increase or decrease over time with the market. 
If you prefer predictable payments, then consider opting for a fixed rate loan. If you have an affordable short-term loan, you may want to consider a variable rate instead, since they tend to have lower initial interest rates.
Type of loan:

There are two types of personal loans—secured and unsecured. Secured loans sometimes have a lower interest rate, but you will need to provide collateral to back the loan. An unsecured personal loan (the more popular of the two) won't require you to put down collateral, but it'll likely have a higher interest rate.
Pro tip: Some lenders offer special benefits to their borrowers. For example, many online lenders offer an interest rate discount to borrowers that opt to automate their monthly payments. Before you commit, ask your lender about any additional benefits they may offer. Knowing about benefits could help you make a better decision.
During the application process
When you've finally finished your research, it's time to select the best lender for your needs and begin the application process.
5. Pick a lender and apply
When it comes to filling out a personal loan application, you can usually complete it online or in person, depending on the lender you choose. Personal loan requirements can vary by lender, but you'll generally need to provide your name, address, phone number, email, your total gross income, employer details, and the reason you need the loan. 
Read over the complete loan terms and conditions of the loan agreement, including the fees and repayment terms, to make sure you're completely aware of what you're committing to.
6. Provide documents
As you may have come to realize by now, lenders often differ when it comes to what they offer and the information they require from borrowers. Once you complete and submit your application, your lender may ask you to provide more documentation. To save time, ask your lender what documents they'll need from you so they're ready to go. Some of these may include: 
One or two forms of identification like a driver's license, state ID, social security card, or passport

Proof of income like pay stubs, bank statements, or tax returns

Proof of address like a utility bill, voter registration card, mortgage statement, or lease agreement
After the application process
Once the lender has notified you that you've been approved, you'll need to review the loan and accept the terms.
7. Accept the loan and start making payments
Once you accept a loan, you'll typically get the loan funds from the credit institution in a week, although some online lenders will be able to get the money to you in 1-2 business days. After you receive the money, carefully track when your payments are due. 
If you're nervous about missing a payment (and the havoc that could wreak on your credit score), set up monthly automatic payments from your checking account. Depending on your lender, you could possibly even get an interest rate discount if you opt for autopay. 
Time to put words into action
If you've already used this guide to secure the personal loan of your financial dreams—good for you! If not, and you still think a personal loan could work for you, then it's time to take action. Start taking baby steps and be sure to do your research before signing on any dotted lines.