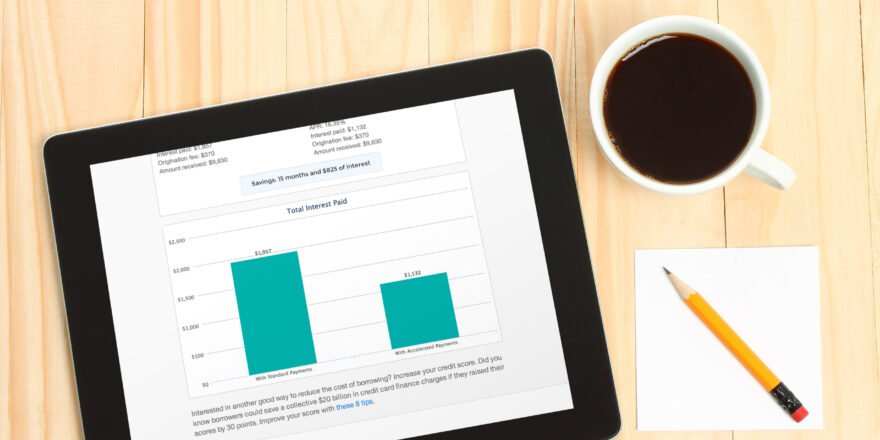 Borrowing money has a reputation for being complicated, expensive and intimidating. We want to change that.
This reputation largely stems from the clunky tools and difficult to understand terms used to explain even the basics of a personal loan. Our users often ask us about comparing monthly payments, terms, and how increasing their loan payments will help pay down their loan faster. So rather than sending them to an arcane amortization table or a spreadsheet macro, we decided to make something better.
Today, we are excited to launch our loan calculator, a refreshingly simple way to help you understand and compare loan rates. Our loan calculator tool offers you a quick and easy way to calculate monthly payments by adjusting loan amount, interest rate, fees, and terms. It can also calculate how making additional monthly payments will help save you time and money.
How To Use Our Calculator
Whether you have an existing loan, credit card debt, need a loan, or you're just curious, we built our calculator to help provide insight and context. Regardless of whether you have a loan on Upstart, here are some questions that our calculator can help you answer:
What is the maximum loan amount I can afford?
How do I compare my existing loan to others?
How can I pay off my loan early?
If I increase my monthly payments how much money will I save in interest?
How much interest will I pay on my loan?
How does an origination fee affect my APR?
Each calculation generates a unique URL, making it easy to bookmark, share, and revisit.
Not all loans are created equal. Compare rates.
The key to managing your debt is paying attention to the details. We hope that this loan calculator provides transparency around how your monthly payments are calculated and empowers you to shop around or refinance existing debt to get the rate you deserve.