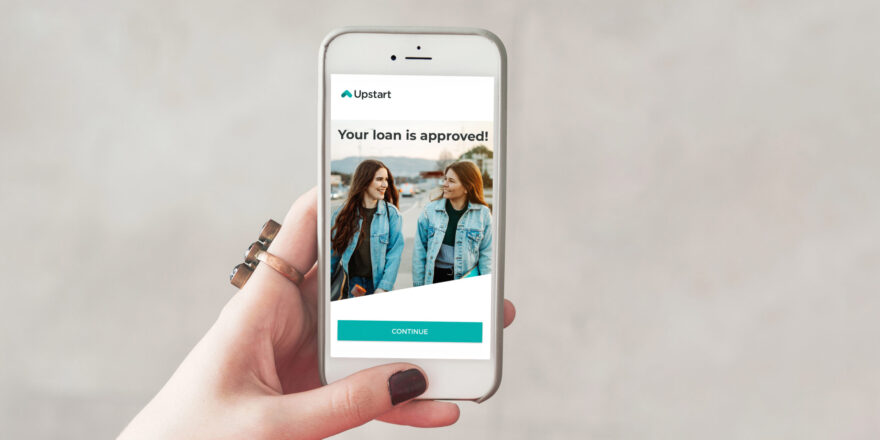 It may seem frivolous to take out a personal loan, however, under certain circumstances, it can greatly benefit you when used and paid back properly. Personal loans are borrowed money that can be used to do things such as, consolidating debt, financing weddings, emergency home repairs and medical expenses.
Upstart is great for people who may have shorter credit histories, but have promising financial futures. We look at more than just your credit score to provide you the personal loan you deserve.
If you are in the market for a personal loan or have been denied elsewhere, here are a few reasons to consider Upstart:
1. We accept borrowers new to credit
If you have a thin credit profile, your options may be limited in lending options. Though it may be discouraging at first or even tempting to jump on a high interest rate payday loan, there are other options available.
Upstart can help those new to credit because we believe you are more than your credit score.™ On Upstart, your education and experience can help you get the loan you deserve. Not everyone has had the chance to build their credit over a long period of time for any number of reasons, but that doesn't mean they do not deserve a loan.
With a personal loan through Upstart you can pay off those high interest credit cards or make that long needed home improvement, while also building your credit.
2. Fast funding for peace of mind
Payday is a rewarding moment, and you deserve to be paid for your hard work! But what if you're caught in a bind and the next check isn't for another week or the end of the month?
Whether an unexpected expense occurs or you're ready to pay off some high interest credit cards, it's always nice to have the funds in your account sooner rather than later. While other companies may take anywhere from a few business days to a week to deposit funds, 99% of Upstart's borrowers will have access to their funds as soon as next business day. †
So no need to wait around for another lender or that next payday, check out Upstart and get some peace of mind sooner!
3. Quick and easy to apply
Shopping for personal loans can be time consuming and overwhelming, but the application process shouldn't be. Upstart's application process can be done on a single page and you can check your rate in 5 minutes. The process is simple:

Input the loan amount and loan term you'd like

Fill in some basic personal information

Report your income

And be sure to include educational background(Any level of schooling can apply)
And that's it! A soft credit check will be run on your credit report, but it will not impact your credit score.* At this point you'll see what loan amount Upstart can offer you and what your monthly payment will be. If you decide not to continue, no problem. You can check your rates again at any time.
4. Convenient customer support
Customer support is important to us. We want you to feel confident that you're getting the support you need throughout the loan process. That's why we're available from 6am – 5pm PST, 7 days a week (including most holidays).
Want to know a little more about Upstart and what we do? Have any questions about the application process or requested documents? Maybe you need help setting up your payment dashboard. Upstart's support team is here to answer any questions and help you through the process. We are available through phone and email support, so relax and know we're here for you.
5. Transparency throughout the process
At Upstart, it is our goal to be transparent with you. That means open communication about how the application process works, explaining any fees and how they're applied, knowing what your rates and monthly payments are, as well as a customer service team available to answer any of your questions. We are also open about what documents we need and update you throughout the process.
Most of our loan information can be found at our help center here. We want to make sure that your personal loan is only processed once you've read over the terms and conditions and have agreed to them. This way you have all the information you need before accepting your loan and are aware of your payment schedule. There are no prepayment penalties and you will have access to schedule your payments to what best suits your needs.
Transparency is not only the right thing to do, but we also want you to think of us first if you or any of your loved ones ever need a loan.
Upstart your life
Read some of the reviews from borrowers here and see what people are saying. You can also learn more about us through our borrowers here.
† If you accept your loan by 5pm ET (not including weekends or holidays), you will receive your funds the next business day. Loans used to fund education related expenses are subject to a 3 business day wait period between loan acceptance and in accordance with federal law.