The first Upstart loan was originated just over a year ago, and 8,920 loans later, we're thrilled to announce that we've raised $35 million to help further our mission.
The round was led by Third Point Ventures, the ventures arm of Third Point LLC, which targets investment partnerships with emerging enterprise technology, healthcare, and fintech companies with outstanding leadership teams, differentiated IP and compelling positioning in large and growing markets. Upstart was founded by a team of ex-Googlers with Silicon Valley DNA through and through, so we jumped at the chance to partner with a firm that represents the best of Wall Street finance. Our existing investors including Khosla Ventures, First Round Capital, and Collaborative Fund also participated in the round.
This equity raise is distinct from more than $800 million in institutional capital that is currently funding Upstart loans.
Results to Date
The days of relying exclusively on credit bureau data to make lending decisions are coming to an end. Upstart's founding concept was that less experienced borrowers – so called "thin files" – could be better served with future-looking analytics that predict the individual's capacity and propensity to repay a loan. With a deeper understanding of our borrowers – including where they went to school, area of study, and academic performance – we're able to systematically identify "future prime" borrowers years before other lenders can.
Our results to date suggest we're onto something: after more than $128 million in originations, 100% of our investors have a positive return*, with an overall platform IRR of 7.4%. Our credit model predicts all events affecting IRR on a monthly basis: on-time payments, early repayments, delinquencies, roll rates, and charge-offs. Upstart is the only marketplace lender that publishes our forecasts of delinquencies and defaults in advance, and then rigorously compares those to actual performance. For example, our model forecasted 104 delinquent loans as of July 1st (about 1.2% of all loans); the actual result came in at 102.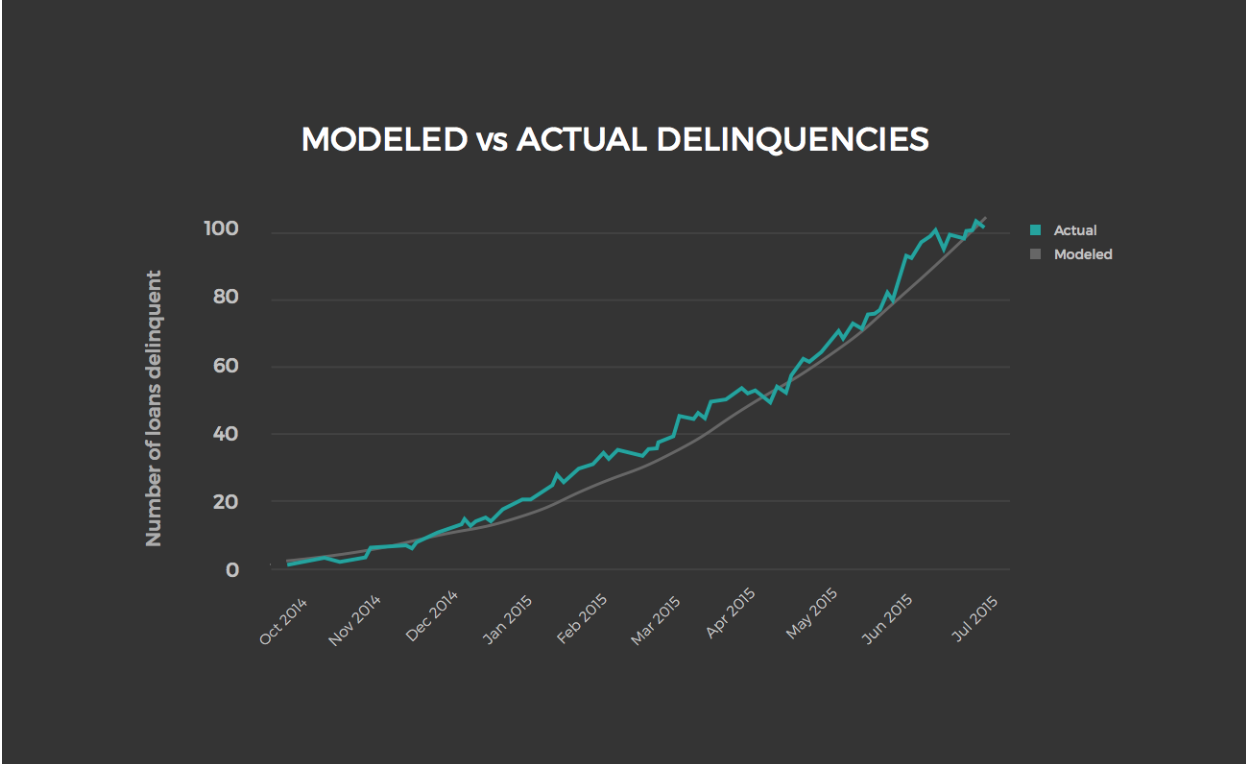 The Future of Marketplace Lending
The first generation of marketplace lenders created economic efficiencies by connecting borrowers and lenders on Web-based platforms. However, they continued to rely on traditional data sources and methodologies for underwriting loans. The second generation of lending platforms will combine modern data science, inexpensive cloud computing, and behavioral economics to make a giant leap forward in credit modeling.
All lenders are in the business of predicting the future and, unsurprisingly, computers can do this better than people. When someone applies for a loan on Upstart, we run more than 68,000 simulations in just a few seconds to understand what might occur over the term of the loan. By modeling a wide array of potential outcomes and events in the applicant's future, we can understand the likelihood of repayment and price the loan appropriately.
While data science will be central to next-generation lending, leaders will simultaneously need to excel in several other dimensions: First, platforms will need a brand and borrowing process that appeals to high potential (but underserved) millennials, a 65 million strong demographic that represents our future. Second, leading platforms will need to innovate quickly, even while maintaining proactive and transparent relationships with regulators. And finally, they will have customer-centric approach to servicing and collections that has been rare in the history of lending.
In just our first year, we've become a top ranked loan on Credit Karma among 29 personal loans, with more than 400 reviews and 4.9 out of 5 stars, so we think we're off to a good start.

Our Mission: Financial Fitness For All
While Upstart won't make everyone wealthy, we can help more people get to a place where financial matters aren't a daily concern, and where money doesn't prevent them from living the life they want. We call this state "financial fitness," and we think it's as important as physical fitness. Financial fitness is something that requires personal commitment, but where analytics and active assistance can make a big difference. We're committed to making that difference.
We started with a single product – an unsecured personal loan. And while we expect to offer more products to our "future prime" consumers over time, we're first committed to making the Upstart loan a great success. Our partnership with Third Point is intended to do just that.
One Last Thing
We hear regularly from our investors about features and functions they'd like to see from us. The most common request is for the ability to invest in Upstart loans on a tax-deferred basis. So we're happy to announce that you'll be able to invest on Upstart via a self-directed IRA by the end of the month. We'll notify qualified investors (what the SEC calls "accredited" investors) who register here when this new feature is available!
* includes investors who have invested in at least 20 loans