In addition to our hiring surge in 2020, our pet family grew as many Upstarters brought home furry friends during the pandemic.
After a year of working remotely, we checked in with Upstart dog and cat parents. Between extra treats and more attention, our pets are the big winners of this remote arrangement.
Remote adjustments
New pet parent Jeff Keltner and his family adopted two dogs during the pandemic: Molly, a Beagle; and Kai, a Shepherd/Pomeranian mix. "Playing with the dogs has brought lots of joy and fun for our two sons as well as for my wife and me. With many fewer social outings, they have provided a nice release for us."
Technical Recruiter Lawrence Gomez brought home an energetic Dutch Shepherd puppy named Berlin in October. "Balancing work plus the attention he requires, both physically and mentally, can be a challenge."  
Settlements Specialist Mary McGaffney brought home two kittens, Miles and Maya, just as remote work started. "Because I'm home so often, they were socialized very well. They're incredibly smart, social, and not aggressive." 
Credit Analyst Liz Wright, a pet mom to a one-year-old Cleo, has enjoyed seeing the personality of her kitten develop over the past year. 

Workday interruptions
Just as much as we enjoy our pets' company and companionship while staying at home, with weekends and weekdays blurred, the occasional workday interruption does happen. 
"Sadie is a big fan of barking at the mail truck, Amazon Prime deliveries, doorbell and you know how it goes," said Credit Analyst Beth Thompson of her 7-year-old Goldendoodle.
Compliance Manager Kate Sutcu also has challenges with her dog Buster barking during Zoom calls. "He thinks his opinion is really valuable," she laughed.  

Research Scientist Bill Huang said his 3-year-old Shiba Inu, Mochi, disrupts meetings when she's bored. "Mochi's expectations were a lot higher until we made it clear that whining wouldn't always work during work hours, although sometimes it still does," he said. 
Thinking back, who hasn't had a Zoom meeting interrupted by a barking dog this year? But cats can be just as troublesome.
Nadia Noor, HR Operations Analyst, tries to keep her cats away from her work area. However, that doesn't mean they still can't cause interruptions. Once, one of her kittens disconnected her Wi-Fi as she was hosting a semi-large meeting. After reconnecting, she introduced the guilty culprit to meeting attendees in hopes the cuteness would assuage any frustrations. Fortunately, Upstarters are big fans of cute animals and found the incident charming.
Cassie Seneff's two cats, Tobias and Ozzy, have pulled several stunts during her Zoom meetings such as howling outside of the door, dragging a large bag of pretzels down the hallway and even stomping on her keyboard. "Companionship and cuddles slightly decrease their chance of getting into shenanigans, and make them happy," she said. 

More cuddle time 
Sejal Piple's 3-year-old Golden Retriever, Milo, loves having her home every day, she said. "The downside is he's super needy for attention and always wants to be petted in some way."
Rachael Carvalho, Columbus Office Manager, said the biggest benefit has been the extra time she's had to spend with her oldest of three cats, Smokey, who was diagnosed with kidney failure at age 18. "Having the time to be around while he adjusts to new meds and to give him extra treats and have him sit on my lap while I work has been so valuable and is a silver lining to this not-so-great year."

Balancing work from home
Whether you're a new or current pet parent, working at home can pose many challenges. Here is some advice from Upstart pet parents on how to balance work from home with a pet:
Leave your pet in a separate area, away from your workspace, to help curb separation anxiety and have them get used to being by themselves

Always lock your computer when stepping away from your workstation, somebody may get their paws on the keyboard when left unattended

Set boundaries and stay disciplined around what they can and cannot do

Make a cozy nap area away from your workspace to encourage no naps near your space or on your desk

Schedule time on the calendar to spend some time with your pet, be disciplined about when to play with them

Develop a routine as if you're back in a physical office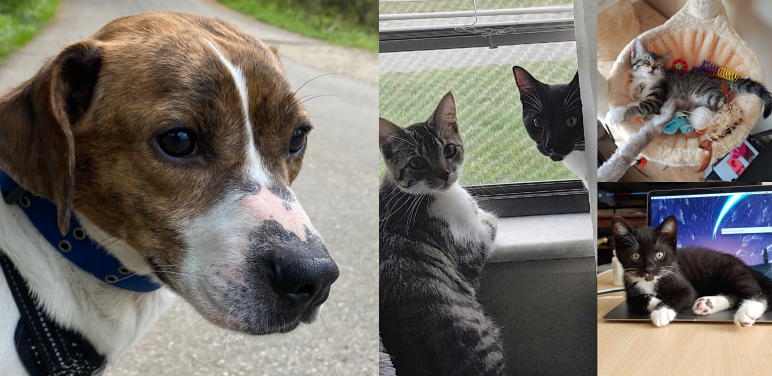 Looking ahead
While we're all looking forward to being reunited with our fellow Upstarters once it is safe to return, we will certainly miss the extra quality time and daily companionship with our furry loved ones.
The highlight of Back-office Operations Associate Mansi Chawla's day is her dog Taffy, a Cavalier King Charles Spaniel, who runs to greet her at the door every evening. "Pets are sent from heaven to make your day." 
Interested in joining Upstart? Visit our careers page and become an Upstarter.